---
GRECH MOTORS RECENTLY RELEASED A CORPORATE VIDEO THAT INCLUDES A TOUR OF ITS ­FACILITY AND THE MANUFACTURING PROCESS. CLICK HERETO VIEW IT.
---
 
Buses aren't completely novel to Grech; he was, after all, the first of the coachbuilders to introduce a luxury shuttle bus before they were taken seriously in chauffeured ground transportation. Grech has always been known as an innovator and trendsetter. It's his concrete understanding of the industry as well as his name recognition that made Grech Motors possible. What he found was that operators from across the country who trusted him for so many years have welcomed Grech Motors back with open arms.

"My philosophy in business is very basic," says Grech. "I have always focused on delivering the highest quality products and providing unparalleled after-sale support. We stood behind all of our products and warranties. I have always taken care of my customers and in return, they have always taken care of me."

Some of the industry's top companies have already embraced Grech Motors, including Black Tie Transpor­tation, Wilshire Limousine, The Driver Provider Worldwide Chauffeured Transportation, and Bauer's Intelligent Transportation. Most recently, David Seelinger of EmpireCLS—the world's largest network—received its first new Grech Motors bus with more ordered. 

"We just took delivery of our first Grech Motors bus and were blown away by the craftsmanship and attention to every detail," says David Seelinger, CEO and chairman of EmpireCLS. "I have been in this industry for 30-plus years and have never seen a bus that comes close to what Grech Motors has designed. The details and finishes are like no other, from the Apple TV and high-end custom seating to the amazing new front viewing window that our clients will absolutely love. Ed has figured out a way to deliver a Rolls-Royce experience inside a bus at an affordable price point."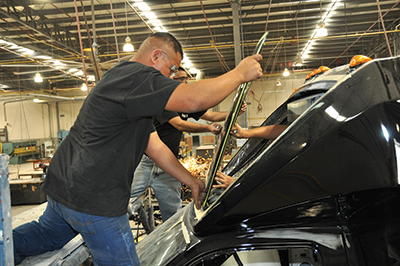 Team members installing the proprietary ­
viewing window

"About a month ago we received our first Grech Motors F-650 40-passenger shuttle, and the fit and finish were some of the best I have seen in 24 years of being in business," says Gary Bauer, president/CEO of Bauer's Intelligent Transportation. "Ed's team was great to work with to create the ideal vehicle for our clients—his 30 years of experience really shows in his vehicles. We were so impressed that we just ordered 10 more F-650 CNG shuttles.

"Grech's history of entrepreneurship goes back to when he opened his first body shop at age 25. One day, he was joking with his employees about cutting a car in half and stretching it, only to find that very vehicle cut in half when he returned from lunch. Thirty years and 30,000 vehicles later, his legacy is cemented in our industry's history. He's among those who championed change; set standards in manufacturing excellence, customer service, and vehicle offerings; and truly raised the bar in quality and safety.
To Grech, safety was as important as longevity and reliability; he crash-tested every new limousine model he built and consistently made quality improvements. Regardless of customer demand, he would not put a vehicle on the road unless he had engineering data to back up whether it was safe or not.

So what did happen to the nation's largest and most respected QVM and CMC builder? It was caught up in a perfect storm of a crumbling economy, a booming then overnight imploding Chinese van market, and the significant investment anticipating the MKT stretch that just didn't meet the expected demand. Its production, stunted by massive cutbacks in new vehicle purchases and changing industry tastes, shrank by an astounding 90 percent over the last 5 years. "Grech knew he could not continue to battle this dramatic market shift and a once-in-a-lifetime recession even after restructuring." While it was the unraveling of his life's work, Grech says that he is very proud that the bankruptcy has been closed and 100 percent of Krystal Infinity's creditors and vendors have been completely repaid. 

Being an entrepreneur is about taking big risks, some of which work, and many that don't. Grech wasn't ready to walk away from the industry that he knew and loved for 30 years, and he made that very clear that this was a temporary setback. He turned a humbling experience into steely determination. 

Now headquartered in Riverside, California, Grech Motors offers nothing but luxury shuttle buses, which have become a staple vehicle for our business. The company has many familiar faces attached to it—most of whom Grech has worked with for decades. He knew that it was his staff of highly experienced engineers, craftsmen, and salespeople who made the company. Grech is once again joined by his former executive vice president, John Beck, in addition to David and Sue Reagan, Louie Alvarez, Ralph Garcia, Kaye Marseilles, Larry Olivarez, and Rene Martinez, to name a few.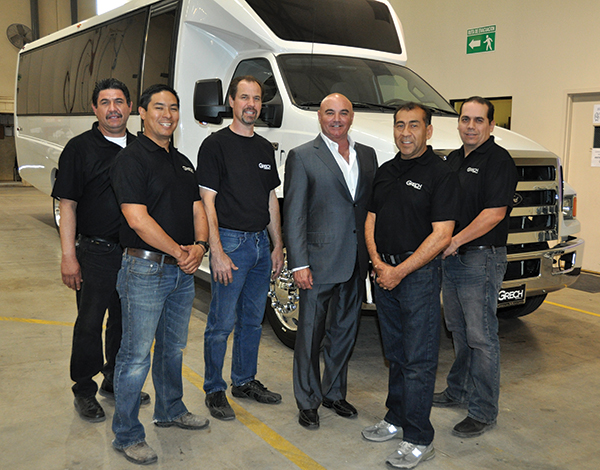 L to R: Humberto Nunez, Jose Luis Wong, David Reagan, Ed Grech, Louie Alvarez, and Jesus Duran at the production facility

"When I first sat down with my trusted and talented team, I told them that I don't want to do this unless we can build the most aesthetically appealing shuttle buses with the highest level of quality components for longevity," he says. "I tasked my team of engineers with completely reinventing the exterior and interior of our products with something exciting, new, and fresh. Once I knew we all had the same goal in mind—to produce a bus that has the sleekest profile and looks like nothing else on the market—we got to work."

Grech—through its new 100,000 square foot, state-of-the-art production facility—modeled his production line like Ford or General Motors, which not only helps with volume, but also quality control and consistency. Unencumbered by various types of vehicles, the assembly process has been completely streamlined. Grech Motors is currently building 25 units a month and can always be ratcheted up to fit demand. He says they are on target to reach around 300 units by the end of 2013.

Quality control is paramount to the Grech Motors' process. From water testing to ensure there are no sensitive areas that can be damaged by real-life elements, to simulated road condition testing to eliminate any defects in the electronics used, Grech isn't just delivering a pretty vehicle, but one that is built to last. "We offer what we believe is the most extensive warranty in the market," says Grech. "We offer a 5-year/100,000-mile warranty on the body construction and a 4-year/50,000-mile warranty on paint and electrical. We would not be able to offer a warranty this bold unless we were 100 percent confident in what we are producing."

Currently Grech is building various configurations on three different platforms, including the Ford F-550 (gas and diesel) and F-650 (gas or diesel) and the Freightliner (diesel).
Its buses are assembled on a super-strong steel cage with fiberglass skirts. Windows are frameless for a quieter ride and a sleeker look. ­Com­ponents that could be ­optional equipment with other manufacturers are standard on Grech buses, including its ultra leather seating with high-density molded foam, LCD screens, dual evaporators, dual compressors, rooftop condensers, numerous power outlets for passenger use, and durable flooring.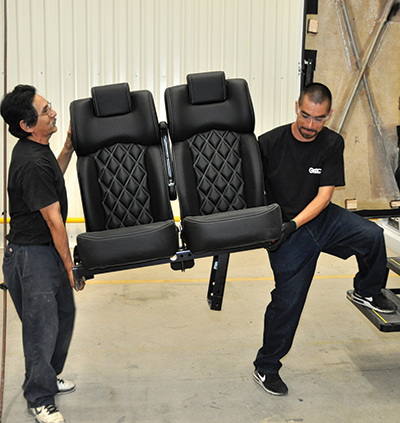 The manufacturer uses only the best components for longevity

There is competition in the bus market, and every manufacturer has its own special trademark. The Grech Motors' buses feature a proprietary viewing window in the front of the vehicle so that the road ahead is eye level with each passenger. The patent-pending viewing window combined with oversized side windows opens up the interior so that passengers enjoy more natural light and catch more of the sights—making every seat the best seat in the house. Grech says that when customers experience it firsthand, they say that it's incredible.     

"It was critical that when creating the business plan for Grech Motors that we had a rock solid distribution chain," says Grech. "I set my goals very high and approached the largest bus distributor, Don Brown. It has turned out to be a fantastic relationship. In exchange for a substantial volume commitment, we provided them with exclusivity in the Northeast. They have the name, reputation, and financial wherewithal to support me like no other dealer I have ever done business with. AJ Thurber is the hardest working, most dedicated person that I know. His knowledge of the market, customer loyalty, and work ethic is second to none."

"When I first sat down with Ed, we instantly realized that we had common goals," says Thurber. "He was looking for a distributor that could stand behind its commitments, and we were looking for a manufacturer that treats a distributor like a partner. I am extremely honored and proud to be Grech Motors' exclusive Northeast distributor and it has been a true pleasure to get to know him personally. He knows how to put together a plan and how to execute it. He is a man of integrity and someone who appreciates what Don Brown brings to the table, but most of all, he has built a bus product line unlike any other.
Grech is focused on the future and moving forward, although he does take time to reflect on some of the valuable personal and professional lessons he's learned in the last 5 years. "I am thankful for all of my customers who have supported me during my career and who have given me the ability to make Grech Motors a reality. I am indebted to my loyal employees who, as a team, have built a product line that we are all very proud of."  [CD0613]