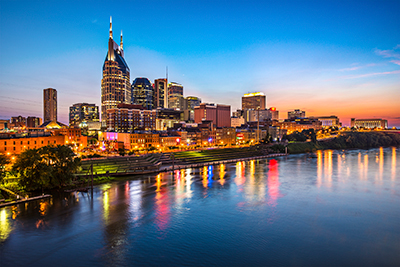 Do you feel like you could benefit from broadening your network reach' learning innovative approaches to doing business' and getting a fresh perspective of your company? Would you appreciate the chance to spend a few days in an intimate setting tinged with Southern charm and set against a uniquely welcoming landscape? You'll find everything you're looking for (and more!) if you join us when we head down to Nashville for the first-ever Chauffeur Driven Executive Retreat.

After talking with industry members' we concluded that the end of June is the best time to debut this operator-centric event. So mark your calendars for June 22-24' 2015' if you want to be a part of an experience that will deliver lots of close-knit networking' relationship-building' and education right in the heart of downtown Nashville at the posh Omni Hotel & Resort.

"We wanted to create an event that was a little more exclusive' and one that gave operators the chance to network on a higher level while experiencing different cities around the country'" Chauffeur Driven Publisher Chris Weiss says.

We're excited to present operators this opportunity to work on—not in—their companies with the wide range of offerings we have planned.

You want workshops? We got 'em. You want high-level customer service training from hospitality giants? Our retreat will have that' too. Want to know the secrets of industry experts' participate in proven team-building activities' and take a good' hard look at your business after you've stepped away from the day-to-day dealings that can often bog you down? You'll find all that and more at our Executive Retreat while also experiencing the sights' sounds' and Southern flavor that await you in Music City' USA.


Attendance is capped at only 200 operators' and a flurry of early interest means there's not much time left to take advantage of the $599 registration price for the first 50 to sign up; after that' it's $699 for the next 75 to register' and $799 for the last 75. We also negotiated an awesome discounted rate of $229 per night with the Omni so you'll be within easy walking distance of all the after-hours delights we have in store (and we'll still have transportation available for those who want that option).

While the Executive Retreat will concentrate on catering to operators' needs' there are limited sponsorship opportunities available' too.

We picked Nashville to kick off what will be a yearly retreat for its unique blend of quaint old-city charm that boot-scoots right up to a thriving modern-day cityscape. It's the perfect introduction to an intimate event aiming to bring operators to uniquely vibrant secondary markets that are bustling enough to be interesting and small enough to exemplify the cozy vibe we want our retreats to be radiating.

Don't worry' we wouldn't host our inaugural retreat in Nashville without inviting you to experience the city's one-of-a-kind flavor. The Omni is both temptingly situated about a block from the Music City Center and seamlessly integrated with the world-famous Country Music Hall of Fame and Museum' both of which will be definite stops on the entertainment itinerary. And a five-minute stroll from the hotel puts you right on Broadway' where you'll get to know a handful of the city's most iconic watering holes during our honky-tonk crawl that'll fill an entire evening with laid-back networking and rockin' live bands.
Attendance is capped at only 200 operators, and a flurry of early interest means there's not much time left, take advantage of the $599 registration price, first 50 to sign up"

But wait: There's more! We'll be taking you on tours of Music Row' the Jack Daniel's Distillery in Lynchburg (which' incidentally' is based in a dry county' but you'll still have a great time)' and other Music City must-sees. You'll get to literally sink your teeth into some down-home Southern eats with all the local fare you can nosh on. And since no trip to this music-lover's mecca would be complete without taking in some tunes' we'll be hiring a big-name band for a special live performance: Forget about going to a concert—the concert's coming to us.

So if you're looking for a working vacation that will educate and entertain you in equal measures' join us in the summer when we mosey on down to Nashville for some world-class workshops' priceless networking opportunities' and a whirlwind tour of a city that everyone's been clamoring to check off their bucket lists. Keep checking for updates about this can't-miss event at chauffeurdrivenshow.com. See y'all in June!

[CD1014]