BY SUSAN ROSE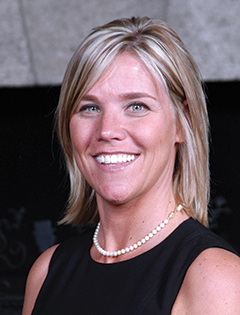 Paget Kirkland is the president/owner of Kirkland Event & Destination Services, one of the busiest destination management companies in South Florida. She founded the company in 2006 in West Palm Beach, and the team specializes in events of all sizes, tours, and corporate team-building activities. Kirkland is also married to John Critchett, owner of Palm Beach Tours & Transportation, which is one of many transportation companies she works with. She is a member of Meeting Professionals International and is a Certified Woman Owned Business.
CD:How long have you been involved in the meeting planning industry?
PK:I started in St. Louis with The Ritz-Carlton in 1994. When I moved to Florida, I worked with a DMC until 2006 when I started my own company.
CD:How do you acquire new transportation provider partners and what is the process for ­vetting?
PK:We meet with them, and they tell us what is in their fleet and about their chauffeurs and [other staff]. We observe the way they are dressed, their meet and greet process, etc. In Miami it's tough, so we have to make sure the chauffeurs can speak English well.
CD:What are the common ­mistakes that transportation ­providers make when securing work with meeting planners/DMCs?
PK:I think just "assuming" a job is good is one of the biggest problems. They really need to confirm. Sometimes our operations team can't confirm because we are overseeing many aspects of the program, so following up to confirm in an hour or ask when a good time to call back is important. It shows initiative and that is key.
CD:How can transportation companies work better with meeting planners/DMCs?
PK:Technology is very important. One of our providers has really stepped up its level of service with us by providing technology that allows any of my team to sign on and see all of our jobs that are in their system. This also enables us to make changes, if more than 24 hours out. This is extremely helpful because we can fit it into our schedule when we have time to make those updates. Also, what we change there automatically updates across the board with their team (dispatch, chauffeurs) so we know it's confirmed and done because it's in the system. Another great technology is GPS, which allows the dispatcher to give the 10-minute call so that the chauffeur doesn't have to risk texting or using the phone with the passenger in the vehicle. I know I can't stand when the chauffeur is on the phone when I'm in the back of the vehicle. It's all about safety, but it's also so that passengers aren't bothered by the call. The chauffeur can concentrate on driving.
CD:How far advance do you typically start securing transportation for an event?
PK:Last-minute bookings are definitely still a trend, but it's getting better. Generally we book the transportation about one week out.
CD: What kind of vehicles are your customers demanding, and has that changed over the last few years?
PK:Sedans and minibuses are popular. One of our providers has a phenomenal limo van I use constantly for VIPs and site inspections. It looks like a normal van outside, which is huge for perception, but is like a boardroom inside: plush seats facing one another are great for a meeting or discussing the program while driving to a venue. Motorcoaches aren't really important to my clients, although they prefer a larger minibus—38 to 42 passengers. It's smaller without the large motorcoach feel.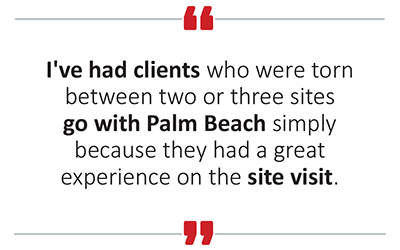 CD:What role does the transportation company play during the lead up to the event, and who is typically in charge the day of?
PK:Our operations manager is in charge on the day of the event, but we think of the transportation companies as partners. When I have a client who is here to do a site inspection and the chauffeur picks us up, I rely on their knowledge of the city to suggest and call ahead to a location for the client if she wants to make a stop. I've had clients who were torn between two or three sites go with Palm Beach simply because they had a great experience on the site visit. The chauffeur, especially during a make or break it moment like this, plays a huge role in helping us get the job. And our clients will often request that chauffeur for the day of the event as well.
CD:What advice do you have for transportation companies looking to work with meeting planners/DMCs, and what is the best way that they can learn about the meeting planning industry?
PK:Communication is key, and let us know too how to work better with them. I encourage DMCs to go to the transportation facility to see the company's operation, how they work, etc., and vice versa. Another suggestion is to have a dispatcher out on a large movement to call chauffeurs, making it seamless to the client. Otherwise, my operations team has to get all the chauffeurs' cell numbers and make the calls, which can take the focus away from the guests or a client standing with my operations manager.
CD:Is there anything you've learned from transportation ­companies?
PK:We aren't their only client. They need us to confirm earlier than later, too, and we also need to be a good partner as they have a lot of balls to juggle and not just transportation for our clients. It can be a complex scheduling process to maximize their chauffeurs and vehicles while trying to minimize farm-outs. If we continue to wait to the last minute to confirm, it's tough to put the wheels into motion to confirm the next day. We have to be good partners, too.  [CD0613]