BY SUSAN ROSE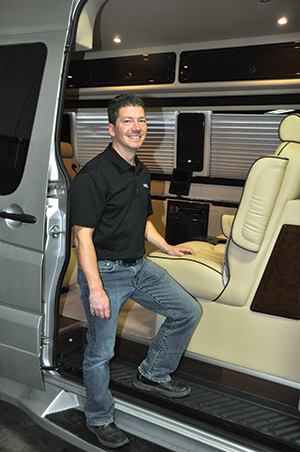 Midwest CEO Tim Gray Tim Gray' founder and CEO of Midwest Automotive Designs' is not one for tooting his own horn.

When Gray founded Midwest back in 2001' he did so specifically to work with the Sprinter. At the time' the vehicle was just debuting in the U.S. and didn't have any of the panache and following that it has today. Already a seasoned pro in Elkhart' Indiana's extensive bus and RV industries—he had been working in customization since he was 16 years old in the 1980s—Gray saw that there was a lot of potential in a variety of industries for the signature tall-roof van. Midwest carved out a place for itself by working with private buyers and corporate executives. Word of mouth helped the company flourish.

Midwest was one of the first companies in the U.S. to begin modifying the German-built product. It later became one of the first companies approved as an authorized Mercedes-Benz upfitter' which could be comparable to our industry's QVM and CMC programs for modifying limousines.
/> A longstanding history with Mercedes-Benz has definitely been a selling point for customers' according to Gray. In a market that is now saturated with Sprinter modifiers' it can be tough to stand out. But there's much to be said about 12 years of finding the right way to modify a vehicle for a lifetime of worry-free service.

"The Sprinter was more difficult to work with back then'" says Gray about Midwest's early days. "There was very little competition and it offered us a nice niche market. Now practically everyone is offering them' but we were the originators of a lot of the processes that they follow. " While Sprinters are the majority of its business' Midwest also modifies other vehicles—such as GMC Savana and Express vans—upon request of its customers.

Being among the original approved Mercedes-Benz upfitters was an honor' and the process took about two-and-a-half years to complete. The distinction meant that not only buyers would be connected with Midwest for their modification needs' but that the company would have support for its production process. Mercedes-Benz has taken steps over the last few years to strengthen and grow its network of dealers worldwide that support and sell Sprinters.

"The recertification process happens every year' and Mercedes offers fantastic technical support with their engineering team. They are a great partner for us for sure'" says Gray. While dealer referrals are strong' Midwest's largest source of business is repeat customers. Its products are shipped all over the world.
Mercedes offers fantastic technical support with their engineering team. They are a great partner for us for sure." - Tim Gray' founder and CEO of Midwest Automotive Designs
Terry McCart' a dealer rep for Midwest through Don Brown Bus Sales' says that it's a benefit for him when selling Sprinters to his customers. "Midwest is an authorized upfitter' which is a huge factor in places like Connecticut where it's written into the state DOT specs that vehicles must meet these standards' and not all of the Sprinter manufacturers out there are approved through Mercedes. It's a big deal."

Also a growing market for Midwest is the mobility sector. As the population ages—and we're facing an unprecedented number of seniors as the massive baby boomer generation reaches 62+—the need for ADA-compliant vehicles is increasing.

"Sprinters are tailor-made for the mobility industry'" says Gray. "The high roof means that we don't have to cut and extend. No body modifications means no voiding of the warranty."

Midwest can handle the demand because it has had so much practice in perfecting the processes over the last 12 years. The company recently relocated its headquarters to a new 70'000-square-foot facility in Elkhart after operating out of four separate buildings over the years.

While Elkhart—the Detroit of the RV and van industries—is known for its easy access to parts suppliers' Midwest streamlined the processes even further. The company currently develops its own seating' which it produces on site' in addition to a custom wood processing facility for hardwood floors and accents. Midwest also has custom paint booths for continuous color matching and a perfect finish. Working within the guidelines set forth by both Mercedes-Benz and Federal Motor Vehicle Safety Standards' Midwest gets its chassis directly from dealers—a shell—which are then completely modified for the unique needs of the buyer. It's available in three wheelbases and two roof heights.

"Because everything is done in house' it's a little easier for us to meet our customers' specific needs. Our business clients tend be more hands on with the production of their vehicles' and we can work with them'" says Gray.

Midwest's management team is also another reason for the strong' seamless production process that has been developed over many years of working as a team. Gray's management team' which includes Curt Mattern (purchasing) and Ken Willard (vice president of manufacturing)' has been with him since he opened the company. All in all' the company employs over 70 people from management to assembly.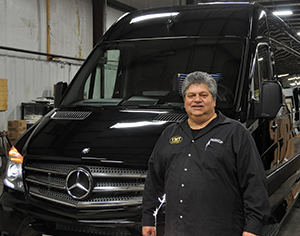 Midwest outside dealer rep Vin Tranchina of VMT Enterprises
"Every single one of us has the title of customer service'" Gray says. "Because that's what we're here for." Gray himself spends his time managing the sales department and working closely with product development.

Midwest made a dedicated effort to sell products to the chauffeured ground transportation industry just a few years ago—representing around 12 percent of the company's sales—but Gray has maintained relationships with many of the industry's well-known faces over the years. One such person is Vin Tranchina' whom he met at a trade show about a dozen years ago. Tranchina' who is a dealer based out of South Florida' has been a dealer rep for Midwest for almost as long.

"I have been working with Midwest since its inception when it was building just one or two Sprinters per month'" says Vin Tranchina' president of VMT Enterprises' a dealer for Midwest products. "Now that the volume has increased' I'm happy to say that the product has become so well built that warranty claims are very rare."

Gray traveled to the industry shows and met with customers many times' but these days he prefers for his sales reps to take Midwest products to industry events—everything from funeral to major bus shows. Midwest will be at the Chauffeur Driven Show this year' represented by Tranchina. Gray works with a few other dealers like Lakeview Custom Coach' American Coach' VMT' and Don Brown Bus Sales to maximize Midwest's reach into our industry.

The popularity of Sprinters—at least in this industry—is at a fever pitch' and the excitement is definitely not waning. Gray says that the company is on target to produce about 300 custom Sprinters this year' up from 275 just last year.
"The fact that they're so busy and can produce so much while keeping the quality up is a testament to their longevity in the business'" says McCart. "The options that they offer are high end and what they produce is phenomenal and worth every penny. The quality of their products is exceptional' which is why it is so easy for us to rep for Midwest."
Every single one of us has the title of customer service ... because that's what we're here for." - Tim Gray
Tranchina agrees. "Midwest vehicles are completely customized and built to last. We can make changes easily and quickly to satisfy any customer requirements or needs. I have found that Midwest vehicles also have maintained their value for resale. Plus we can offer financing to make the purchase go smoothly." [CD03.14]