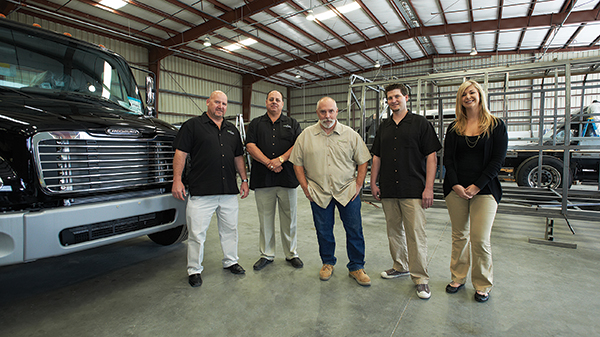 The Newport Coachworks office team (L to R): Mark Mills' Pat Butler' Carter Read' Jason Duncan and Customer Service Specialist Amanda Boyer Providing a wide variety of gas- and diesel-powered buses for 19 to 51 passengers' newcomer Newport Coachworks will soon release its 100­percent electric bus' its first fully­ sustainable offering for the industry.

Buses of all sizes—from minibuses to super-size motorcoaches—have been one of the best fleet investments for numerous operators all over North America in the last decade or so. In reports from the major bus and travel associations' the outlook for buses remains strongly positive into the coming years. For versatility of application (corporate' shuttle' nights out) and passenger comfort' buses can't be beat.

California-based Newport Coachworks is a newer name in bus manufacturing' but the team behind it includes some of the most recognizable industry professionals with decades of longevity and experience. President and founder Carter Read has been building buses since 2006. Vice President of Sales Pat Butler has been in the industry for almost three decades' while Plant Manager Mark Mills has been involved with ensuring FMVSS compliance in manufacturing for over 20 years. Possibly the youngest member of the team' Production Manager Jason Duncan came from an RV manufacturing background with 7 years of experience' having overseen the production and quality control of over 25'000 vehicles during his career.

Although Read is best known for the cutting-edge buses that he designed and engineered for another industry manufacturer' his knowledge and skill working with fiberglass goes back more than three decades when he was an award-winning professional speed boat racer. As Read recalls' he purchased a race boat that was simply not race-worthy. "It was awful'" he says' "and I had a need for a better-designed boat." It was too heavy in areas' too long in others' and it needed retooling in order to be competitive.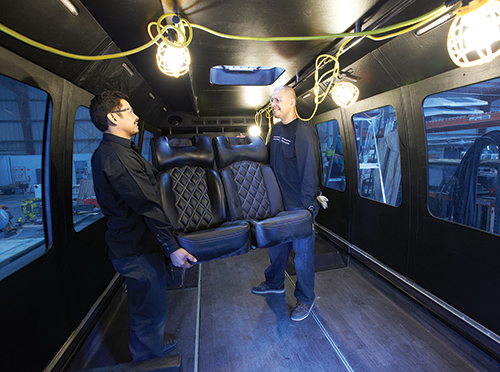 Newport's high-end seats being installed
Read' with focus and determination' used his background in engineering to tackle the project head-on and get what he needed. He partnered with a boat manufacturer called Canyon Boats and eventually ended up purchasing the company' which he later renamed Warlock Boats. He operated the company until the mid-2000s' but retired from racing in 1996 ­after a serious accident and breaking multiple world speed records.

Eight years ago' he was offered his next unique challenge: a chance to design buses. He purchased an ownership stake in Tiffany Coachbuilders' which at the time was only producing limousines and specialty vehicles for the industry. Incorporating a bus into a limousine fleet was still a niche market' but it was piquing the industry's interest in a big way. Read was brought on specifically to spearhead the coachbuilder's brand-new bus division.

In 2012' Read found himself at a creative crossroads and decided that it was time to part ways and pursue a new venture. By the end of that same year' Newport Coachworks was already a viable company' developing a full lineup of stylish and competitively priced buses that were designed based on many years of operator feedback. According to Read' Newport nearly immediately took a years' worth of orders from the industry's number one distributor' Don Brown Bus Sales.

Baja Limo' a Sacramento' California-based service that specializes in party buses' received the first bus off the line at Newport. Owner Glen Main says that after a year of running the vehicle' it's holding up beautifully. "As the largest party bus company in town' we look for a lot when purchasing a bus. In my experience there's been a real disconnect between the builder and what the end-user wants and needs. It's a tough game for party buses; they have to be practical and durable without all the bells and whistles that will be easily damaged. Simply put' the bus we purchased from Newport stands above all the other buses we've purchased in the past. It's just a well-built vehicle' and the fit and finish are incredible." Main recently placed a second order with Newport' which will be delivered in the coming weeks.

This time around' Read had a dual focus with an eye on the future of minibus and shuttle production. He wanted to be able to experiment with other types of energy to power his buses. He was approached by U.K.-based Green Automotive Company (GAC)' which bills itself as "next generation vehicle solutions" and exclusively produces vehicles that are sustainable in nature. Newport was purchased shortly thereafter and became a division of the publicly traded company. Read now sits on GAC's board of directors and still overseas all of the daily operations of Newport Coachworks.

"Green Automotive has proprietary technology in the electric vehicle industry'" says Read. "They were looking to partner with companies that have a good sustainability plan' and it's an area I've wanted to pursue further. There was a great synergy between the companies."

While the technology is still in its infancy as far as powering vehicles' it's come a long way and it's only improving as time goes on. The e-Patriot' the company's first all-electric bus' is a 19- to 23-passenger shuttle that doesn't sacrifice styling' comfort' safety' or amenities for its sustainability. Although the vehicle is in the final stages of testing' it attracted the eye of Bell Transportation' the largest transportation provider in Las Vegas and one of the most respected companies within the industry.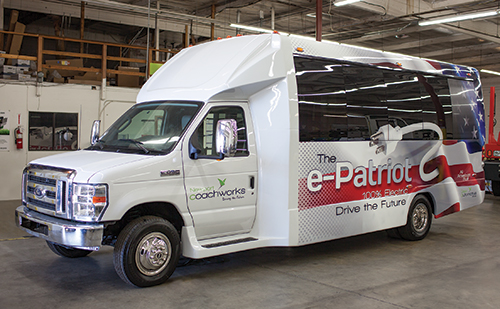 The e-Patriot' an all-electric bus
"An electric bus would give us an additional means of differentiation' and allow us to reduce our operational costs. It is the perfect solution for inter-urban short distance travel like we do in Las Vegas. We are looking forward to test driving the e-Patriot in the coming weeks'" said JJ Bell' vice president of Bell Transportation' in a press release by GAC. Bell will be the first company to test the e-Patriot in everyday situations.

The current range of the charge is just over 100 miles' according to Read' and an available super-charger—while a little pricey—allows the battery to be recharged in as little as 45 minutes. The top speed is around 60 mph' with virtually no vibration or noise. The expected retail price will be somewhere in the $150'000 to $170'000 range once it's mass produced' but every state offers incentives to help defray the cost of the vehicle purchase.

"We wanted to be a leader in bringing the first affordable and most efficient electric bus to the market. Right now the ­e-Patriot is perfect for those back-to-base runs like school buses or airport shuttles'" Read says. "We've designed the bus so that as batteries get smaller and lighter we can stack them for a longer range." Read says that Newport has commitments for several dozen buses already' which will be available by Q4 2014.

Part of the technology behind the e-Patriot is the actual build of the bus. Read' along with partner company (and recently purchased GAC subsidiary) Blackhawk Manufacturing' works with a fiberglass process called resin-infused. The process yields a product that is lighter' stronger' and more consistently thick every time' according to Read. The process is also greener and has zero volatile organic compounds (or VOCs)' which are the harmful chemical smells that result from other fiberglass processes.

"Others buy a bus chassis from someone else' pull out the engine' and install an electric package'" says Read. "That's not what we wanted to do. We're not looking to retrofit a gas-powered bus into an electric one. We're building the bus from the ground up."

While the e-Patriot is certainly commanding headlines and attracting a lot of industry attention' it's the company's diesel and traditional gas-powered lineup that is its bread and butter. It produces three different lines—the Freedom' Atlas' and Patriot—that vary in capacity from 19-23 with the Patriot to up 51 with the Freedom. The mid-range Atlas seats 27-31 passengers on average. Using four different chassis—E-450' F-550' F-650' and the Freightliner—each vehicle is amply powered to handle the workload.

Each features Read's signature frameless window glass for that single-panel look. Without getting mired in the details' Newport uses a roof system that links more accurately to the body frame for added strength. All buses are fabricated utilizing a proprietary cage design' all interiors are created with vacuum formed side panels similar to what the OEMs use for absolute consistency and field maintenance

We wanted to be a leader in bringing the first affordable and most efficient electric bus to the market."
– Carter Read, President of Newport Coachworks
"Some of the selling points of our buses are the fully composite floor that is created from a honeycomb fiberglass process that makes it lighter and more durable (and won't rot). We also feature a single side panel so there's no molding' which means no cracking. All of our designs are aerodynamic for maximizing fuel efficiency and unparalleled styling. We only use all premium materials inside and out' including Premier Products' high-end Bentley seating for unsurpassed aesthetics and comfort. In addition' we also exclusively use Premier Products' HVAC systems which we believe are the industry's best-performing units. They practically blow ice cubes in the back of the buses and are supported like no other product in the industry. "
Right from the start' Newport partnered with Don Brown Bus Sales' one of the largest and most well-respected dealers in the industry. Read says that being a part of the Don Brown family helped with customer reach and brand recognition almost immediately. Don Brown is currently the Northeast dealer for Newport.
Newport also recently expanded its dealer network to include Midwest Transit Equipment' which has seven stores throughout the Midwest. West Coast sales and all other inquiries can be made though sales@newportcoachworks.com or by calling 951.900.4300.
Although the ink is barely dry on the deal between Midwest Transit and Newport' dealer Jim Bridgewater says he's delighted to add the bus manufacturer to Midwest's roster. "We're excited about the quality of the buses we've seen and the responsiveness to customers'" he says. "Newport definitely has a good reputation from what we've heard. We think this is going to be yet another good option for our diverse customer base."
This year Newport has also entered into a strategic alliance with Moonlight Coachworks' a California-based builder that will create custom interiors for Newport's limobuses. Read extensively researched Moonlight and decided on it because of its most creative and unique limo-style interiors.
These are exciting times to be in bus manufacturing as the demand has never been stronger and competition greater to produce diverse products that are not only affordable' but have a real-world' practical applications. The e-Patriot will be a test for the company while its traditionally fueled options continue to expand. The chauffeured ground transportation industry is looking for diversity' so it will be interesting to see what Newport comes up with next.
[CD0414]