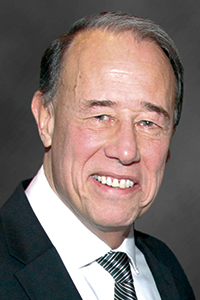 A good portion of this issue was dedicated to adding motorcoaches and other buses to your fleet.

To help you get started on the right path from the beginning, we spoke with Vic Parra, president and CEO of the United Motorcoach Association. The organization is one of the largest dedicated to buses in the nation. Presently, UMA represents over 900 motorcoach operators nationwide. UMA hosts its annual Motorcoach Expo in various cities throughout North America, most recently in Los Angeles this February. There's a lot of crossover between our industries, but they are regulated very differently. Parra helps to fill in some of those gray areas.
Chauffeur Driven: Can you tell us a little bit about UMA and the goals of the association.
Vic Parra: UMA was founded in 1971 after we split from the American Bus Association (ABA) to focus on deregulation. The tight regulation meant that legacy carriers had control of the market in the past. Our founders saw better opportunities for us if the market was opened up, particularly for tour and charter business. This was and is the basis of UMA. Our goal is to help the industry be successful and give our members a competitive edge. When we do strategic planning we look at the factors that are going to affect the industry globally and nationally. How are, for example, exchange rates going to affect us? With the U.S. dollar a little weaker against foreign currencies, that should help with tourism. International political instability, gas prices, discretionary spending, home values ... all these big-picture factors affect our industry. These are things that we look at.
CD: What is your role with UMA?
VP: I report to our board of directors and implement the policies established by them. I also work closely with the chairman and often act as a spokesperson for the association.
CD: What are some of the key issues affecting the motorcoach industry?
VP: There are two sides. First, there are the business issues—a whole range of issues that affect us, from fuel and insurance costs to changing traveler demographics and consumer confidence. On the other side are the regulatory and legislative issues. Probably the single, most visible change occurred last year when NHTSA came out with the seat belt rule, which will go into effect by November 2016. It was something that we supported and which bus manufacturers have already been adding to their new buses for a while now.
CD: What new regulations do you see coming down the pike?
VP:
MAP-21 (a bill passed in 2012 that, in part, listed requirements for safer motorcoach fleets) gave us a host of new regulations. NHTSA still has to figure out how to enforce the seat belts. In North America, side windows are designed to pop out, but unfortunately that's when the majority of the fatalities are occurring. We think the seat belts are going to help in that respect. FMCSA is close to passing a requirement that all buses to have electronic logging devices (ELDs, sometimes called electronic logbooks). The key for us is, whatever safety policies come out, we want them to be backed by science—not just a reactionary response to an accident or incident—so we can say with confidence when we go to our members that the change is not only tested, but it's good.
CD: How has the charter and motorcoach industry changed over the 10 or 15 years?
VP: You have a half-million-dollar asset and you have to figure out how to leverage it to make money, and what you're doing today to get a profitable ROI is different than in years past. The range of services that our members provide has changed dramatically, and you can't put all your eggs in one basket. You can no longer expect to be just a charter service today and survive. Many are doing corporate shuttles or inter-lining with transit operators, which means buying different equipment for a new customer base. You've got to hustle to stay competitive. What's really changing our business is customers' interests. Wi-Fi and 110-volt power outlets are in while the use of flat-screen monitors is becoming less important. People are coming on board with their own self-contained entertainment devices reflects change in consumer behavior. Customers, especially corporate, are looking for a different kind of experience; they're looking for something a little more intimate. We were for a time seeing the larger and larger buses doing most of the work, now we've gone smaller. Now a 35-foot bus with a dozen or so facing seats for a mobile meeting will do quite nicely for many operators. Right after 9/11 we saw a drop off in overnight trips, but we're seeing it growing again. It's grown by a day and a half over the last few years which is pretty significant.
CD: DOT inspections have obviously increased in scope and frequency over the last few years. How does UMA prepare operators for these issues?
VP: We do a lot of training. We have a safety management seminar that we do every year at the NTSB Training Center as well as at our annual conference. The game has changed. If inspectors are going to come in and do a compliance review, they're working from the safety management cycle. The basic goal is not just that your records are in order and maintained; but it's really designed to ensure a top-down commitment to safety. They're looking to see if this is an essential component of your business culture, training manuals, and even in job descriptions. Safety must be reflected in all areas of your company.
CD: Can you tell us about the Bus & Motorcoach Academy?
VP: Established in 2007, it's an online training resource to help new people getting into the business or into new areas of the business (e.g., driver or mechanic). Our goal is to help them provide high-quality service and a thorough understanding of our industry. We're not terribly different from the chauffeured ground transportation industry in that we're a majority of family-owned businesses, so there might be multiple generations working together. We keep an eye on their economic opportunities, because it's very different from their dad's or granddad's industry. Social media is playing a big role, and the Internet is obviously the way that people shop for travel, which is why we purchased BusRates.com to leverage those online booking opportunities. We constantly look at new ways to improve service, training, and seek new avenues of revenue.
The key for us is, whatever safety policies come out, we want them to be backed by science—not just a reactionary response to an accident or incident."
Vic Parra - President of and CEO of the United Motorcoach Association
CD: Chauffeurs are heavily trained in our industry. Besides the CDL, is there an industry standard for driver training?
VP: We're a service-specific industry, which requires different types of training for different types of passengers. Carrying a group of students is going to be very different than a group chartering a bus to Hilton Head to play golf. You train for the group, the customer base, and the type of service you're providing. It's something we also handle through our online academy and at our annual expo.
CD: What kind of advice would you offer a chauffeured ground transportation company owner who is looking to add motorcoaches to his fleet?
VP: Join UMA! We love helping new operators. The regulations change dramatically once you enter this industry [from chauffeured transportation]. God forbid something happens then it reflects badly on all our members. We, as an industry, carry 650 million to 700 million people a year with an average of 23 fatalities. Of course one fatality is one too many, but that's a pretty good safety record considering we're traveling on congested roads every day of the year. We want to help anyone looking into the business to get started properly. We also have a new operator's kit on our website.
CD: Buses are a large investment. What is an expected average lifespan of a well-maintained bus?
VP: A decade or longer is not unusual. A 45-foot bus is a monocoque construction, which is different from most passenger vehicles that are body on chassis. The frame is built first and all the pieces are put inside, so it's more road-friendly and provides a softer ride for the passenger. With body on chassis, you have shocks that get worn down and moving parts that deteriorate. Second, it's more impact-friendly. It absorbs the impact better if another vehicle hits it. The downside is, it's more expensive upfront, but the used coach market is probably stronger than the new coach market because motorcoaches last so long.
CD: What sort of options exist for operators who are interested in alternative fuels or becoming a greener company?
VP: Our version of alternative fuel is biofuel, which is 5-10 percent bio with the remainder diesel. Some manufacturers are playing with CNG or producing electric buses, which currently have a limited range. Part of our public campaign is also to remind people that we are environmentally responsible. Motorcoaches are the ultimate HOVs—high occupancy vehicles. We reduce congestion, we take anywhere from 40-45 cars off the road [with a fully loaded bus], so I really believe we are a product of the future because we are important to the infrastructure of this country.
CD: What are some of the biggest misconceptions that you find the general public has about motorcoaches?
VP: We have a campaign to promote motorcoach travel, like the other associations out there. What we're finding is that people have been on coaches, but their experience is not positive. It's when they were in college and the cheapest way to get somewhere was the dirty, smelly Continental Trailways or Greyhound. They say, "I didn't like it then, so why would I want to do it again?" The misconception, however, is based on ignorance, not knowing what the new equipment is all about. Once people experience a new motorcoach, they think it's great. We're trying to groom those new users through school trips. We're trying to give them a really great experience so that they become motorcoach travelers again in the future—by choice. [CD0414]