By Susan Rose

You've probably heard the idea of a "health passport" being bandied about in the past few months, even before the vaccine was widely available. It's been known by many different names—digital health passport, vaccine passport, travel pass, wellness passport, immunity passport—but the concept remains the same regardless of the moniker: to allow inoculated people to travel again without requiring quarantine and widespread testing, thus helping to restart the global economy. The World Health Organization (WHO) said it was "exploring how the common vaccination record could be done electronically" back in December 2020 (which was a turnabout of its previous opinion of the idea). It's been proposed by many in the travel industry, including associations, but right now it's getting a big push by U.S. airlines—all of which were hit particularly hard during the yearlong pandemic but are rebounding.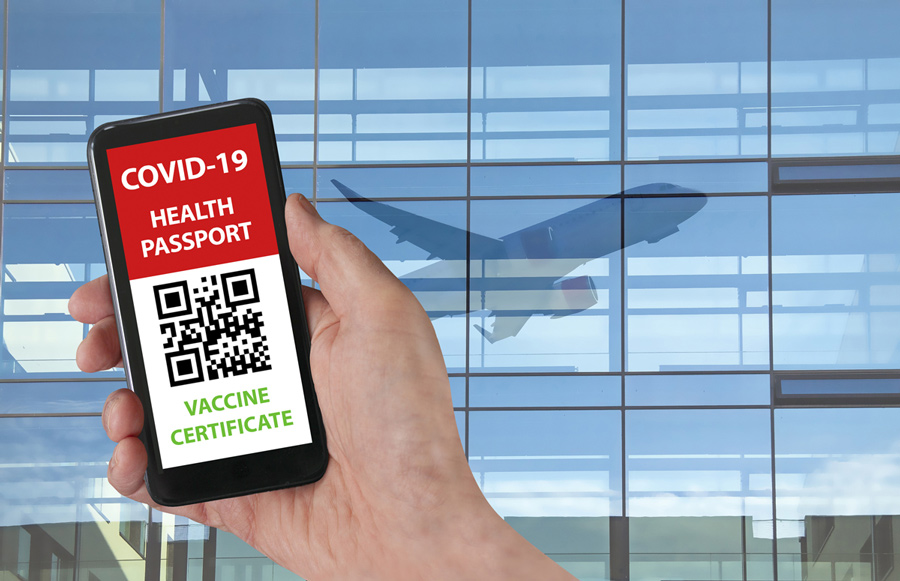 If you've been vaccinated, you received a card from the Centers for Disease Control and Prevention (CDC) noting the date of your shot(s). The hope is that this information can be exchanged electronically so that one can travel across borders safely and without the added bureaucracy.

Airlines for America, an organization representing the major U.S. carriers, recently sent a letter to the White House's COVID-19 Response Team Coordinator Jeffrey Zients to establish a framework by May 1 that would allow vaccinated people to travel freely starting this summer—while keeping safety and its protocols a priority. The letter was co-signed by several of our industry's organizations, including the NLA, U.S. Travel Association, and Global Business Travel Association. Luckily, the CDC released its updated guidelines for fully vaccinated individuals in early April.

Late last year, the International Air Transport Association (IATA) announced that it was developing its Travel Pass app, and earlier this month, in partnership with Singapore Airlines, the association said that it had successfully completed a trial for passengers traveling between Singapore and London.


But the digital or physical documentation isn't necessarily being limited to international travel; its application for hyperlocal tourism is definitely being discussed and implemented. According to Meetings and Conventions, "Passports could also open the door to everyday pursuits that seemed normal before the pandemic. In Israel, the country with the fastest vaccination rate, citizens with a vaccination 'green pass' will be allowed entry to gyms, hotels, concerts, and indoor dining at restaurants." That's already the case in the state of New York, which is still testing its Excelsior Pass to admit, for example, vaccinated people to games and concerts at Madison Square Garden. In Europe, the EU has announced its Digital Green Certificate that will serve as "proof that a person has been vaccinated against COVID, received a negative test result, or recovered from COVID." Florida and Texas governors have "forbidden" businesses from requiring proof of vaccination in order to serve customers.

Further, some employers are also considering requiring this information as a way to return to the office, go back to a restaurant or movie theater, or for wide-scale events to take place. Royal Caribbean announced that it was starting cruises to the Bahamas and Mexico for those who can prove they have been fully vaccinated.

The concept is not without its drawbacks. According to a February 2021 poll conducted by J.D. Power and Associates about resuming travel, 33 percent of respondents said that digital vaccine passports were a good idea and should be required. The same percentage (32 percent) said it was good but should be optional. A full 35 percent said that it was a bad idea altogether, noting that it should be optional or not introduced at all.

A recent GBTA poll (March 2021) also found that 66 percent of respondents believe implementing Digital Health Verification is a good policy, the majority of whom believe it will help employees safely resume business travel. The same poll found that respondents from Europe are more likely (72 percent) than their North American counterparts (63 percent) to say it's a good policy. For those who think it's a bad policy, 73 percent cited privacy concerns as their top issue against it.

Potential HIPAA violations and limitations to technology (especially regarding Americans who don't have smartphones, or those who aren't comfortable with technology) have also been cited as impediments to health passports in other polls. Sharing personal health information with the government or industry isn't exactly something Americans are jumping on board to do, although it's pretty much happening now voluntarily when we use Facebook, Google, and Gmail. It's important to note that the Biden administration says it is only working with private companies to establish a passport standard to prevent systems that can be hacked or counterfeited, not to collect data, but that may not be enough reassurance for those suspicious of government intentions. Also, the bigger issues is likely vaccine access and priority, potentially marginalizing those who haven't been able to get the vaccine against those with the "privilege" to move about freely while we reach herd immunity.

No matter where you stand on the health passport, it's certainly going to continue to be a hot-button issue in the coming weeks and months as the recovery gets underway.   [CD0421]