BY SUSAN ROSE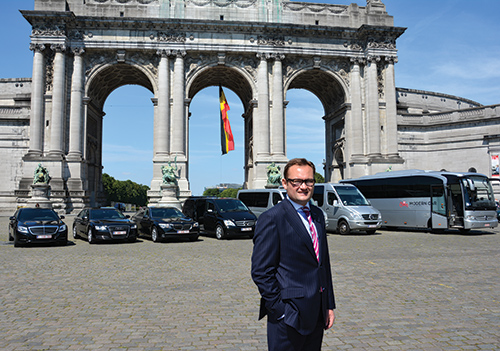 Modern Car President Stephane Bombeek in front of Parc du Cinquantenaire, a triumphal arch commemorating the fiftieth anniversary of Belgian independence Stephane Bombeek was destined to join the chauffeured ground transportation industry' his family's business. As a child' he literally grew up in the company' Belgium-based Modern Car Worldwide Chauffeured Services' watching and learning from his parents. His father built the company customer by customer with the help of his mother' who managed the accounting and financial side of it. After completing his education' it was not only his destiny to join Modern Car' but to lead it once his parents decided that they were ready to retire.

"I was born in the industry because my parents worked day and night for the company'" he says. "I was too proud of what they had built and the number of clients who used the service to let them sell it to someone who didn't understand it."

Modern Car's founder had a very different dream. Bombeek's father' Roland' longed to be a commercial pilot. While his true passion lay 30'000 feet above the earth' he had a slight unfortunate eye problem that kept him from flying. With his dreams grounded' he sought a new career and decided to try his hand at being a professional driver' a chauffeur' and he grew to enjoy the industry. Three years later' in 1970' he saw an opportunity to open his own transportation company after two others in Brussels went bankrupt' leaving some of his clients without a provider. Modern Car officially launched that year' with the embassies of Australia and Great Britain as its first customers.

Belgium—and its capital' Brussels' in particular—has a rich political history. Besides its reputation for world-class chocolate' nearly a thousand different types of beer' and' of course' the Belgian waffle' the country has been part of Europe's changing landscape for hundreds of years. After seeing the defeat of French dictator Napoleon in Waterloo and being a major part of both World Wars' Brussels went on to become the headquarters of the North Atlantic Treaty Organization' better known as NATO. Brussels is also the capital of Europe and serves as the main seat for the European Council meetings. In fact' no other city outside of Washington' D.C.' has more diplomats' so it's no surprise that a large majority of the company's clients are from the international political world.

With such a diversity of international travelers' Modern Car's work with affiliates from all over the globe began back in the mid-'80s' and it currently works with several worldwide networks. In 1974' Modern Car had the honor of being selected as the transportation provider for the King's Palace' a distinction which it still holds today. In years past' it has served the transportation needs during royal weddings' funerals' and other palatial events. Modern Car has transported heads of state' prime ministers' and even visiting U.S. presidents from Ronald Reagan in the '80s to Barack Obama over the past few years. The company most recently provided transportation for the G7 Summit' a collection of the world's seven largest superpowers' when Brussels was the host city this past June. It's also the preferred transportation provider of many of the city's 5-star hotels.

Working with such important world leaders—and their entourages of protective detail and guests—is not something that just any company can do' nor is it an easy task with such valuable cargo on board. Modern Car earned its excellent reputation after years of service thanks to Bombeek continuing his parents' legacy. He understands that there's more to customer service than just sending an impeccably dressed chauffeur in a beautiful vehicle.

"We've been handling these types of clients and events for a long time now' so we know what to do'" says Bombeek. "If you understand [their demands] and what they need' it's no problem and goes smoothly. You have to be a top-notch company. You have to have the right kind of people working for you' and we do." He jokes that the hardest part is likely completing the mountains of paperwork.

Modern Car also transports local corporate clients and VIPs' some of whom are part of the country's thriving arts and media scene. The company has handled the transportation for international and local celebrities' and has often driven for large-scale events and conferences taking place in the area. Architecture tours are a favorite' and the company occasionally will handle a wedding for one of its best clients. Thanks to a special working relationship with Brussels Airport' chauffeurs are able to meet or deliver arriving or departing clients at the gate so the service is seamless.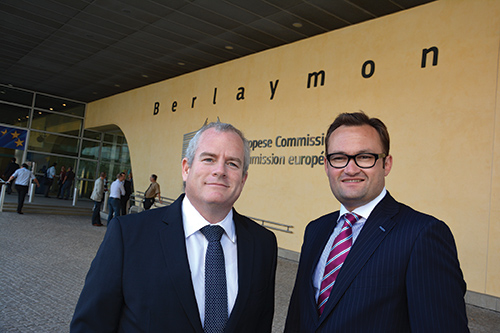 Kevin Reiss (left) with Bombeek Bombeek ascended to his current position of president in 2002' but it wasn't until 2006 that he assumed total responsibility for the company upon his parents' retirement. During those four years' his parents prepared him for his transition. After they retired' Bombeek surrounded himself with two key staff members who rounded out his management team: Kevin Reiss' director of business development' and Olivier Defaux' director of finance and administration. Bombeek credits his staff with helping him grow into his role and feel confident in taking charge of his family's company's future. Over the last eight years' he has been making his mark on the company and really shaping it with his own vision for the future.

"Everyone at Modern Car is important to the company' and we have a great team'" he says. "Not many companies can claim such a low turnover' but we are really proud to say that some of our chauffeurs have been with us for 30 years."

Defaux joined the company just two-and-a-half years ago' but his role has become critical to the success of Modern Car. In the last several years' growth has been explosive' and it has outpaced its existing infrastructure. Defaux has been spearheading the restructuring of the financial systems to ensure a smooth transition from small company to large' as well as establishing processes to manage future growth.

Reiss' in particular' serves as his right-hand man. With about six years of luxury ground transportation experience' he wasn't a stranger to the demands that VIP clients expect. He spent many years in the high-end fashion industry' working with some of the most iconic fashion houses all over Europe. His job was also physically demanding as he was required to travel nearly 80 percent of the time to help the factories with their product lines. The decision to join Modern Car was an exciting challenge.

"Stephane was looking for someone to help him develop the commercial aspect of the business' and I liked the opportunity that he presented. This past year has been an excellent year for the company' and we have a lot of projects in the works."

Taking the leadership reins has been a maturing experience for the younger Bombeek' and it hasn't been without its frustrations. Due to its many social programs' business and personal taxes are very high in Belgium' which can put a strain on business growth. Workers also enjoy numerous protections that make it very difficult to be terminated' so Bombeek says that he takes hiring very seriously to avoid making any mistakes that could cost the company. From an operating standpoint' traffic congestion tops his list as they try to make their way through the city.

Belgium is a country of 12 million people and about the land size of Maryland nestled between the Netherlands' Germany' France' and Luxemburg. Thanks to its borders' it is a highly multicultural—and multilingual—country. French and Dutch dominate the primary languages' although German is also spoken in regions bordering to the east. As with any company where Europeans flow freely between borders' the expectation when transporting a large number of international clients is a bilingual chauffeur staff. Modern Car hires chauffeurs who speak at least French and one other language' from English and Spanish to Arabic. Bombeek says that language barriers are rarely an issue.



Modern Car handled the 2014 visit of President Obama Chauffeurs also go through an extensive training period before they can handle the company's ultra-high-end clientele' a process that lasts often six months' according to Reiss. He says that they are consistently retrained on the changing social scene in Brussels and beyond so that they can easily recommend the finest eating establishments' best hotels' hidden gems of the city like special museums' and all of the hottest night spots. Brussels is a very old city' but it's known for its cosmopolitan culture with a contemporary flair.

Brussels is a smaller city compared to many of its European cousins' but it has a thriving social scene that keeps residents and visitors alike busy year-round. During the warmer months' numerous festivals fill the city streets with color' dance' and music. The international nature of the city is demonstrated in the many different types of music and foods that can found during these events. Brussels was the birthplace of the saxophone' so it's no surprise that it's home to one of the largest jazz festivals. In December' the city is transformed into a winter paradise with its famous European Christmas Market.

Modern Car' which operates a fleet of about 40 vehicles' has one of the most diverse in the city. The company has all of the classic European luxury vehicles' like BMW' Mercedes-Benz' and Audi' but it has recently expanded its lineup to include custom Sprinters and Vianos in addition to Volkswagen Caravelles and several coaches. Reiss says that the larger vehicles were needed as more and more of Modern Car's clients request tour group moves and corporate road shows. There has been a major focus on its vehicles in the last year as it turns over its fleet to the latest 2014 and 2015 models. When it needs other vehicles' it maintains good working relationships with many of the area's affiliate companies.

Bombeek is already demonstrating his leadership abilities with a bold move toward a vehicle that no else in Belgium—at least according to him—operates: the Tesla S. Modern Car flirted with hybrid vehicles before' including Lexus models' and it had great success. This purchase' however' reflects the changing mood of customers and their attitudes toward how vehicles are powered. The first Tesla is expected to be delivered at the end of this month with two additional vehicles on order.
I was too proud of what [my parents] had built and the number of clients who used the service to let them sell it to someone who didn't understand it.
– Stephane Bombeek, President of Modern Car

"Although we run a limousine company and most vehicles are gas or diesel' we also wanted to look into the future of how vehicles will be powered. Tesla offers a product that is 100 percent powered by electricity. The car is as beautiful as it is reliable. We know from other affiliates that clients react positively to them' so we are ready'" says Reiss.

Last year the company also completed a rebranding process' which included an updated logo and a highly detailed website that tells the company story' from the moment his father founded the Modern Car to the latest vehicle offerings. The rebranding also included an investment in technology' including the interactive website and the purchase of tablets for chauffeurs for a variety of purposes. Modern Car also upgraded its reservations system at the beginning of 2014 to reflect the needs of the 21st century client.

Bombeek inherited a bourgeoning company with a solid reputation' but he has managed to continue the strong legacy of his parents while carving out his own unique niche to make the company his own. He is looking further down the line toward expanding the company' possibly with additional offices outside of the country' but it's an idea that's still in the planning stages for now. He and his team have many ideas.

"We work from the heart because we love this industry' which shows in how we handle our customers'" he says. "It's not just what we do' but it's who we are." [CD0814]