BY SUSAN ROSE
One of the questions we usually ask when interviewing operators and other members of the industry is "What's the most important thing you want people to know about your business?" We've received many different answers over the years, running the gamut from a one-of-a-kind fleet to having something to pass on to the next generation. For Richard Tessier, president of Great Bay Limousine in Portsmouth, N.H., his answer can be boiled down to one simple word: gratitude.

"I just want people to know that we care about what we do every day," he said. "I'm very thankful for everybody who uses our service and I appreciate our employees, because they make us the business that we are."

Tessier launched Great Bay in December 1999—this month marks the 22nd anniversary—in his hometown of Portsmouth, an archetypal coastal New England town located on the Maine border and Piscataqua River that's a little over an hour from the Boston area. It's the place where he stayed and raised his five daughters.

He first became interested in luxury ground transportation after moonlighting as a part-time chauffeur for an area company that has since closed. Laid back, congenial, and easy to talk to, Tessier found that he really enjoyed being behind the wheel and having the opportunity to meet people, so he decided to make a business out of it.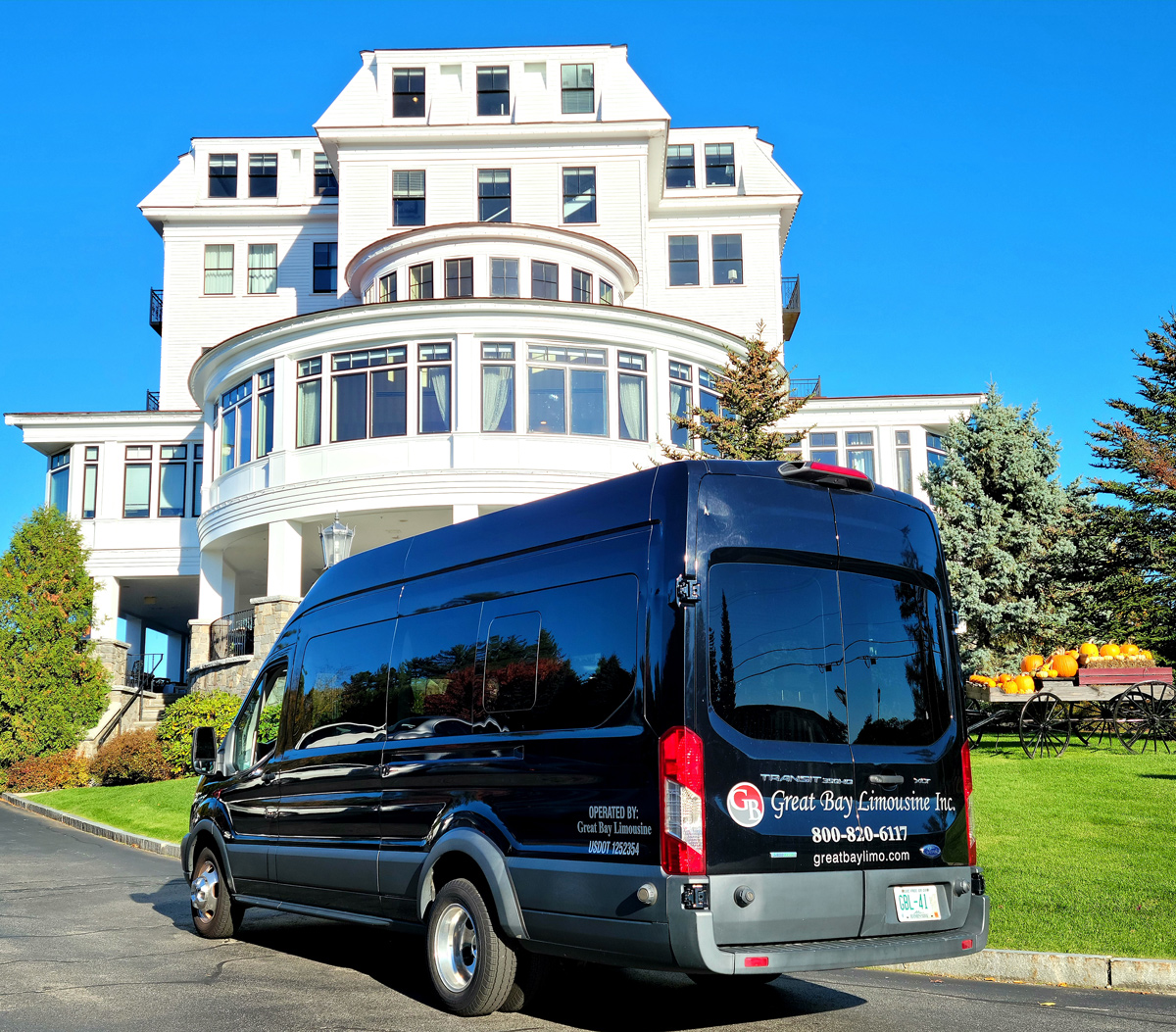 At Wentworth By the Sea, a resort they work with frequently As it turns out, he was also handy under the hood of the vehicle too, thanks to his full-time gig as an automotive technician—quite a skill to have in a pinch when running a transportation company. Even now he says that they can handle about 70 percent of their vehicle maintenance in house, and he gets his own hands dirty from time to time.

"We have two full-time mechanics, and sometimes I'm one of the two mechanics," he says. "We have as much diagnostic equipment in our shop as a high-level garage. We do it all," saving them money and time. The bodyman he works with is a buddy from high school. He's even helped out a fellow operator or two over the years with their own down vehicles.

After a rocky 2020 where he essentially had to lay off the entire team, including himself, Great Bay is bustling with activity and on track for an outstanding year, surpassing 2019's revenue. Wedding work, which has long been the company's bailiwick, drove their recovery throughout the summer, and their other market segments soon followed. Numerous retail jobs are keeping the cars running—proms, anniversaries, nights on the town, casino trips, concerts, and now holiday parties—but he says that corporate work has also been increasing steadily and their airport transfers have ticked up significantly. He's seeing a 50/50 split for corporate and retail customers.


"After a rocky 2020 where Tessier essentially had to lay off the entire team, including himself, Great Bay is bustling with activity and on track for an outstanding year. "
A little under eight years ago, Great Bay welcomed its second generation of leadership when Tessier's daughter Karrine joined the company, the only one of his children to express an interest in taking up the family mantel. Her official role is akin to an office manager as she does a little bit of everything as the second in command, but her primary duties include accounting and managing the reservations with the team of customer service reps.
"She's the one who says 'you can't do this, dad.' Most of the time that's a good thing," he says about working with his daughter.
The team is back (most of his furloughed employees returned), and he's even adding staff and vehicles to accommodate the surge in corporate, other retail, and tons of affiliate business. In fact, Tessier says that they're receiving so many calls lately that they've had to begrudgingly turn down hundreds of jobs because they simply can't meet the demand. The fleet is now about 33 vehicles, from stretches and SUVs to trolleys and party buses, with more expected in early 2022.
"We sold off eight vehicles during the pandemic and have added back 10: a Grech 33 bus, two more stretches, and a party bus. We're adding a Volvo S90 and two Cadillacs CT5s probably in January," he said.
Unlike other markets, Tessier isn't struggling as much with hiring chauffeurs as many of his drivers returned when the demand increased, and he says he's had good luck with services like Indeed to fill in the gaps. He'd like to add a few new employees, but he's happy with where the business is currently.
"Right now we're just busy, busy, busy, and I didn't think we'd ever be this busy. I'm doing a lot for affiliates, especially in Maine," he says. "Teale [Smith] at Maine Limousines is a friend of mine and we send each other work often. I just try to work with everybody." They both are members of the New England Livery Association (NELA) and held seats on the board.
"I was on the NELA Board years ago, but now just try to support them because I know they're doing good things for the industry. My involvement will help support other companies in the area," he says. Great Bay works with the bigger Boston players—the BostonCoaches and Commonwealths—but valuing those relationships that he has with his competitors has been an important part of his business strategy, and has led to affiliate work with operators across New England and the country.
NELA is where Tessier met his good friend and mentor Mark Mollica, who retired from the industry in 2019 after selling his Massachusetts-based company, Black Tie Limousine, to Grace Limousine and Shuttle. Mollica was well known for his wedding business, and Tessier was honored to handle the transportation for Mollica's daughter when she got married.
"Weddings are a big part of our business and we're definitely strong in that area," he says. He and his daughter consistently attend the local wedding shows, which keeps their company name top of mind for prospective couples. Plus, having a good reputation for serving those clients on a day where there is little room for error is imperative.
Being along the I-95 corridor has been advantageous to capturing business not only in New Hampshire, but also Massachusetts, Maine, Connecticut, and New York. Great Bay's local airport is Portsmouth International, although they also regularly service Boston Logan and the regional airfields between Maine and Massachusetts.
The postcard-perfect New England seacoast is legendary for its beauty, while its notorious fall foliage in the surrounding hills and mountains is among the best in the country. Outside the major metropolitan areas lies a rugged landscape that has attracted the attention of presidents and business leaders alike to B&Bs, unique and exclusive eateries, and stunning properties such as the Cliff House (Maine), Wentworth By the Sea (N.H.), and the Stage Neck Inn (Maine), all of which they work with frequently.
Great Bay is also located in a solid market for loyal sports fans—you may have heard of the New England Patriots or Boston Red Sox—which certainly bolsters business every year, especially when it's a good season for the winning teams.
"A little under eight years ago, Great Bay welcomed its second generation of leadership when Tessier's daughter Karrine joined the company ..."
"We've been very lucky to have the New England teams do pretty well. Obviously, it helps when the Patriots make it to the Super Bowl, which is looking good again for this year, so it's nice to get some extra work out of that," he says.
Great Bay's team is small but mighty and dedicated, as they move mountains every day. Tessier is a hands-on owner who wears numerous different hats—including chauffeur. He never lost his passion for taking care of the people he says "pay the bills," and he's adamant that his staff treat their customers the same way.
"I don't handle the reservations as much now and when people call me, I try to refer them to my daughter. I let her worry about the pricing because she jokes that I always screw it up," he says.
Throughout his 22-year career, Tessier has not only earned the respect of his fellow affiliates, but has been fortunate to work with two of the industry's top consultants: Tom Mazza and Bill Faeth. The lessons were critical to his longevity, he says.
"Working with Tom Mazza was wonderful. I did several of his chauffeur training sessions—and what a nice man. Everything he did was to help the people of the industry," he says about the late consultant. "I've also attended a few of Bill Faeth's Limo U marketing classes in Nashville and worked with him privately, which was an incredible experience, as far as helping me to succeed."
So, gratitude. Now 57, Tessier has been focusing a bit more on his own downtime, which includes getting away from the hustle by traveling, attending concerts, or just kicking back with the family. There are no firm plans yet, but he is thinking about retirement and passing the torch to his motivated daughter and the capable team he's created.
One of goals coming out of the pandemic was to make sure that the people around him, from his team to his affiliates to his irreplaceable customers, knew that he was thankful for those relationships.
"I've been trying to listen to people a little bit more. I mean, we always did but now just being more actively engaged with people and customers so that they know we really care about their business."
[CD1221]