BY LIZ HUNTER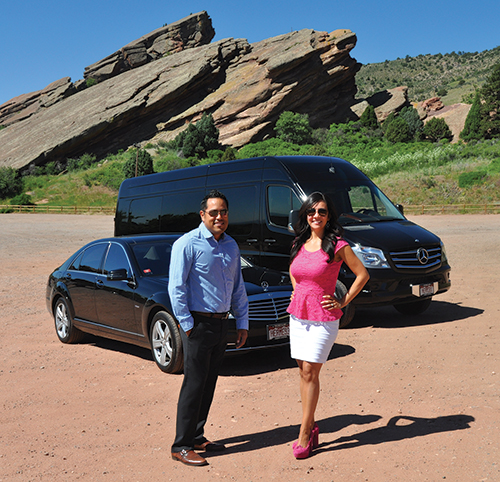 Jorge and Rocio Sanchez' president and vice preisdent of Hermes' at the world-famous Red Rocks Amphitheater Passion' humility' and dedication drive Hermes to new heights in the Rockies.

All entrepreneurs get that itch. You know the one: That nagging feeling that you could be successful on your own terms. It keeps you up at night and distracts you during the day' until you can't ignore it any longer and finally scratch that itch.

Seven years ago' Jorge Sanchez was a successful software architect for a multinational telecommunications firm. But after 20 years in that field' the money and stability weren't satisfying him enough. Once he earned his MBA' Sanchez became interested in owning his own business' and although he didn't know the chauffeured transportation industry particularly well' when an opportunity presented itself he couldn't pass it up.

In 2007' Sanchez acquired a one-car company' keeping its name but re-branding it for a worldwide service mentality. "From day one' our focus was for clients to understand we could go beyond Denver'" he says. Hermes Worldwide was the beginning of a new chapter in Sanchez's life.

In the early days of building the company and getting his footing in the industry' Sanchez was still working full time at his regular job. "Little did we know that this wasn't a part-time industry. There was not a lot of sleep in those days'" he recalls. "It was a challenge and required a great deal of brute force on my part. I was working 80 hours week after week' and my wife was putting in 20-40 while still taking care of our kids. This went on for nearly four years. But it got to the point where I couldn't let things slide' whether it was the service' my commitment to my family' or my other job. I wanted them all to be successful."

Something had to give' however' and having his family fail was not an option' so it had to be one of the jobs. "I felt so passionate about being my own boss that I gave up my career in software' which freed me up to be committed to our business'" Sanchez says. "It relieved a burden I didn't realize I had. I felt like I had my life back and it made me a better family man."

Able to dedicate his full attention to the business' Sanchez accomplished a great deal in just a few short years. The company has grown to a diverse 19 vehicles' including Lincoln MKTs and MKZ Hybrids' Mercedes-Benz S550s and Sprinters' minibuses' SUVs (Suburbans and Escalades)' and one stretch limousine. Each is garage-kept—something not a lot of companies can do in Denver due to the overwhelming cost of space. But Sanchez says fleet maintenance is a big differentiator for Hermes.

"We have a meticulously cared-for fleet'" he says. "It's rare you'll find a scratch or dent on them' and if it happens' we repair it immediately. We've invested extra money and time for this maintenance. Having our vehicles in a climate-controlled environment also helps maintain their longevity' keeping them out of the harsh winters and hot summers. I think this certainly helps to distinguish our fleet."

Sanchez knows he must be doing something right because he receives compliments—even from competitors—about the fleet' chauffeurs' and staff. "People always tell me that they can spot a Hermes car and chauffeur. They look at the way the vehicle has been maintained' the way the chauffeur is dressed' and how friendly our staff is'" he says. "Our affiliate clients even pass this along to their home companies. It's comforting and gratifying to hear them tell our affiliates that they picked the right partner in Denver."

Our culture is moving to everything on-demand ... If we want to be on equal footing, then we need to learn from what these app-based services are doing well so we can compete."
- Jorge Sanchez
The attention to detail doesn't hurt in terms of the clientele Hermes is servicing. Sanchez knew from the beginning that retail would not really factor into his business model. "Our only retail work comes from our corporate clients. There was a time in my life when I was young and went out a lot' but I've seen the bad side of kids having too much fun'" he says. "It's a part of the industry I didn't want to deal with."
Corporate accounts were a priority and Sanchez felt he could easily connect with the demographic' which proved to be true. When building Hermes' client base' Sanchez focused on diversification.
"We didn't want to depend on one account or focus on one niche'" he says. "We have accounts at hotels' resorts' and venues' but we don't have exclusivity with them. We have found growth in being able to fill in when their primary account cannot."
It's the same for private aviation. Hermes is not an exclusive provider for the local FBO' but Sanchez says the relationships are there. "These are high-end VIPs traveling on these flights and we know how to take care of those clients. They rely on us when they can't take any chances with service issues."
Hermes also provides some interesting services beyond typical corporate offerings' among them non-emergency medical transportation and real estate tours. Sanchez says they connected with clients for non-emergency medical transportation early on' providing rides to patients undergoing plastic surgery' LASIK' physical therapy' and dental procedures. "This is a big piece of our business'" says Sanchez. "It increases the utilization of our sedans when business travel might be slow and helps offset that factor."
Sanchez says real estate tours are like road shows but the clients are looking to invest in property. He says it ranges from government accounts to nonprofit organizations' and the appeal is that agents can maximize their time conducting business while someone else does the driving.
Of course' it helps that Colorado in general and Denver in particular are experiencing a boom of sorts. According to The Denver Post' Colorado had the fourth-fastest rate of population growth and ranked fifth in total number of residents gained so far this year. And it's not just the legalization of marijuana—which is projected to generate approximately $30 million in tax revenue this fiscal year (as reported in The Denver Post)—attracting them. According to Sanchez' Denver is becoming a "Silicon Valley of the Midwest'" where major oil and gas companies' as well as tech startups' are building headquarters. The University of Colorado says that Denver is on track to add 68'000 new jobs' besting its anticipated 61'300 jobs predicted for this year.
Colorado was ranked among the top 10 states for employment growth in 2013' which comes as no surprise to Sanchez' who has lived in Colorado all his life. "There are a lot of educated people moving here and major companies want that young talent'" he says.
But what makes Colorado' and Denver for that matter' so great? "The only thing Colorado doesn't have is an ocean'" says Sanchez. "We have every major sports team' minor league clubs' performing arts' and Denver is turning into the microbrewery capital of the world." He's not kidding either. Colorado is home to more than 200 breweries and Denver plays host to the annual Great American Beer Festival' which attracts some 50'000 attendees each fall.
And for anyone who loves the outdoors' Colorado has it all: From mountains and forests to rivers and trails' people can enjoy all manner of outdoor activities including mountain biking' fishing' camping' and ATV tours. It's no wonder Colorado is consistently ranked among the fittest states in our union.
But it's the world-class ski resorts that truly attract clients for Hermes to service. Within a one- to four-hour drive from Denver you can get to Vail' Aspen' Beaver Creek' Breckenridge' and Winter Park (to name a few)' and Hermes handles transportation to and from all of these major attractions. Day trips are easy for Hermes to do thanks to the proximity' but Sanchez recently committed to putting actual metal in these towns.
"We have made the move to putting vehicles in Vail' Aspen' and Colorado Springs'" he says. "The fleet is tagged for all local airports and we have local rates for all of them. We're the first operator to have vehicles in all of these markets' including Denver."
Doing business at these mountaintop resorts' or in Colorado for that matter' takes some careful navigation of the roads and the elements. "We train chauffeurs specially for the conditions getting to and from those towns' and it's not just snow. It's white-out conditions' road closures' and a lot of volatile traffic. You've got to be on your toes every moment."
But all of these components of Colorado and Denver attract a valuable piece of business to Hermes: affiliate work. "We went after inbound work aggressively in the beginning'" Sanchez says. "It helped level off the peaks and valleys of business' and it helped grow a network base by then being able to send work to those companies who were sending us theirs."
Now the formula is more focused on the outbound' he says. "As our client base grew' they were traveling to more cities' so it became important to have that diverse network of companies we could count on in other cities."
All too often' Sanchez felt as though affiliates treated Hermes like a stepchild. "I felt like they thought of us as just an affiliate' but I was making a point to my staff that this affiliate client is just as important as our own. I put them on equal footing with my own direct clients. Now when I am vetting potential affiliates this is the mentality I look for."
Sanchez never chooses an affiliate based on referrals alone. "Until I can do a site visit' my staff will interview them over the phone and get a sense of their philosophy' culture' standards'" he says. "Then I try to visit them to inspect their operations and make sure they are the right fit. I don't always announce I'm coming. I'll use an alias and I'll ghost ride in their vehicle. If my staff is going to that city' I'll ask them to ride with the company and report back."
He's not shy about asking clients to help' either. "I'll offer them a complimentary trip if they can take five to 10 minutes to complete some feedback on an affiliate. Many of them are happy to do it and often they turn down the comped ride. This combination has helped us find the right partners'" he says.
Sanchez admits to having high standards. "I'm a perfectionist. I have a concept of how I want something done' but I am learning that as a leader things don't have to be done my way in order to be done correctly'" he says. This is a philosophy he is working on when it comes to his own employees.
Hermes has an office staff of eight' including management. None of them has just one role or responsibility. "I'm a big believer in cross-training'" says Sanchez. "I don't like people to have only one primary responsibility. They might get sick or take a vacation' so in order to protect our business and our clients' I like to have multiple people who can do various roles."
There are key people he relies on. His wife Rocio helps with accounting' special projects' hiring new employees' acquisition of new fleet' and other areas. "She helped start this business so she knows a little bit of everything'" he says.
Sanchez's sister Lucinda also works in the business' handling accounting duties and groups and events. "She's doing a great job. She sets up the prorgram' educates the staff on the event' and oversees the execution'" he says.
Veronica McCall is a jack-of-all-trades' Sanchez says. "She helps with accounting' groups' dispatch' reservations' you name it. I've yet to find a task she's not willing to take on. She learns quickly."
Tricia David started with the company as a chauffeur and transitioned about a year ago to the office. "She is a lead dispatcher and our chauffeur trainer'" says Sanchez. "I thought I did a good job training chauffeurs' but she's even better. I knew she was the right person and I had faith in her. And because of her' our chauffeur team has gotten stronger."
As any good chauffeured transportation company knows' those who are driving the vehicles can make or break your business. "To be a chauffeur you have to possess a servant's heart'" Sanchez says. "You can teach anyone to drive' but you can't teach someone how to be of service to others. You're either passionate about it or not; you go the extra mile or you don't. If they apply here I want to know their work habits. Are they opposed to hard work? Can they be around other people? Is service in their DNA? I can teach them everything else."
Sanchez has surrounded himself with quality people and it doesn't go unnoticed how much they have contributed to the success of the company. "We've grown so rapidly and they have been a critical piece of the business. We celebrate birthdays' hold summer barbecues; little things to show appreciation' but I don't think I'm doing a good enough job of recognizing their contribution'" he says' but that's something he's hoping to improve.
For instance' in honor of chauffeur Annette Kazmerzak's five years of service' Hermes had a bobble head made in her likeness' and gave her a $500 certificate for a wish-list adventure' which gives her anything from credit at a hotel or resort to a hot air balloon ride or a skydive adventure.
"The bobble head was something fun and different and we thought she would enjoy it. Turns out she loved it. And it would have been easy to write her a check' but the wish-list adventure is an experience' and it's a memory she'll associate with her anniversary'" Sanchez says.
Looking ahead' it's impossible for technology not to be a major component of Hermes' growth. Considering his background' Sanchez says he's not afraid of adopting cutting-edge technology' even if it hasn't yet been proven. "If it's going to help us operate more proficiently' then I'm willing to take that risk'" he says. He is currently working on the infrastructure to introduce iPads and WiFi in vehicles' as well as a mobile app.
While his knowledge of the tech field may be an advantage' it's also a frustration.
"Our industry does not move fast enough in terms of technology creation and adoption'" he says. "This is one reason we're losing ground to services like Uber. Our culture is moving to everything on-demand. When I hear a song' I don't want to drive to the store and buy the CD. I want it immediately' so I download it on my phone and now I have it with me anywhere I go. If we want to be on equal footing' then we need to learn from what these app-based services are doing well so we can compete."
He continues' "We can't wait two to four years to make it happen. If we're not moving in that direction in 2014' then we're falling further behind." Sanchez would like to see the industry as a whole work together from a technology standpoint. "We need a committee that will take action: small and large operators' domestic and international' vendors' industry publications' associations. We'd be stronger as an industry if we had everyone working in concert'" he says. "There's plenty of room for everyone to be successful. Competition breeds innovation."
Sanchez realizes that learning from others is going to help him grow Hermes' and he walks the walk by getting himself out there in the industry. He's a member of several associations' including the CLA' NLA' and GBTA' where he has exhibited at its annual convention. "The biggest value of being involved in these associations is it allows me to stay in front of my peers and colleagues'" he says. "I can learn from them and take those things back to my operation' which allows me to better serve my clients."
He is also a part of the Enterprise Strategy Group' facilitated by Andi Gray of Strategy Leaders' which focuses on owners. "I am really fortunate to be a part of this group' not just for the other members but for the tools given to us by Strategy Leaders. It's not just about being a good limousine company' it's about how to be a profitable company' regardless of your industry'" Sanchez says. "I have an MBA and I thought I was pretty smart until I joined this group. Andi and her team have educated me all over again."
Global Partners' which is a group focused on affiliates offered by Driving Results and Arthur Messina' may be new but is already making an impression on Sanchez. "My hope for this isn't to bring in more affiliate work but to think about how we can work together to develop standards on networks. Everyone has the same core beliefs' but there is variation in terminology' pricing' communication' technology. We need to make it more efficient'" he says.
Sanchez also may be relatively new to the chauffeured transportation industry' but that doesn't mean he hasn't learned his share of lessons. He and his wife suffered the loss of a son' who would have been 12' as an infant. "Losing him made me realize that you have to enjoy the moment and make sure you're doing what you truly enjoy. Our time is limited and there is no reason to spend it being forced to do something you don't get joy or satisfaction out of'" he says. "I left a good-paying job and went out on my own. I wasn't passionate about that other career and felt stuck. But I needed to learn not to be afraid."
Besides the company' Sanchez is extremely passionate about his family. He has three children: Michaela' 20; Julian' 19; and Elijah' 10. "We are all riders [snowboarders] and it's great being so close to the mountains'" he says. "We love to be outdoors together' going camping or fishing' and I hope to be able to do that more' but it's always a challenge getting away from the business." Sanchez began coaching his youngest's traveling baseball team five years ago' and he says they have developed a special bond around the sport.
He and Rocio travel often' and her favorite destination is the beach. "She loves the beach and she encourages me to go with her as often as possible'" Sanchez says.
Life is different compared to seven years ago. The days may still be long' but Sanchez is motivated by satisfied clients and employees who make it all happen.
"We've been successful by focusing on service' and we're going to continue to enhance that'" he says. "But I feel personally successful because I am able to create jobs and provide a good working environment and health care to my employees so they can live a good life outside of work. I believe if I take care of my clients and my employees' I in turn will be taken care of."
[CD0914]