BY SUSAN ROSE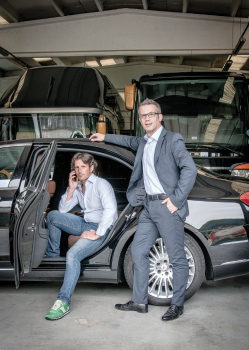 Brothers and partners: CEO Alessandro (right) and Logistics Manager Fabrizio Mapelli Milan, Italy-based Moveolux is a second-generation transportation company run by ­Alessandro and Fabrizio Mapelli that has prospered as a luxurious travel service, providing transportation via ground, sea, and air.

After studying in England' Italian native Alessandro Mapelli returned to his home country and talked to his father about joining the family's transportation company' Euronoleggi. Much to his surprise' his father told him no' which inspired Mapelli to launch his own company in 1992—a travel and tour service.

Mapelli's idea was a smart one. Italy is one of Europe's most popular destinations' with nearly 50 million visitors from around the globe each year. Even though he merged with his father's well-established transportation service in 1994' the strongest growth of the company over the next 20 years would come from the travel and tourism side. Today the company is referred to as Moveolux' a name and rebranding it adopted in 2007.

His father' Carlo' founded the transportation company in a small town just outside Milan in Northern Italy in 1963. The company was enough to support his family and two boys—Mapelli and his younger brother' Fabrizio' who also works for Moveolux—and it was successful for three decades before the merger. It was one of the first companies to operate a tour bus in the area' and service was available all throughout Northern Italy. Mapelli had the idea to make it an international company and expand beyond more than just transportation.

"I wanted to increase the level of service and clients we attracted'" he says. "My father's company was small' just a couple of cars and nothing else. At the core we are a transportation company that offers additional services' but it's always built around transportation."

What Mapelli envisioned and created was a concierge service that catered to global travelers' groups and tours' and' most importantly' very wealthy individuals on holiday. After merging with his father' he immediately moved the company's headquarters to the city of Milan. Over the years' smaller seasonal offices were opened in key destinations like Venice and Florence—both places that were close to large airports where clients would arrive—although it does have an office in Rome that is open year-round. Through European partners' Moveolux also offers full-service tours throughout many countries on the continent' including France' Spain' Croatia' and Belgium.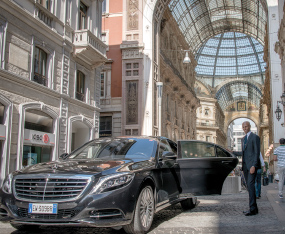 A Moveolux Mercedes-Benz S-Class just outside Galleria Vittorio Emanuele II' a Milan landmark and enormous covered outdoor mallThe idea was to cut out the middle man—the travel agent' in most cases—so that transportation and logistics were affordable and safe for travelers. More than that' it allowed Moveolux to mature into a one-stop shop. A client could request a pickup from the airport in Milan' which could then include reservations for two that afternoon for a private wine tasting with the owner of a local winery' dinner at one of the best restaurants in the region' and a stay at a luxurious villa on Lake Como for the next week. Through Mapelli's connections' he could arrange for the couple to enjoy a day with an authentic Ferrari race car or a trip to a posh' exclusive ski resort in the Alps. Or perhaps a chartered yacht or private jet? The company could even handle a destination wedding or a large special event. The holiday would culminate with the couple being transported back to the airport for their flight home.

Not every booking is as extravagant as this' of course' and the majority of clients are international travelers looking for a good price on a tour or simply transportation to and from the airport. The company has been working with European and international affiliates for decades' including networks like EmpireCLS. Mapelli often finds himself in a diplomatic position with travelers who are price-sensitive or don't understand the limitations of European travel. Travelers from the United States have by far been the predominant nationality of travelers using Moveolux but they are quickly being eclipsed by those from Asia' especially China.

"Tourists always try to push down the prices as low as they can'" he says. They tend to shop around and find the lowest price' which doesn't always mean it's in their best interest. "In Italy' each car is issued a permit' and you are limited by the number of cars you can own. If a company without a car permit gets into an accident' insurance will not pay because the car was [operating illegally.] I try to explain this to clients—that these companies can't be operating legally while charging these low rates and that for a savings of maybe 50 Euros' they could get hurt. It gives all of us in the industry a black eye because they think we are trying to overcharge when we're doing it properly. When you have a big company in Europe like we do and want to respect the Italian laws' it costs a lot of money."

Italy' in a lot of ways' is a mashup of modern culture within a cradle of history. Much of Milan's historic sites were destroyed during World War II' but the city has more than 2'000 years of art' architecture' museums' and literature between beautiful buildings of glass and steel built in the 21st century. Rome' which Mapelli calls the birthplace of history' has buildings dating back to 126 AD (the Pantheon)' as well as The Colosseum and Sistine Chapel' where Michelangelo's iconic paintings can be seen. Echos of the Ancient Roman Empire are all around. Leonardo da Vinci's fresco' "The Last Supper'" is located in Milan. The Renaissance city of Florence' in the Tuscany region' is home to the popular city center' the Piazza della Signoria. Wineries dot the countryside along the Apennine Mountains' while Northern Italy is a gateway to the Alps.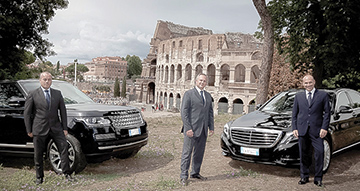 Walter Bellapadrona (center) manages the Moveolux office in Rome, where one of the most popular attractions is the millenium-old ColosseumThe beauty of the Mediterranean country has attracted numerous elite travelers as well as international celebrities. It's well-known that George Clooney and Sir Richard Branson (Virgin CEO) each have a villa on Lake Como. Helen Mirren purchased a castle in Puglia' while singer Sting has a sprawling property in Tuscany. Countless celebrity weddings have taken place there' from Katie Holmes and Tom Cruise to Justin Timberlake and Jessica Biel. Long-time bachelor Clooney also tied the knot with Amal Alamuddin in Venice this past September.

In addition to tourism' Milan is an important center in the fashion world. It's the third city in the rotation of the famous "fashion weeks'" following New York' London' and preceding Paris' where the next season's hottest fashions are debuted on the catwalk. The events are major draws for VIPs in the world of fashion but also celebrities' moguls' and the media. Many of the world's most popular labels also have a location in the city.

Both Alessandro and Fabrizio Mapelli are based in the Milan office. Despite Mapelli's CEO title' he and his brother collaborate on most things when it comes to the company' and each have fallen into their natural roles. Their father' Carlo' retired about 10 years ago for health reasons. A third member of the executive team' Marketing & Booking Manager Chiara De Pretis' often accompanies Mapelli to events around the world in order to promote the business. In total' the Milan office has eight staff members' with 35 employee chauffeurs and a handful of independent contractors. The Rome office has three people in addition to chauffeurs.

"Faz and I work well together. He handles the vehicles and likes to work with the staff. That gives me time to work on special projects and growing the company'" he says. "We are a great team and we have a great team." Although Mapelli doesn't always have much free time between running a transportation company and being a father to his two teenaged children' he does enjoy outdoor activities like skiing (remember' these are the Alps!) and photography. He took many of the photos that are on the company's website.

Moveolux is one of the only companies in Northern Italy to run several different types of limobuses and minibuses. Mapelli says he was one of the first to purchase a 30-passenger limobus' which he also helped to design. In fact' he had a hand in designing all of the beautiful buses' ranging in size from 15 to 30 passengers. Each was custom made and can be used for special events' corporate clients' and tours—a favorite of which includes a trip through Tuscany.

"We really own a complete fleet' from cars all the way up to buses'" he says.

Operating buses' however' comes with a certain responsibility because while they are perfect for groups' roads through many of the smaller towns simply can't accommodate the bigger vehicles. In larger towns like Rome and smaller towns like Florence' buses are forbidden from the city center. In the Milan office' Giovanni Redaelli and Semy El Mahalawy serve as logistic specialists for groups and tours. In the Rome office' the location is managed by Walter Bellapadrona' who also thoroughly understands the area and which vehicles to use.

"We often have to tell customers that they can't use buses to go to a certain place'" he says. "We have to explain about the roads. Even if customers want to go to a large city like Rome' the bus can only go in specific areas and then they have to walk to all of the sites. In Italy' a bus is defined as a vehicle with nine seats. So what we can suggest instead is a Sprinter with eight seats' which is considered a car. It's not about the size of the vehicle but the number of seats."

A true user of European limousine service would never use something like Uber."
- Alessandro Mapelli
Between the offices in Florence' Rome' and Venice and its headquarters in Milan' Moveolux operates about 55-60 vehicles' depending upon the need. Mercedes-Benz and Range Rover SUVs and Mercedes-Benz sedans make up a majority of its fleet' in addition to several vans and a handful of classic cars. Moveolux offers private tours of Italy in its vintage vehicles' as well as rental vehicles without a chauffeur.
Operating in Italy does require a bit of flexibility in modes of transportation' which Moveolux does offer. In addition to jet and helicopter charters' it also offers connections to water taxis and boats' which is needed in places like Venice. If you've never been' the city is actually a collection of islands that are carved by channels. The quintessential image of men rowing gondolas through waterways is authentically Venetian. "We had a customer call and say that he wanted a transfer from the airport to his hotel in Venice. I told him that he would need to take a car to the boat because the city of Venice is a lagoon. You cannot drive to an island. These are the types of logistics that we deal with all day because we go to all of these places."
We've visited other European operators through our profiles in Chauffeur Driven and one issue that is mentioned time and again is the high cost of running a business in Europe. While gas is $3.25 per gallon here in the United States' petrol rings in between $10-12 (U.S.) for four liters. For individual permits' Mapelli says it can run anywhere from 40'000 Euro (about $52'000 U.S.) in Milan to 80'000 Euro (about $103'000 U.S.) in Rome—and that's per car. Permitted vehicles are also inspected each year for safety violations. Even more crippling is the tax rate.
"It's officially 45 percent' but in reality it's about 60 or 70 percent'" he says. "There are positives. We have very good roads in Northern Italy and health care. But the number one question by Italians is' 'Where does the money go?'" It's a question that has international appeal.
Here in the states' Uber and TNCs may be a little too close for comfort to our services but Mapelli doesn't think it will impact his service despite the uproar it has caused in the taxi industry. "A true user of European limousine service would never use something like Uber'" he says. "A client wants to know a week ahead of time who his chauffeur will be and that all of his preferences will be met. He's not interested in booking service on a device where his driver could be [someone he doesn't know.] European clients want a professional chauffeur in a uniform who will open the door and know when to be silent. A wealthy person will not be getting into a car with someone he doesn't know. It's affecting the taxi service' not the limousine business."
When Mapelli merged with his father's company and he and his brother took over the management' they adopted the rich history that the transportation service had—as well as the respect it deserves. The company is now in its fifth decade and has surpassed anything its founder could have imagined for it back in 1963. Knowing what his sons have achieved to date' we wonder if Carlo Mapelli would say no to his sons joining the company today. Our bet is he'd be thrilled.
[CD1014]