BY MADELEINE MACCAR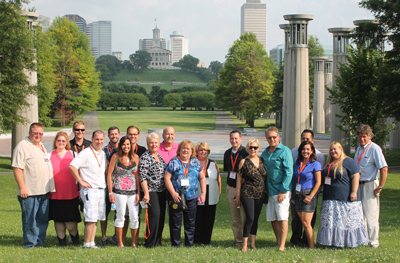 It was three days of high-quality education, non-stop networking, and Music City-tinged entertainment when Chauffeur Driven's first-ever Executive Retreat debuted at the Omni Nashville Hotel June 22-24. Many thanks to Platinum Sponsors Turtle Top and The Tenney Group, and all of our generous Gold, Silver, and Affiliate Sponsors for making this inaugural event not only possible but also a resounding success—and to the 200-plus operators, vendors, and even family members who enjoyed the opportunity to mingle in a casual but focused environment.

"The Nashville Retreat was the best gathering I have attended in years," said Terry Cox of Worldwide Transportation in Ft. Lauderdale, Fla. "The limited number of attendees allowed for closer mingling, targeting specific subjects, and getting deeper insight into common issues and opportunities—not to mention an openness and understanding of who a person is and what their company culture and values are. The retreat challenged the events of the past. The schedule was wonderfully landscaped, which was refreshing: Usually, attendees skip many of the classes or mingling events—not so in Nashville! This truly was a benchmark for future events and maybe even for the larger shows."


The entire show was terrific. I didn't feel the need to be 'on duty' all the time like at the big shows. The hotel was fabulous and for someone who normally doesn't go to concerts or like country music, I was hooked. Sign me up for N'awlins." — George Jacobs of Windy City Limousine Chicago, Ill.
We wanted to kick off the first of our executive retreats by heading to a market that many either were looking to finally visit or get reacquainted with, and the unique flavor of an historic town with loads of modern appeal made Nashville an easy choice.
"What a great host city!" said Scott Woodruff of Majestic Limousine & Coach in Des Moines, Iowa. "Nashville provided some must-see sights and entertainment opportunities that someone may not necessarily think about when considering a vacation. We will definitely be headed back."
To make the most of our time in Music City, we started with a bang on Monday with recruiting expert Kristen Carroll of The LMC Group presenting the workshop "Creating Demand for Top Talent." She provided insight into not only finding and retaining a top-notch staff but also enhancing one's own leadership skills. Much of the session was specifically dedicated to the chauffeur position as a key role in any operation, highlighting why TNCs keep attracting drivers and how luxury chauffeured ground transportation can emulate that appeal honestly and to everyone's benefit.
"The educational programs exceeded my expectations, with a great presentation from Kristen Carroll and the ideas associated with hiring top talent," said Ed Kahakauwila of L.A. Limousines & Transportation Services in Victoria, British Columbia.
The first CD Executive Retreat was top-notch. The quality of the education sessions was outstanding and the speakers were engaging. I am looking forward to next year's event!" — Sam Elotmani of Destination MCO in Orlando, Fla.
When the Omni opened its doors in 2013, the hotel was fully integrated with the Country Music Hall of Fame® and Museum. Their seamless fusion immersed our attendees in Nashville's undeniable connection and contributions to the music scene both past and present, as reminders of and relics from the city's multigenre musical history were not limited to the memorabilia lining the hotel's halls.
And our first day in town certainly provided a slew of opportunities to get to know the Hall of Fame well! Our Welcome Reception in the CMHOF Conservatory brought everyone together before embarking on a private tour of the museum for a whirlwind trek through the highlights and milestones of country music and the superstars who made them all happen. Our cocktail reception and BBQ dinner then preceded the evening's main event: a private concert from singer/songwriter Phil Vassar, who rocked the intimate Ford Theater with original tunes and delightfully familiar covers alike. Vassar's high-energy show was only outdone by his jovial persona, which the audience got to experience up close during a meet and greet with the affable musician.
"Phil Vassar's concert was one of those once-in-a-lifetime moments and a great experience," said Scott Woodruff.
On Tuesday, Jennifer Blackmon of The Ritz-Carlton Leadership Center shared the luxury hotel chain's world-class customer-service secrets with everyone who attended her presentations, "Leadership & Employee Engagement" and "Memorable Customer Service." Using real-life examples that drove home the full effect of The Ritz-Carlton's successful philosophy, she discussed the connection between fostering a respectful—and respected—staff and delivering personalized customer experiences that positively exceed your clients' needs, whether they're explicitly expressed or not.
"The energy created by Jennifer Blackmon from The Ritz-Carlton Leadership Center had the ballroom buzzing," said Ron Stein of Exclusive Sedan Service in North Hollywood, Calif. "Her passion for both of her seminars came home with us—in fact, we can't stop thinking about them."
"The Ritz-Carlton Leadership Center presentation might be the best business seminar that I have ever attended," added Wade Randolph of Riverside Limousines in Baton Rouge, La., who made the retreat his first time attending a Chauffeur Driven event.
The rest of the day was dedicated to two very different excursions into Nashville, starting with a bus tour of the city that let many retreat-goers get a good look at all the ways Nashville's rich history complements its modern setting. The buses—provided by Signature Transportation, Turtle Top, and Grand Avenue Worldwide—provided closer looks at the city's unique blend of period architecture and soaring high-rises, the Cumberland River and its lush banks, art installations, the full-scale Parthenon replica, and the thriving Music Row that's home to countless music-industry hubs and historical sites.
After seeing a wide swath of the city, we then zeroed in on Broadway for the evening's honky-tonk crawl. With stops at The Stage, Legends Corner, and The Second Fiddle (plus a few impromptu visits to other watering holes along the way), we ended the night by storming Silver Dollar Saloon as the good times rolled on well past midnight and spirits flowed as freely as the night's rollicking live music and lively conversation.
"The nightlife was fun, and it was so great that almost everyone was together on Broadway," said Briana Candeub of Park Avenue Limousine in Trevose, Pa.
"The best part of the retreat was the Honky-Tonk Crawl, which fed into the very positive vibe of the entire event," added Tony Simon of Reston Limousine in Sterling, Va.
After a late night (or morning, in some cases), there was quite a turnout for "Maintaining Your Financial Edge in the Chauffeur Driven Industry" with Frank Rosenbaum of Global Business Strategies, which was moderated by Jason Sharenow of Broadway Elite Chauffeured Services Worldwide. The workshop ended our retreat's educational offerings with a bang, as Rosenbaum drew upon his experience with the ground transportation industry to discuss the many ways a company can develop financial solutions while designing its own roadmap to overall increased value.
"Frank Rosenbaum's financial presentation was one of the best sessions I have attended at any industry event in more than 10 years," said Randy Allen of James Limousine Service in Richmond, Va.
We capped off the retreat with a visit to Lynchburg, home of the Jack Daniel's Distillery. Each group got to spend some time strolling through the charmingly quaint center of town and getting an up-close look at the whiskey-making process from beginning to end at the distillery's sprawling and scenic property.
"The Jack Daniel's tour was phenomenal: I am now a whiskey connoisseur!" said Tracy Raimer of Your Private Limousine in Chicago, Ill.
When all was said and done—and everyone had a chance to recover after getting the most from their time in Music City—the phenomenally positive feedback all pointed to our inaugural, intimate retreat being a homerun of an event right off the bat.
"It's all about the people, and the Chauffeur Driven Executive Retreat provided the perfect combination of a forum, place, and activity for networking and sharing," said Joseph Camp of All Occasion Transportation in Providence, R.I. "Without this type of event bringing like-minded people together, faceless business relationships are as emotionless as a text message. Face-to-face networking and sharing personal stories, experiences, and business practices in a relaxed forum allows relationships to blossom and business to flourish."
We're already planning our 2016 Executive Retreat, which will take place in New Orleans. But first, get ready for the annual Chauffeur Driven Show, which will touch down October 11-14 at the posh Loews Miami Beach Hotel—the host property for the industry's first hotel takeover. We loved taking y'all down to Nashville for a few days, and we can't wait to see you in SoBe next!
[CD0815]