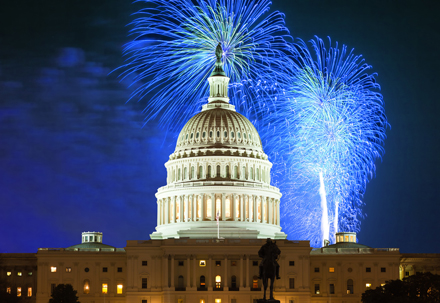 While Labor Day signifies the end of the industry's summer lull, it also, sadly, means it's time to put away those beach towels and fold up those lounge chairs. But don't worry: CD is ready to heat things up again in the nation's capital with our 2016 Show October 9-12! Many thanks to our generous Title Sponsors—Ford-Lincoln Limousine and Livery Vehicles, Grech Motors, and Audi—for helping to make this show the event of the fall.

If you haven't claimed your space at CD's Northeast homecoming—well, what are you waiting for? Our room block at Renaissance Downtown DC Hotel is quickly filling up, thanks in part to an awesomely discounted room rate of $210 per night, which extends from October 5-15. This is a golden opportunity for those looking to take advantage of our pre- and post-show events or get in a few days of D.C. sightseeing.

We've given you the lowdown on our show updates as they happen over the past few months, but here's a roundup of all you need to know to get the most out of your time as our guest.

★ Registration
Head on over to chauffeurdrivenshow.com if you haven't already downloaded your registration form. And if the rapidly dwindling allotment of available rooms isn't enough to get you moving, registering before September 30 will get you entered into a contest to win a $250 Visa gift card! We'll be accepting online registration until October 7; after that, you'll need to sign up on-site. Keep in mind that events like our Operating Mentoring Program and the new Benchmarking Breakouts are only available to those who pre-register, which can also be done through our show site. With the newly announced addition of Scott Solombrino of Dav El/BostonCoach to our esteemed roster of mentors, this event is a hot ticket, but there is still time to be among the 200 owners benefiting from this world-class exchange of ideas sponsored by Grech Motors—but registration is closed as soon as we hit the attendance cap. And with an array of categories accommodating up to 15 participants each, time is running out to be a part of our first-ever Benchmark Breakouts! You won't want to miss this chance to reap the benefits of peer groups when we bring the meeting to you.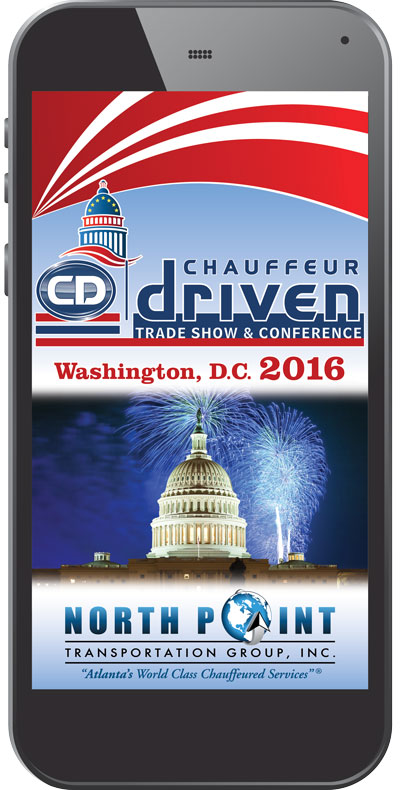 ★ Official Event App
Once again generously sponsored by North Point Transportation Group, our official show app is now live and available for download in either the Apple Store or Google Play. If you forget your business cards, notes, or show schedule back in your hotel room, fret not: Our app puts everything you need to know literally right in the palm of your hand! There you'll find maps of both the hotel's meeting areas and show floor at the Walter E. Washington Convention Center, a full list of speakers and exhibitors, a color-coded show schedule (blue dots signify a hotel event; green dots denote those at the convention center), and more—including all the details of our free Saturday and Wednesday D.C. tours (but more on those later). You can even keep track of the events, seminars, and sessions you're most interested in, and the app will send you notifications with their times and locations.

★ Show Floor
For the first year ever, our exhibit hall will be open Sunday-Tuesday. Don't miss our Sunday Show Floor Preview & Champagne Reception from 5 to 8 p.m., which is sponsored by Ford-Lincoln Limousine and Livery Vehicles and will kick off with a ribbon-cutting ceremony, butlered appetizers, and food stations before your opportunity to browse 115,000 square feet chock-full of the newest products, services, technologies, and vehicles our many vendors will have on display.

During our show floor hours, you'll also be able to check out the 2017 Lincoln Continental with a Ride & Drive stationed right outside the Walter E. Washington Convention Center.

★ Education and Networking
Thanks to Educational Program Sponsor FASTTRAK Cloud Technologies and our hard-working Education Committee for putting together this year's incredible slate of learning opportunities! We're covering everything from developing your company culture and growing your business to DOT requirements and motorcoach advice to embracing social media and preparing for disasters. This year, our classroom-style seminars also will include a three-session Small Operator Track plus a seminar especially for our international attendees.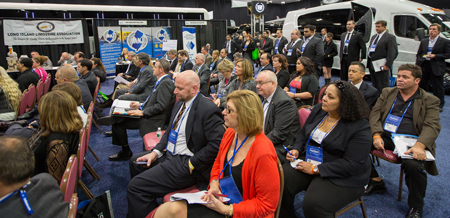 And you won't want to miss all the education on our show floor, too! In addition to Tuesday's bus-focused sessions right at the exhibit hall, our popular micro-sessions will be held Sunday and Monday in the Chosen Payments-sponsored Association Pavilion. These 20-minute bursts of education will offer keenly focused insights into topics that include protecting yourself against chargebacks, preparing for serious accidents, understanding new Fair Labor Standards Act regulations, and turning your company into a 24/7 sales machine. Thanks to sponsor Reston Limousine for making these bite-sized lessons possible!

On Monday from 1 to 2:15 p.m., get ready for a lively State of the Industry inspired by this election season, a debate-style panel that is sure to entertain as much as it educates. David Seelinger of EmpireCLS Worldwide Chauffeured Services, Scott Solombrino of Dav El/BostonCoach, and Robert Alexander of RMA Worldwide Chauffeured Transportation will be discussing the industry's most pressing current concerns, their predictions for its future, and a range of insights. Immediately following is our Keynote Address from Mark C. Thompson. In this keynote speech sponsored by Grech Motors and Mosaic Global Transportation, the renowned executive coach, venture capitalist, and New York Times bestselling author will draw on his 30-year career to help your company excel in these times of disruption and a rapidly changing industry.

You'll also want to check out Tuesday's returning favorites for operator-to-operator education and tons of networking opportunities. From 9 to 10:30 a.m., the International Meet & Greet (sponsored by Sponsored by Global Alliance, Icona Global, and Modern Car Worldwide) will bring hundreds of operators from our global audience together in a casual networking environment to increase their international reach. Then our Affiliate Central Global Partner Forum (sponsored by A1A Airport & Limousine Service) will feature scores of companies—we'll be hosting upwards of 65 tables and hundreds of operators—all looking to connect with you! This is your chance to organically grow your operation by meeting people representing companies of all sizes and doing business all over the world.

★ Association Events
Our Association Summit is back for its second year! On Monday, hear from renowned speakers representing a national perspective in this event sponsored by Chosen Payments. Matt Daus of Windels Marx and representatives from the American Bus Association, United Motorcoach Association, and Taxicab, Limousine & Paratransit Association (TLPA) will be providing the insights they've gained from working with the industry across the country, plus they'll discuss how their own efforts, initiatives, and events are contributing to the success of our industry. You'll also hear from regional associations' leaders, and a lengthy Q&A session will shed additional light on murky areas during this event that will be moderated by LANJ President and Education Committee Co-chair Jason Sharenow.

We'll be welcoming the TLPA Steering Committee to our show for the first time Tuesday evening from 5 to 7 p.m. If you've ever wondered what the TLPA has been doing for you, this is your chance to witness them in action firsthand.

We'll also be hosting two association meetings, with the Minority Limousine Operators of America (MLOA) meeting up at 8 a.m. on Tuesday and the nearby Virginia Limousine Association convening on Wednesday, also at 8 a.m. These meetings are open to everyone, offering a lucrative chance to hear firsthand about the primary concerns these associations are facing and how they've rallied together to tackle them. You'll not only hear from board and general members but also the featured speakers each association has invited to present to their audiences.

Our show floor will once again be where you can find our Chosen Payments-sponsored Association Pavilion. This is where nearly 20 regional and national associations will be represented by their leaders and members alike, comprising our most nationally focused assembly of organizations to date!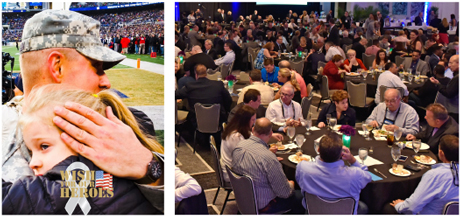 ★ Women in the Industry
Also making a new-and-improved second-year appearance is our ladies-only Women in the Industry Networking Reception, which we've overhauled based on feedback from last year's attendees. Sponsored by Key Transportation, this event is part accelerated networking and part expert-facilitator-led panel, guaranteed to introduce you to no less than 30 new connections and answer your most pressing questions about being a woman in a leadership role. We're keeping the food and drinks casual so you're free to move around and make dozens of new connections!

★ Charity Dinner & Auction
After raising an incredible $237,000 for the Ryan Seacrest Foundation these past two years, we've decided to help another worthy charity benefit from our industry's generosity. Aadvanced Limousines is graciously sponsoring this year's night of charity, where the proceeds from the live and silent auctions will go to WISH for OUR HEROES, which assists the men and women of the United States active-duty military and veterans alike.

In addition to a free sit-down dinner, you won't want to miss out on your chance to win some of the incredible, unique items up for auction this year! Whether you're looking for sports or music memorabilia, event tickets, artwork, gift baskets, in-demand gadgets, jewelry, vacation packages, or one-of-a-kind opportunities to learn from and shadow the industry's biggest names, there's something for every interest and price point—and it all goes to benefit a truly heartwarming cause.

★ After-Hours Nightlife
The networking doesn't stop after business hours so why should you? With Sunday night's Red, White & Blue Election Victory Party and Monday's '80s Throwback Blast from the Past, we have two great themed parties where you can let your hair down, get your drink and nosh on, and enjoy the company of your industry friends.

We'll be kicking off our first night in town with a rollicking patriotic bash! With some historical figures expected to make an appearance and plenty of other social-media-worthy photo ops planned for this evening of fun and dancing, this Deem-sponsored party is the place to be Sunday night! And on Monday, bust out your raddest ripped jeans and dust off your most tubular Day-Glo threads for a chance to win our awesome Best Dressed prize! This righteous flashback extravaganza wouldn't be complete without an '80s band, a prop-filled photo booth, and neon party favors as far as the eye can see. Many thanks to both Boston Car Service Worldwide and Book.limo for sponsoring this, like, totally awesome affair.

After we're done partying like it's 1989, head to the Renaissance's open-concept bar—which you'll swear was designed with our group in mind—for the Lobby Bar Takeover, sponsored by Karhoo, MLOA, and ZBest Worldwide Chauffeured Transportation Services. There you can belly up to the bar, grab a couch or lounge chair with friends, or hunker down in one of our sponsored nooks for a more intimate conversation.

★ Bookending Tours
In a city packed with things to do, places to go, and sites to see, it's easy to feel overwhelmed with options—so let us help! With transportation graciously provided by Reston Limousine, we'll be stopping by all the must-see attractions for fully narrated three-hour tours on Saturday at 12, 4, and 8 p.m., and Wednesday at 2 and 8 p.m. Get a D.C. insider's up-close-and-personal look at the array of war and presidential memorials we'll be visiting, plus learn more about local highlights like the Smithsonian Museum, Arlington National Cemetery, Ford's Theatre, Library on Congress, The Pentagon, and more! Visit restonlimo.com/events/cd2016citytours to reserve your place on this one-of-a-kind tour now!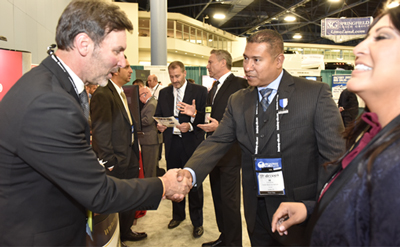 ★ First Time Joining Us?
If this is your first CD Show or you just have some questions, we're here to help!

Come dressed in professional business attire during the day—but don't forget to pack some more festive threads for our '80s party! It's D.C. in the autumn, so expect temperatures to get up to the high 60s. And get your fitness trackers ready because you will be walking miles a day, so remember: Comfortable shoes, comfortable shoes, comfortable shoes!

We'll also be providing free food and drinks throughout our four days together. There'll be breakfast in the morning, coffee service (sponsored by FASTTRAK Cloud Technologies) in every meeting room, Monday's food stations and Tuesday's buffet lunch on the show floor (the latter is sponsored by Titus Leasing Company), and free dinner and drinks at our evening events. The Renaissance also offers casual American dining, deli fare, and a Starbucks all within its walls, and our nation's capital boasts a dizzying array of restaurants guaranteed to please even the pickiest palates and more urbane tastes.

All of our events—including the tours before and after the show—are free to registered attendees. Just remember to pre-register for the Operator Mentoring Program and Benchmarking Breakouts!

More questions? You can always check chauffeurdrivenshow.com for the latest updates, and the CD team is always happy to untangle any confusion, offer daily schedule rundowns, and point you in the right direction. We can't wait to see you in D.C.! [CD0916]