Details

Category: Industry News
If you haven't registered yet for the CD Executive Retreat in Miami Beach this June 12-14, you're in luck! Not only have we extended our early-bird rate of $799 for admission, but we are days away from the May 20 cut-off for our discounted room rate of $289/night at the Loews Miami Beach Hotel. However, you don't want to wait too long because this event is limited to 200 operators and the discount rate won't last much longer. Head on over to our registration site to join us as we return to Miami for an event that gives operators the rare opportunity to network and learn alongside the best and the brightest the industry has to offer in a comfortable and fun environment.
This event is designed differently from our big shows, in that we put a great deal of focus on bringing in outside expertise. We know it's important to listen to and learn from your peers, but also recognize it's equally critical to hear points of view from experts and professionals from outside the space—especially in a smaller, more close-knit setting like the Executive Retreat.
After breakfast on Monday, we proudly begin our educational programming with an engaging session with Bob Barba of United Airlines. In his 35 years with United, Barba has seen it all, including the shutdown of air traffic in the US after 9/11. He will discuss the many similarities on how our related industries dealt with and rebounded from COVID, namely seeking new paths to profitability while ensuring the safety of both clients and the team. With the travel sector bouncing back, Barba is enthusiastic about what lies ahead, and will share this optimism with our attendees.
On Tuesday, we're thrilled to welcome another speaker from outside the industry as we shift gears a bit to focus on the human side of your business: you. Join COO, Consultant, and Executive Coach Barbara Burgess of the Wright Foundation for a dynamic talk and workshop where she will invite you to rethink your assumptions about "what is" to chart a course for "what could be." It's time to break out of your funk or sidestep the pitfalls that are holding you back. Most companies and owners have experienced tremendous reinventions recently—from nearly being out of business to having too much business, or from having to lay off employees to not being able to secure employees at all. Burgess aims to channel that energy and attention you'll likely spend handling the everyday emergencies into charting a course that works for us personally. Burgess originally spoke during our virtual event in November 2020, where she delivered an absolutely rousing presentation.
As always, we offer special thanks to all our supportive sponsors—including Platinum sponsors Lancer Insurance and Dolphin Transportation Specialists—for supporting this highly anticipated comeback event. Other sponsors include Gold: Century Business Solutions, Complete Fleet, Curtis Gabriel, Driving Transactions, Find Staff, MCI, Mundi Worldwide, PAX Training, and VIP Global; and Affiliate: ANB Trans, Buffalo Limousine, Ecko Transportation, Elite Coach, Gateway Global, LEADER Kansas City, Motev, North Point Global Transportation Services, Premier Transportation, Signature New Orleans, U.S. Sedan Service, and World Class Chauffeur Service.
Be sure to visit cdexecutiveretreat.com for all the latest information about our South Beach getaway. For operators looking to make their trip a short vacation, we're currently offering a $399 non-industry spouse pass that will let your significant other join us for our after-hours events and tours. Contact our Director of Events Jess Pavlow at jess@chauffeurdriven.com for more information.
[05.18.22]
Details

Category: Industry News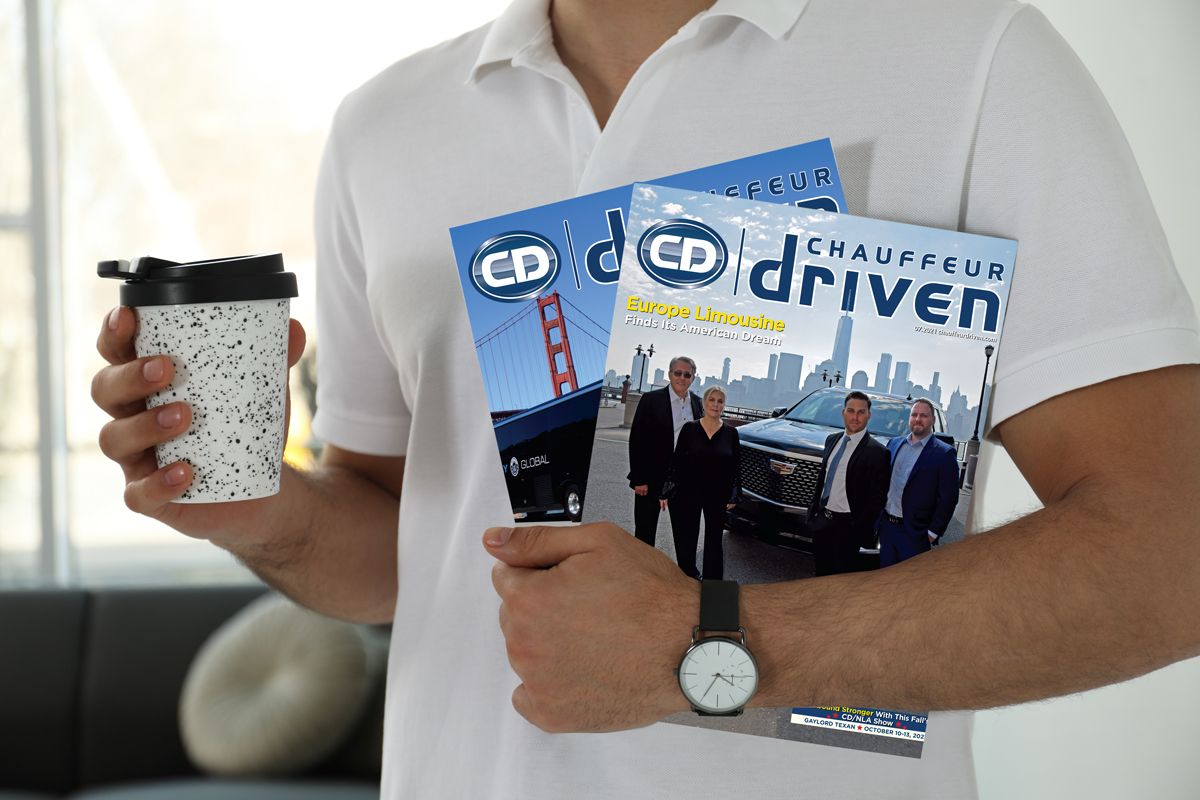 Back by popular demand: You'll now have two great ways to catch up on industry news. We are thrilled to announce that Chauffeur Driven will officially be returning to the print edition this summer! (Don't worry, you can still read the magazine online, too.)
We know how much our readers loved receiving their print version of CD in their mailboxes—you've been asking, and we heard you—so now you'll have access all our valuable content, Affiliate Central Forum, operator and vendor profiles, up-to-date industry information, and so much more at your fingertips. Best of all, your subscription (print and digital) continues to be completely free.
If you're interested in receiving your complimentary print subscription, click here to complete the form. This courtesy offer is limited to the first 1,000 US industry professionals to respond, and we are only offering one FREE subscription per person/company/address. First come, first served, so don't delay if you want to secure your free print subscription. For additional copies, and for international operators, please click here to find out about rates.
Note: If you are currently receiving the digital edition and ONLY want the digital edition, you're all set and will continue to get the link in your inbox monthly.
Print copies will begin circulating later this summer, so click today to reserve your subscription!
Visit chauffeurdriven.com for more information.
[05.18.22]