Details

Category: Industry News
With the Chauffeur Driven Executive Retreat less than two weeks away, you might be experiencing a bit of FOMO. But have no fear—there's still time to join us at the Loews Miami Beach Hotel this June 12-14. Just head on over to cdexecutiveretreat.com to register. Your admission price includes our Opening Dinner & Party on the beach with open bar, two days of on-point education from experts both within and outside the industry, a dinner cruise with open bar aboard the Biscayne Lady yacht, breakfast and lunch on Monday and Tuesday, a vendor/sponsor meet-and-greet, and all the one-on-one networking you can pack into three days… not to mention a tour of the Wynwood Walls street art gallery and plenty of opportunity to sit by the pool or ocean and unwind. Whew! Now, that's what we call a getaway!

It goes without saying that CD Executive Retreat wouldn't be possible without the generous support of our sponsors. That's why we're pleased to announce that EmpireCLS has come on board as a Gold Sponsor of the event, and is inviting their affiliates and guests for a discussion about technology and other industry issues. CEO David Seelinger and his executive team, including Joey Phelps, Steve Horowitz, and Ed Martinez, will be on hand throughout the retreat, giving EmpireCLS partners and operators a rare chance to have some face time with the people behind one of the country's leading operations.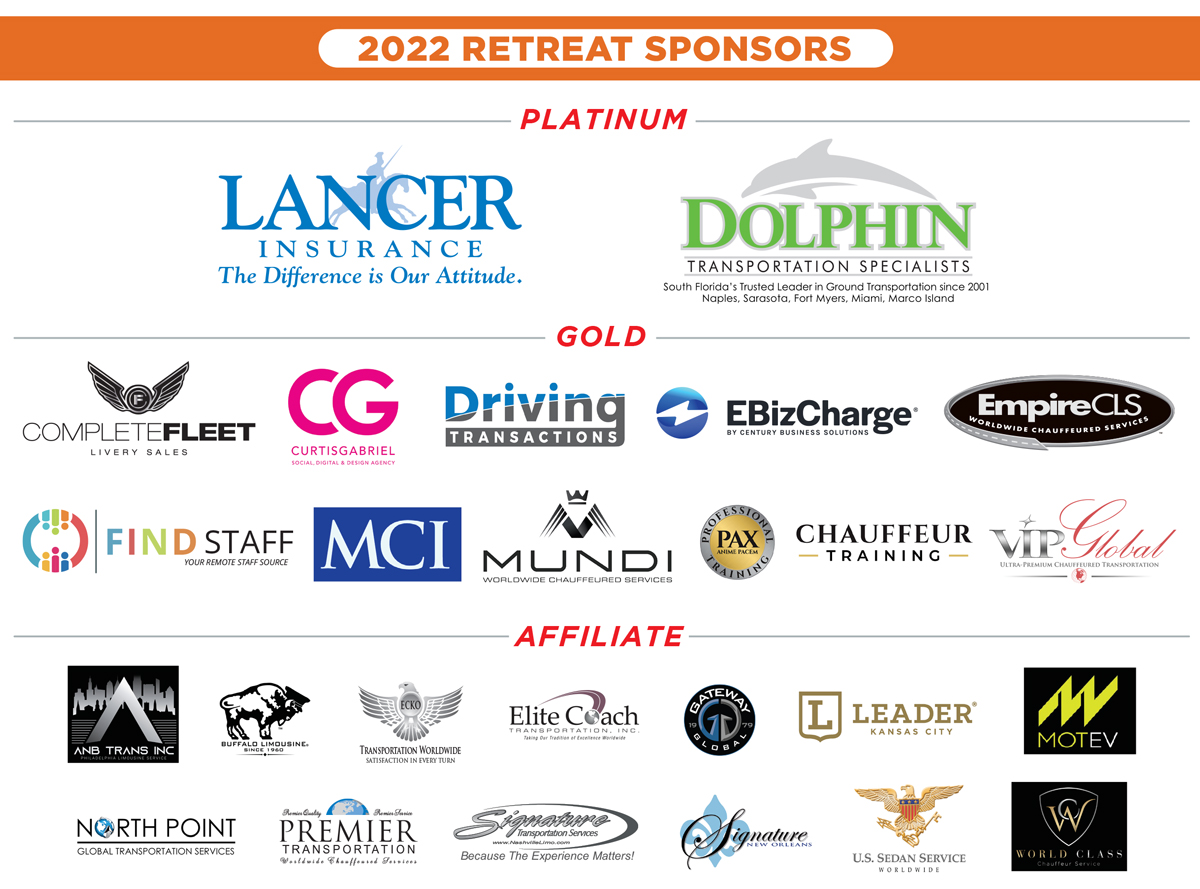 "We're happy to be headed to Miami to support the CD Executive Retreat. This provides us with an excellent opportunity to meet with our partners and be introduced to new faces within the industry," says Seelinger.
EmpireCLS joins a host of Gold-Level Sponsors that includes Century Business Solutions, Complete Fleet, Curtis Gabriel, Driving Transactions, Find Staff, MCI, Mundi Worldwide, PAX Training, and VIP Global. Our Affiliate Sponsors include ANB Trans, Buffalo Limousine, Ecko Transportation, Elite Coach, Gateway Global, LEADER Kansas City, Motev, North Point Global Transportation Services, Premier Transportation, Signature New Orleans, U.S. Sedan Service, and World Class Chauffeur Service. And of course, special thanks to Platinum Sponsors Lancer Insurance and Dolphin Transportation Specialists for their support of this comeback event.
Discounted hotel rooms are extremely limited at this point. Please contact Director of Events Jess Pavlow at jess@chauffeurdriven.com for availability.
Visit cdexecutiveretreat.com for more information.
[05.31.22]
Details

Category: Industry News
Motorcoach dealer Davey Coach Sales recently announced that it had added new team members to its various locations. As the company continues to respond to surges in demand post-pandemic, and expands on the West Coast, additional experience was needed.
Brian Zappanti has been promoted to director of parts and service. He has been an integral part in developing and building the Davey Coach Service team for more than 10 years. Zappanti's previous 19 years of progressive experience and certifications in automotive diagnostics and repair for a long-standing Colorado Ford dealership has laid the foundation for his success at Davey Coach. His natural ability to lead and nurture a strong culture are other strong assets he brings to the new role.
Jonathan Sandoval joins the team as parts writer for Davey Coach Sales. As a fully certified technician covering maintenance, diagnostics, and repair of foreign and domestic automotive platforms, combined with sales and customer service in retail automotive, Sandoval will add value to identifying and supplying the right support to Davey Coach service and parts customers.
Finally, Mike Bell comes aboard as graphic designer for Big Picture Graphics, a division of the company that provides premier vehicle wraps and graphics. Bell brings a wealth of knowledge and hands-on experience across the digital print and design landscape, from extreme large format to high-volume custom digital label production.
"We are delighted to have these gentlemen join our team and look forward to adding more value to our customers with their experience and knowledge. Its full steam ahead as we adjust to meet the pent-up demand built during the constraints of COVID," says Davey Coach Sales President Mark Stenseth.
Visit daveycoach.com for more information.
[05.31.22]
Details

Category: Industry News
Do you know a licensed professional driver that should be recognized for exceptional service or leadership contribution to the public transportation sector?
The International Association of Transportation Regulators' (IATR's) Driver of the Year Award is recognition by government transportation professionals to a driver who has provided excellent service to passengers, and has performed in a manner that exemplifies the highest level of the profession. The award will be presented as part of the IATR gala awards ceremony, which will be held on September 24 at the Memphis show. Associate or industry members will not be able to attend the conference unless they sponsor. Unless you are a first-time attendee. Any questions regarding sponsoring, please send an email to info@iatr.global.
The award highlights the achievements of a driver, past or present, while working as a taxicab, limousine, sedan, black car, livery, or other type of for-hire vehicle driver. This year, at the IATR's Conference, the organization will be honoring a driver or drivers who went above and beyond to help the public during the pandemic.
Application Requirements:
The nominator should submit an email with their name, title, organization, website, and phone number(s), as well as the name of the driver nominee, as well as the name of the company or entity where the driver works, and contact information for the driver and/or the company representative who can coordinate with the driver nominee.
This email should also include a narrative explaining the basis for the nomination, including any media articles, videos, or other supporting information within the nominator's discretion.
Associate and/or regulator members and/or sponsors or non-members are eligible to recommend appropriate applicant drivers.
You can submit your application via e-mail to info@iatr.global. The deadline to submit an application for Driver of the Year is on or before Monday, August 15, 2022.
Special note: the nomination committee may contact the nominator and nominee for further information in support of the nomination. The nomination committee will assess each nomination against the nomination criteria. The nomination committee will recommend and the IATR Board of Directors will vote to select one nomination each year from the nominations received to be presented with the IATR Driver of the Year Award.
Visit iatr.global for more information.
[05.31.22]