Details

Category: Industry News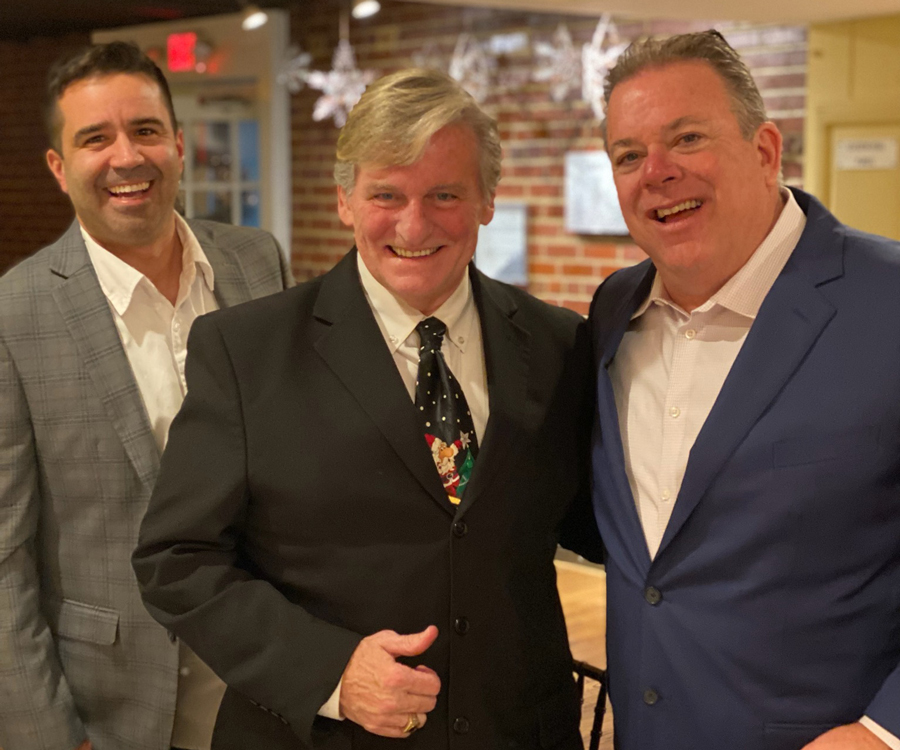 L to R: John Oulton of Richmond Limousine, Patrick Helvey of Executive Town Car and Limousine, and Bill Kerr of Camryn Executive Transportation
The Virginia Limousine Association (VLA) headed to Ristorante Renato in Fredericksburg, Va., for its annual holiday party/dinner on Tuesday, December 2.  The well-attended event gave operators from throughout the state the opportunity to network and socialize while celebrating the holiday.
VLA President William "Bill" Kerr of Camryn Executive Transportation and Limousine briefly spoke to the members and guests, thanking them for attending and for their support throughout the year.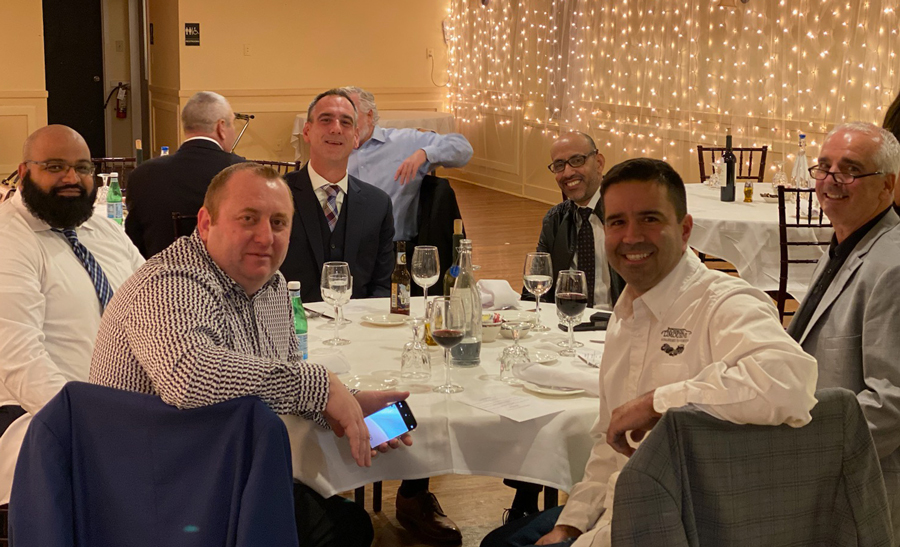 Members from across the state enjoyed an Italian meal at the annual dinner party
An announcement was also made that the association's first meeting of the new year will be held in Charlottesville, Va. The dates and venue will soon be announced.
Kerr says that they were thrilled to have such a well-attended and successful event, and that the association is looking forward to reconvening in the upcoming year ahead.
Visit virginialimousineassociation.org for more information.
[12.13.22]
Details

Category: Industry News
On Tuesday, December 6, the New England Livery Association (NELA) held its annual holiday quarterly meeting at the Crowne Plaza Hotel in Woburn, Mass. The event attracted 75 members and guests for a dinner and entertainment, courtesy of renowned mentalist Jon Stetson.
Sponsors for the event included meeting sponsors Lancer Insurance and Research Underwriters; entertainment sponsor American Classic Limousine; cocktail sponsors Great Bay Limousine and EngineIQ; and raffle sponsors Alternative Claims Management, Center Insurance, Cross Insurance, DavEl BostonCoach, Four Star Limousine, Prevost, Sullivan Tire, TIB Insurance, and Town Fair Tire.
Following a cocktail hour and registration, NELA Executive Director Rick Szilagyi of Lexian Management kicked off the meeting by thanking everyone for turning out to make the event a success.
NELA President Joe Cardillo also thanked everyone for attending, and gave a shout-out to sponsors—including Mitch Guralnick representing Prevost and the New England Bus Association. He also cited important programs which the NELA continues to offer and wished everyone a nice holiday.
Next, Bob Crescenzo of Lancer and Steve Crispo of Research Underwriters presented. Crescenzo stated that there are training modules online for all operators to use, and Crispo emphasized the importance of supporting vendors that support the organization.
Szilagyi then welcomed Mitch Guralnick of Prevost and the New England Bus Association (NEBA), who presented information about Prevost, and provided details for the upcoming annual NEBA meeting in the summer of 2023, along with recent discussions with the NELA relative to participation in the event.
Before welcoming Stetson, the evening's entertainment, Szilagyi stated that "sometimes people do things that benefit us, and we may not even know who they are." He then thanked Carl Varney of LA Limousine for his help in securing Andrew Card, who served as Chief of Staff to President George W. Bush during 9/11, as a speaker at a NELA meeting in 2019.
Stetson—who was the basis of the hit CBS show The Mentalist—then took the spotlight. For nearly an hour, the real-life mentalist mystified the crowd, culminating in a trick that left the attendees wondering "how did he do that?"
Following the entertainment, it was time for the always popular NELA raffles. Kevin Cronin of Above All Transportation won the 50/50 raffle, and donated his $400+ share back to the association, winning a round of applause. Mitch Guralnick of Prevost and NEBA won $200 worth of scratch tickets, while Teale Smith of Maine Limousine Service won the basket of holiday cheer provided by Dav El/BostonCoach. Debbie Sickles of A-1 Limousine won the large Yeti cooler and Kato Murray of The LMC Groups won a gigantic Lindt Chocolates basket, compliments of Amela and Brion Svenson of Four Star Limousine.
Visit nelivery.org for more information.
[12.12.22]
Details

Category: Industry News
The Colorado Limousine Association (CLA) held a holiday party on Tuesday, December 6, at Brazilian steakhouse Fogo de Chão in Lone Tree, Colo. Attracting operators from throughout the state, the event welcomed 49 members and guests, which is record-breaking attendance for the organization.
Sponsors for the event included Chauffeur Driven, South Point Risk Advisors—Nathan Spears, Cobblestone Auto Spa Car Wash, Sierra Restaurant, and ExecuStar World Class Transportation. More than $1000 in gift certificates, gift cards, and gift baskets were raffled to the members. 
CLA Secretary Erica Bugbee of ExecuStar/A Ride in Luxury took a few minutes to address the group, thanking the sponsors and encouraging everyone to renew their membership. She also spoke a bit about upcoming events in the Colorado region.
"We're thrilled with the turnout of regular attendees and so many new faces and hope everyone was able to make valuable connections," says Bugbee. "I'm looking forward to even more meeting attendance and planning more events like this one." 
Chauffeur Driven and the National Limousine Association donated a show pass to the upcoming 2023 CD/NLA Show in Las Vegas on March 5-8 at the MGM Grand. The winner was Tammy Barrera from BT Car Service.  As a newer operation excited to start working with other operators, Barrera and her husband were particularly thrilled because the Vegas event will be the first industry trade show they've attended. 
Visit facebook.com/ColoLimoAssoc for more information.
[12.9.22]