Details

Category: Industry News
Tuesday, May 24, 2022, marks a major milestone for Dawson Rutter and his award-winning company, Commonwealth Worldwide Executive Transportation, as it celebrates its 40th anniversary as one of the most trusted names in the business.

Having decided to pursue college in Boston in the late 1960s, Rutter said, "You learn pretty fast that a quality education isn't cheap, even back then. I drove a cab for 10 years until a friend of mine started working for a limo company. I decided that I liked the air conditioning and the cleaner clientele much better than the cab."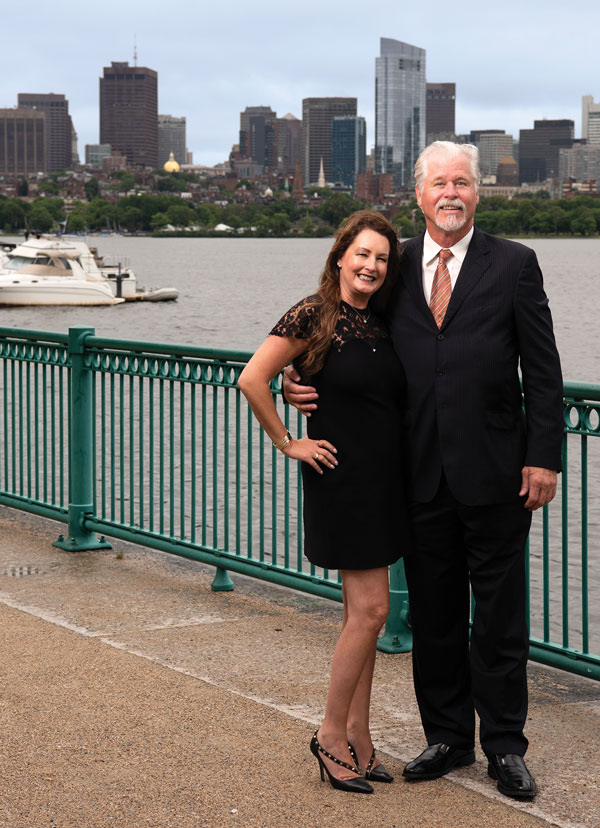 Rutter and Director of Operations and Affiliate Relations (and wife) Tami Saccoccio Rutter from the July 2018 issue of CD
Eventually, having learned the ropes in all aspects of the business along the way, he bought a single vehicle—a 1982 Cadillac "Formal" limousine. He had a clear vision: to provide a level of personalized service that would keep customers coming back again and again.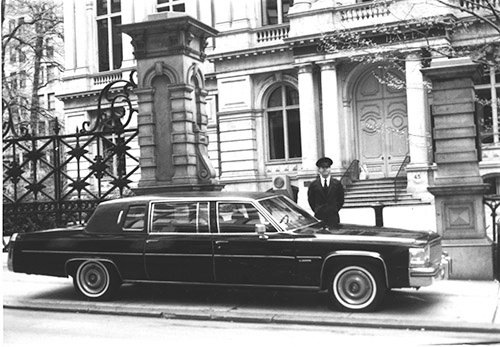 Commonwealth's first vehicle, a 1982 Cadillac "Formal" 
Today, Rutter is known as one of the industry's most respected leaders, and a generous one at that. He's served on the NLA Board and is a regular at local association meetings, is a frequent "mentor" at the CD/NLA Shows, and is always willing to offer his advice on finances to surrounding yourself with the right team to picking a good bottle of wine (and everything in between). His company has evolved as a powerful international force in the industry specializing in financial roadshows, general aviation, and C-level corporate travel and entertainment/production tours with affiliates in 82 countries.
"We continuously look forward: New technology; new safety programs; new, constant investments in our people, fleet, procedures, and systems," Rutter explains about his success. "Even through periodic financial perils—including the pandemic we have just emerged from—we managed to retain a solid, experienced core of talented professionals as well as our loyal customer base." In fact, between 1998 and 2007, the company grew at an average rate of 45 percent per year and allowed them to open a second location in New York City.
Commonwealth has been selected "Best of Boston" seven times and won the New York City "Concierge Choice" Award for Best Limousine Service. They added the national TLPA "Limousine and Sedan Operator of the Year" to their list of accolades in 2014. He and wife Tami Saccoccio Rutter have also appeared on the cover of Chauffeur Driven, most recently in July 2018.
Visit commonwealthlimo.com for more information.
[05.23.22]
Details

Category: Industry News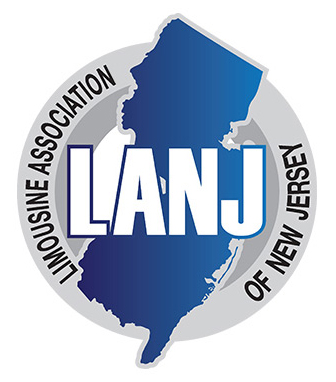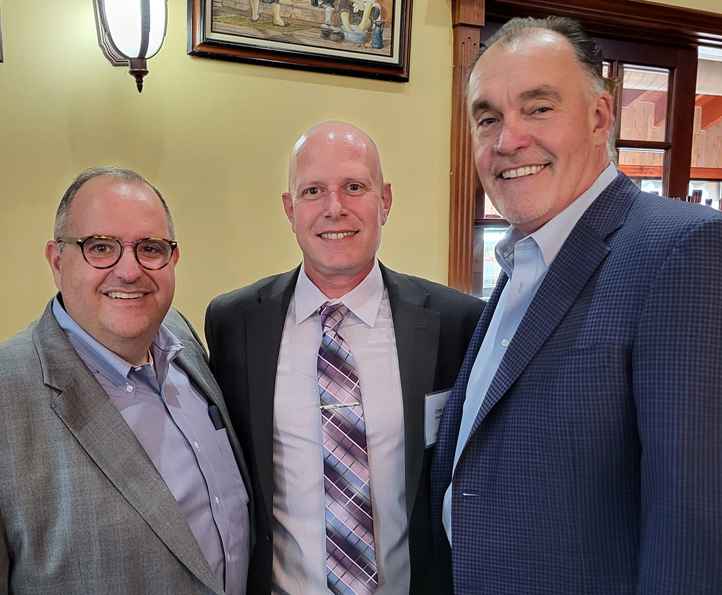 L to R: LANJ President Jason Sharenow, CD President Chris Weiss, and Tim Rose of Dolphin Transportation Specialists
For the first time since 2019, the Limousine Association of New Jersey (LANJ) returned to Fernandes Steak House in Newark, N.J., for a member dinner/meeting on Tuesday, May 17. In addition to offering members and guests from across the tri-state area (and beyond) the opportunity to network while enjoying an all-you-can-eat Rodizio-style meal, the event allowed LANJ to recognize one of their longest and most dedicated members.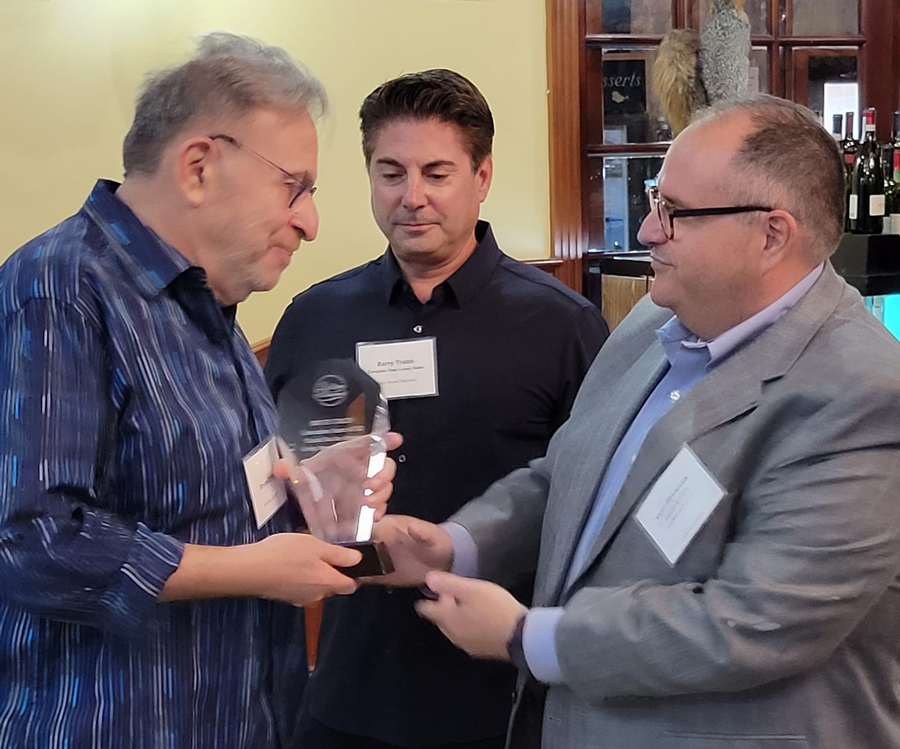 Bruce Cirlin, who is retiring from Complete Fleet, was honored for his dedication to LANJ
Spirits were high as an open-bar cocktail hour sponsored by Complete Fleet Livery Sales started the evening, giving attendees a chance to schmooze a bit and reconnect as an association after more than two years. More than forty operators and guests were in attendance, including CD President Chris Weiss and Editor Rob Smentek.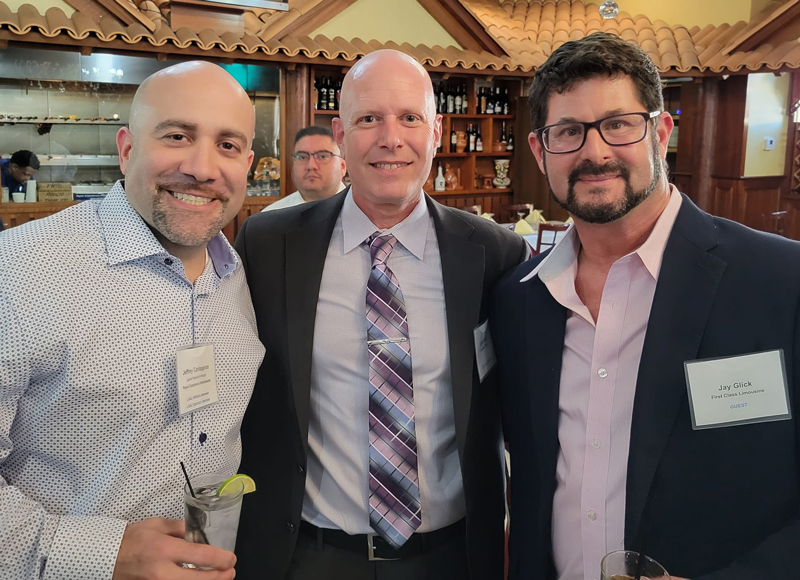 L to R: Jeffrey Cartagena of Leros/Royal Coachman, CD President Chris Weiss, and Jay Glick of First Class Customs
Prior to the meal being served, LANJ President Jason Sharenow of Broadway Elite Worldwide welcomed everyone to the dinner and expressed his gratitude to those who took the time out of their busy schedules to come to the event. He added that operators are "learning to walk again" after keeping their businesses afloat after the pandemic, and emphasized LANJ's commitment to its members and the industry at large.  Next, Sharenow got the crowd enthused about the upcoming CD Executive Retreat, and spoke a bit about the recently nominated New York Taxi and Limousine Commissioner David Do, who is viewed as an ally to the area's luxury ground operators.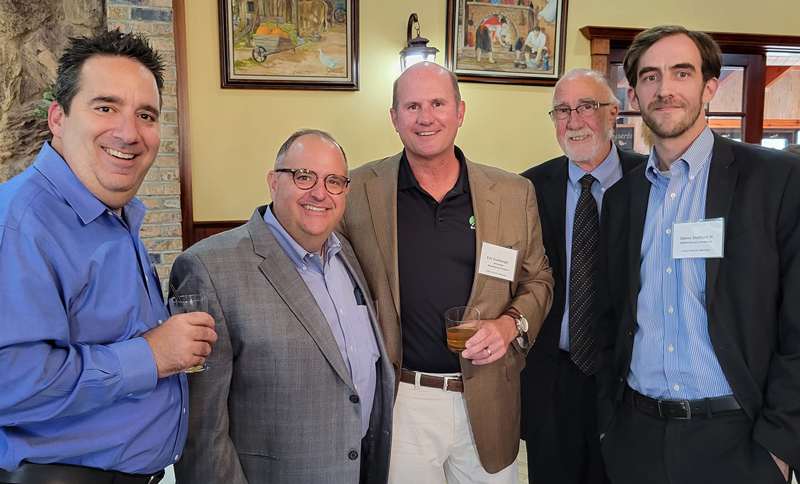 L to R: Joe Gulino of Gem Limousine, LANJ President Jason Sharenow, Eric Coolbaugh of Advantage Remarketing Solutions, Glenn Stafford of Love Limousine, and Glenn Stafford Jr. of Love Limousine
Sharenow then presented an award to Complete Fleet's Bruce Cirlin, who recently retired from the industry after more than 40 years of fleet vehicle sales. Not only is Cirlin a beloved figure in the industry, but he is long-time supporter of LANJ, serving as a co-organizer of the association's annual fundraising auction dinner. Visibly moved by the award, Cirlin thanked his partners at Complete Fleet, clients, friends, and his wife, Sheryle. Though enjoying retirement, he confirmed that he will remain a friend to the industry and looks forward to returning to next year's CD/NLA Show in Las Vegas.
Visit lanj.org for more information.
---
See the June 2022 extended magazine version here.
[05.23.22]
Details

Category: Industry News
A new report from Global Business Travel Association (GBTA) and Cvent—The Journey to More Sustainable Corporate Travel and Meetings Management Programs—finds that sustainability is at least a moderate priority for nearly three-quarters of corporate travel managers and meeting planners recently surveyed on the practices within their own companies. Respondents were based in the US, Canada, and several European countries.
The momentum is coming from the C-suite as the more than half of respondents say senior executives/C-suite leaders (57 percent) are top stakeholders who drive sustainability/carbon reduction at their company, just behind sustainability/corporate social responsibility departments (64 percent).
Respondents based in Europe were more likely to prioritize sustainability, with 64 percent noting it is a top priority for their company's corporate travel program, compared to only one-third of North America-based respondents (33 percent). This could also impact meetings moving forward, as 59 percent expect sustainability considerations will drive their company to hold more virtual meetings and 52 percent say it will drive more hybrid meetings in the future.
"Corporate travel managers and meetings professionals have a tremendous opportunity to be drivers of change and evolution as more companies prioritize sustainability. They can provide the expertise and guidance to help bring more environmental sustainability to their employee travel and meetings," said GBTA CEO Suzanne Neufang.
In the survey, more than half of company respondents (55 percent) say their organization has a companywide carbon emissions reduction target. However, fewer than one-quarter (23 percent) have a target for business travel specifically. Even fewer (9 percent) have a target for company-hosted meetings and events.
The survey also shows a major gap between North America and Europe. Almost half of Europe-based respondents (46 percent) say their company has an emissions target for business travel and one in five (20 percent) say their company has a target for company meetings and events. This compares to only 14 percent of North America-based respondents who say their company has a target for business travel, and only 6 percent that have a target for company-hosted meetings.
Cvent and GBTA experts discussed the trends found in the survey and what it means for corporate travel moving forward in its latest webinar on May 19. The webinar is available on demand by clicking here.
Visit gbta.org for more information.
[05.23.22]