Details

Category: Industry News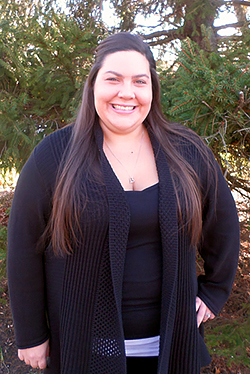 CD's Ladder-Climber: Jess Pavlow Marlton, N.J. — Chauffeur Driven is thrilled to announce that Jess Pavlow, former Circulation Coordinator, has been promoted to Director of Events.

They say that the best talent comes from within, which is definitely the case with Pavlow. She was hired in 2013 as an internal telemarketer for the Chauffeur Driven Show—a position that was meant to be temporary—but President and Publisher Chris Weiss quickly realized that he had a capable jack-of-all-trades on his hands. Pavlow jumped in feet first to assist with the inaugural show, and soon after was offered a permanent position in circulation.

Thanks to her excellent organizational skills, Pavlow became CD's first Circulation Coordinator and successfully led the magazine through the rigorous USPS audit, which granted us periodical status. She also continued to be an integral part of the pre-show planning; more recently, she took over the management of the Affiliate Central directory of the magazine.

"Who would have thought that this tenacious, part-time telemarketer would become our Director of Events in just over 2 years," says Weiss. "We are lucky to have Jess on our team, and she's perfect for her new role. She's highly organized, creative, extremely determined, and has a fantastic attitude. Everybody she encounters just loves her."

Pavlow is a familiar face to many as she makes the rounds at association meetings and events—most recently at the TLPA's Annual Convention & Trade Show in Las Vegas in October. She is already leaving her mark on Chauffeur Driven as she is hard at work planning our Executive Retreat in New Orleans and the CD Show in Washington, D.C.

"I am beyond excited to be the new Director of Events," she says. "I was part of the team behind the scenes for two years, and I'm proud of the evolution of the show in that short period of time. It's amazing to be given the opportunity to be in the driver's seat because I have a lot of ideas and I'm ready to get to work."

Pavlow can be reached jess@chauffeurdriven.com or 856.452.0323. Visit chauffeurdrivenshow.com for more information and updates on the 2016 events!
Details

Category: Industry News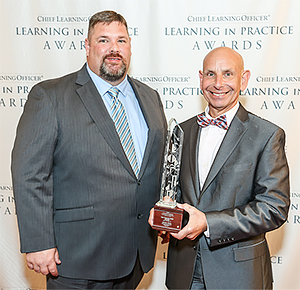 Mike Peterson (left) and Joe Malta of ABC's Training Team accept their award Fairbault, Minn. — The ABC Companies training team, led by Director of Learning and Development Joe Malta, was recently awarded with the Gold Trailblazer Award by Chief Learning Officer magazine at the publication's 15th annual Learning In Practice Awards held at the Chief Learning Officer Symposium in Austin, Texas.

The Gold Trailblazer Award showcases learning executives who have either launched or completely overhauled existing workforce development initiatives in the past year. ABC earned the award in the division for businesses with under 10,000 employees for demonstrating that "learning is a process not a one-time event" with the launching of ABC University. 

Chief Learning Officer's annual awards recognize outstanding enterprise education leaders, departments, and vendors who have developed and implemented exemplary learning and development programs that produce measurable results for their companies. Awards were presented in more than 16 categories, including business impact, collaboration, global learning, innovation, strategy, technology, trailblazer, academic partnerships, blended technology, community service, learning content, e-learning, gaming and simulations, and social learning.

Visit abc-companies.com for more information.

[CD1115]
Details

Category: Industry News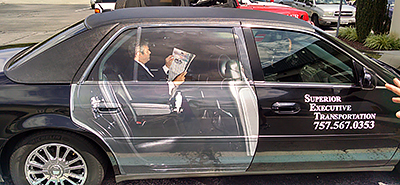 Superior's attention-grabbing car wrapVirginia Beach, Va. — Paul Walsh, the owner of Superior Executive Transportation, has come up with a novel ad campaign that brings the concept of increasing visibility to a whole new level.

Inspired by the National Limousine Association's (NLA) Ride Responsibly™ campaign, Walsh wanted to create a head-turning promotion for his business, so he developed a custom wrap for the back doors of an executive sedan, giving the illusion that the rear of the car is invisible. Instead of the car's rear doors, motorists and passersby see an image of a professional seated comfortably in the backseat working on a laptop or reading a newspaper. Walsh included the NLA logo on the photo of the newspaper, along with "Ride Responsibly" as the faux headline.

Walsh's intention is to provide a "clear" demonstration as to exactly what his business offers clients, as well as to demonstrate a visual contrast to the level of service provided—or not provided—by TNCs and ride-sharing services. "It is apparent that the idea grabs people's attention as you see the double takes and smiles the images invoke," commented Walsh.

As app-based transportation services continue to become part of the industry landscape, Walsh felt it important to inform and educate travelers that professional car services still exist, and that the service and safety the industry provides are superior to a cheap instant response from an unknown provider.

Visit getsetgo.us for more information.

[CD1115]