Details

Category: Industry News
Updated: 11.10.21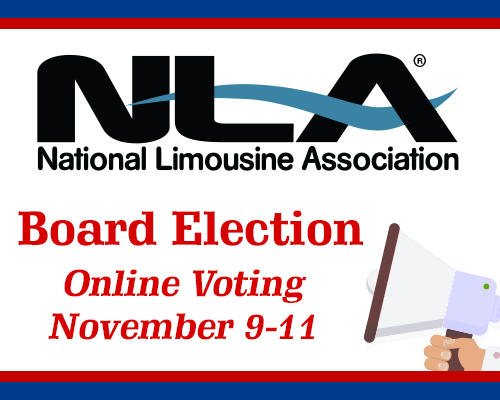 The National Limousine Association (NLA), which announced its roster of candidates for its Board of Directors election in October, began the election process on Tuesday and will close on Thursday, November 11 at 8:00 p.m. ET. The voting is entirely online. 
NLA President Robert Alexander of RMA Worldwide confirmed in his weekly letter that members will soon receive their unique voting credentials via email (the address associated with your NLA membership profile). If you need any assistance or have any questions, contact the association at info@limo.org.
The candidates are (click on the candidate's name for more information):
At-Large (one open seat)
 Central (one open seat)
 Northeast (one open seat)
 West (one open seat)
 Canada (one open seat)
 International (one open seat)
Candidates were offered a chance to make their case and earn your vote during a series of live streams in late October. The debates were hosted by Bill Faeth of Limo University and were broken down by region. If you missed the debates live, you can view them on NLA's Official Member Group Facebook page here (must be a member):
Visit limo.org for more information.
[11.08.21]
Details

Category: Industry News
Four US Representatives have rallied 89 of their colleagues to join them in calling for House leadership to exempt Coronavirus Economic Relief for Transportation Services (CERTS) Act grant funds from federal taxation in the next possible legislative vehicle. Representatives Jimmy Panetta (D-Calif.), Darin LaHood (R-Ill.), Albio Sires (D-N.J.), and John Rose (R-Tenn.) led the effort over the past two weeks, and motorcoach operators across the country did their part, emailing and calling their representatives to ask them to sign the letter.

L to R: Congressmen Jimmy Panetta, Darin LaHood, John Rose, and Albio Sires rallied 89 of their colleagues to support a tax-exemption for CERTS grant funds
The CERTS Act, with $2 billion in funding, was signed into law in December 2020 and funds were dispersed to grant applicants beginning in August of 2021. The industries assisted by the grants include passenger vessels and school buses in addition to motorcoach companies.
United Motorcoach Association (UMA) Chairman Jeff Polzien said, "UMA thanks Representatives Panetta, LaHood, Sires, and Rose for their outstanding leadership on this issue, the other 89 members of the House of Representatives who joined them in this effort, and the many hundreds of members of UMA who engaged directly with their elected representatives. We look forward to continuing to work with Congress to see the tax exemption become law."

"This is a matter of fairness," UMA President & CEO Scott Michael said of the tax exemption. "Similar industry relief program grants to restaurants and shuttered venues are already exempted from federal taxation. It's not surprising there is so much bipartisan support for this measure to be codified in the next possible legislative action. Our industry is grateful for the leadership of Representatives Panetta, LaHood, Sires, and Rose."
The UMA lead a push with members to urge their representatives to back the tax exemption for the grants, to help struggling coach operators who were severely impacted by the COVID shutdowns and are now just getting back to work.
"We know many motorcoach operators do not expect to return to 'normal' business until sometime in 2023," Michael added. "Exempting these struggling businesses from paying back a large portion of these emergency grants in taxes will hasten their recovery."
Visit uma.org for more information. 
[11.02.21]
Details

Category: Industry News
Mark Kini, founder and CEO of Boston Chauffeur, has announced that Peter Herman has joined the team as the company's new head of meetings & events, a division Kini says he is looking to grow.
Herman has a long history in the hospitality industry, most recently splitting his time between Dav El | BostonCoach's Destination Management Company and events department. For more than 15 years, Herman was a restaurant manager, where he worked in various types of eateries from casual to fine dining. Soon after making the change to destination management, he says he found a passion in event transportation, logistics, and onsite management.
"Peter will use his experience to work on strengthening our sales and events team. We are excited to have him on our team!" says Kini.
Herman can be reached at peter@bostonchauffeur.com or 978.921.4334.
Boston Chauffeur, founded in 2001, also celebrated its 20th anniversary this year.
Visit bostonchauffeur.com for more information.
[11.02.21]