Details

Category: Industry News
Building and growing a robust business is the goal of all entrepreneurs, but often the role of a being an effective manager gets overlooked in the pursuit of revenue and sales. Did you know only 11 percent of surveyed organizations worldwide have a "strong" or "solid" leadership bench—the lowest in the past 10 years? Also, 30 percent of managers believe they can delegate well, and only a third actually are good delegators.
This begs the question: How can you and your other managers be one of the good ones?
Join Strategy Leaders Chief Marketing Officer Robyn Goldenberg and Vice President of Sales and Consulting Christina Scherwin on September 27 at 1 p.m. ET for a webinar entitled How to Be a Great Manager: 10 Proven Techniques.
Moderated by the pair via Zoom, this informative (and free) webinar is designed to teach important techniques that will help you manage your employees like a pro. From setting goals to providing feedback, they will cover everything you need to know to lead your team to success.
Register here to take part in the webinar.
Visit strategyleaders.com for more information.
[09.15.22]
Details

Category: Industry News
Let your voice be heard! The National Limousine Association (NLA) is heading to our nation's capital this September 20-21 for the Day on the Hill, an annual event that connects members with their elected representatives to discuss issues the industry is experiencing. The agenda for the two-day event includes such topics as the Employee Retention Tax Credit, worker classification, CERTS Tax Exemption Act, and pilot and staff shortages at the nation's airports.
"This event is our best opportunity to meet with legislators on issues facing our industry. The Legislative Committee and our lobbying team at Cornerstone Government Affairs are working hard to make sure we are ready to take on this event, but we need you," said NLA President Robert Alexander of RMA Worldwide in his weekly newsletter to members.
Staff from Cornerstone Government Affairs will be on hand to help prep attendees for the meetings and provide updates on the happenings in policies and legislation affecting the industry. The association will also be hosting a Political Action Committee fundraiser on September 20 for Arizona Democratic Senator Kyrsten Sinema, who Alexander says has been a strong voice for small businesses. Donations can also be made here. All donations must be personal funds, not company funds.
To register or view more details about the event's agenda, visit the association's event page here. Discount hotel rooms are also available on the event page. Day on the Hill is sponsored by Premier Sponsors Above All Transportation and Epic Limousine and Supporting Sponsors ABC Companies, Buffalo Limousine, and Windy City Limousine & Bus.
Visit limo.org for more information.
[09.13.22]
Details

Category: Industry News
Two companies based in Westchester County, N.Y, have officially become one as the Leros Transportation Group has acquired Red Oak Transportation of Portchester.
The two brands represent five generations of transportation experience over 125 combined years. In addition, the acquisition will bring the Leros fleet back to the pre-pandemic level of more than 300 vehicles, consisting of sedans, SUVs, vans, minibuses, and full-size coaches. Operating in the same market and headquartered just nine miles apart, the two companies will merge their staff and operations in Leros' headquarters in Valhalla.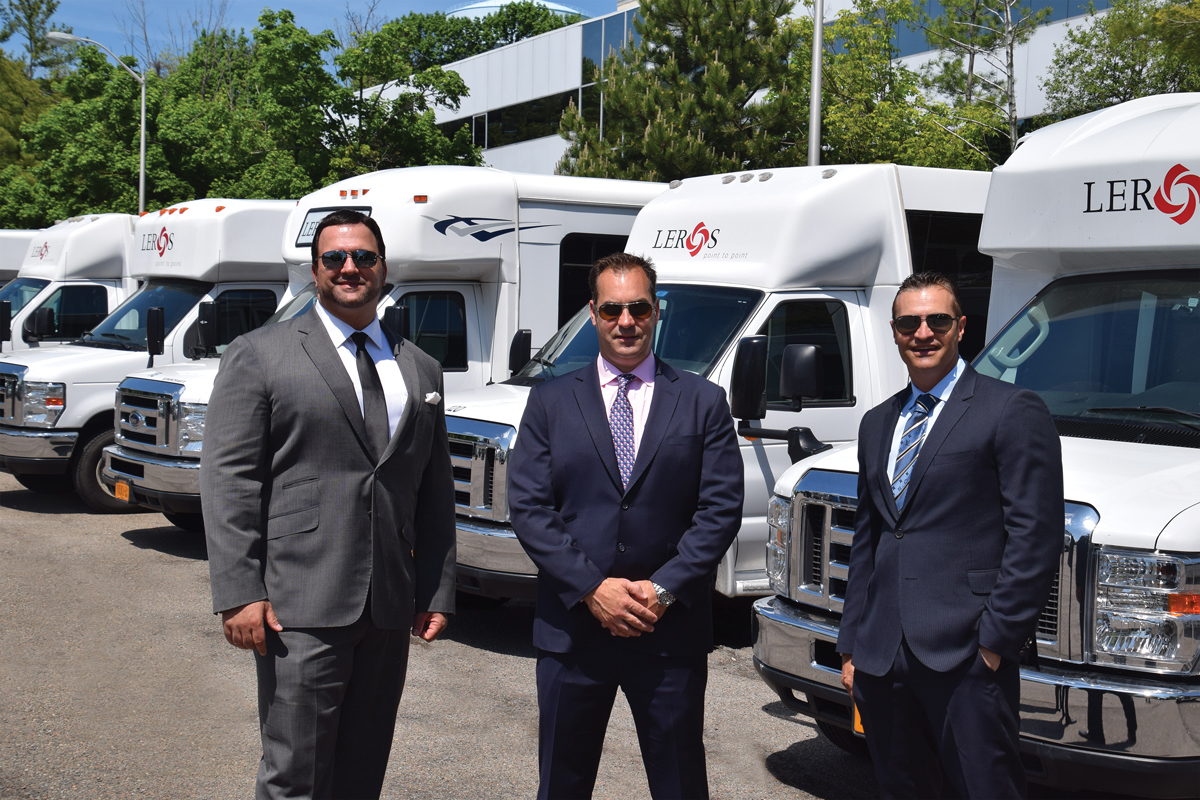 The Leros management team (L to R): COO Mike Basso, President Jeff Nyikos, and CFO Chris Nyikos at their Valhalla, N.Y. facility
"The combination will create an extremely competitive organization positioned for greater growth, and with the financial strength to better manage the new challenges of a post-pandemic world," says Leros COO Michael Basso. "The winning combination of joint resources will allow both companies to provide a more flexible and efficient customer service model with greater reach."
The team at DrivingTransactions.com, under the leadership of principal Kenneth Lucci, facilitated the transaction for the seller, and worked with all parties to formulate, negotiate, and finalize the transaction.
"As a former operator, Ken knows the business and that's the key," says Leros President Jeff Nykios. "His financial analysts created an impressive and detailed financial information package on Red Oak, including past P&L performance trends, current year financial forecasts, and complete fleet value estimates up front.  We used this package to evaluate the business, formulate an offer, and structure a transaction that is a win-win for all parties. His team was instrumental in putting this together representing the seller while offering advice to both sides on how to integrate and grow the business after the sale."
Established in 1983, Leros remains family owned and operated. Red Oak similarly has long ties to the transportation industry. Owners Andrew (CEO) and Edward (President) Stoppelmann are third-generation operators whose family involvement in ground transportation goes back to 1936.
The Stoppelmanns retained the services of the Windels Marx Transportation Law Practice, led by Partner and Chair Matt Daus, to represent their interests in the acquisition. 
"It was a true privilege for our law firm's M&A transportation team to represent Red Oak and the Stoppelmann family in this important transaction that will positively impact the corporate travel community. The marriage of the Red Oak and Leros brands, two established ground transportation companies, sets an industrywide example of what can be accomplished by exploring strategic M&A synergies as we enter an uncertain post-pandemic market," says Daus.  
"After more than three generations in the ground transportation business, the time had come to explore synergies between like-minded companies, and Leros was the perfect fit to share and integrate Red Oak's 'best in class' service and exemplary affiliate network partners.  We would like to thank former NYC Taxi & Limousine Commissioner Matt Daus, who the Stoppelmann family has known for decades, and his experienced M&A legal team at Windels Marx, who provided effective counsel every step of the way, working around-the-clock to help this deal get over the goal line. Of course, the deal would not have been possible without the sense of urgency and commitment of Ken Lucci, who worked very well with the legal teams and principals on both sides to resolve issues in a collaborative fashion," says the Stopplemanns about the process. 
Leros has also announced that they acquired two other transportation companies in the N.Y. metro market during the pandemic. In May 2020, Air Brook Limousine became part of the Leros family of transportation companies. Air Brook Limousine has been a well-known second-generation New Jersey brand for more than 50 years. Leros merged the Air Brook operations into their Royal Coachman location in Deville, N.J., which they acquired in 2018.
Furthermore, in July of 2021, Leros acquired All Transportation Network of Newburgh, N.Y. Established by Michael Zappone in 1988, All Transportation operated throughout New York's Hudson Valley for more than 30 years. This acquisition provided Leros with a further foothold in a market that connects geographically to their existing New York and Northern New Jersey operations. Zappone has stayed with Leros on a consulting basis.
Visit leroslimo.com for more information.
[09.13.22]