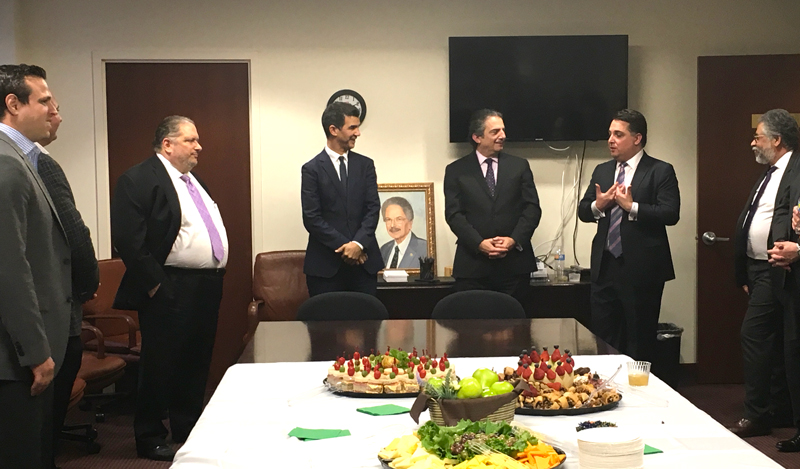 L to R: BCF Executive Director Ira Goldstein, New York City Councilmember Ydanis Rodriguez (D-10), BCF Chairman Berj Haroutunian, and former TLC Commissioner Matt Daus of Windels Marx Lane & Mittendorf New York, N.Y. — The Black Car Fund (BCF), New York's non-profit organization protecting for-hire drivers and passengers, announced EmpireCLS Worldwide Chauffeured Services has joined in order to provide its drivers with workers' compensation coverage.

Founded in Norwood, New Jersey in 1980, EmpireCLS has a long history in high-level ground transportation service, and BCF is very excited to be adding to its list of covered bases. BCF Chairman of the Board, Berj Haroutunian said, "We are proud to have such a prestigious and diverse company joining The Fund. EmpireCLS has a long history spanning over 30 years, and in that time has offered nothing but exceptional service at every level. I look forward to a mutually beneficial, long-term relationship with EmpireCLS, and I am glad the leadership recognizes the value The Fund will add to its already impressive level of service."

According to New York State statute, all bases (or central dispatch facilities) that obtain more than 90 percent of their for-hire business on payment other than direct cash by a passenger but do not own 50 percent or more of the cars it dispatches are required to obtain membership with BCF.


"The Black Car Fund has an extraordinary history, and I was thrilled when I learned EmpireCLS met the requirements for membership. Not only is it a cost-effective way of providing our workers with mandated workers' compensation coverage, but its available Safety and Wellness classes will largely bolster the training my drivers currently receive in-house," EmpireCLS' Chairman and CEO David Seelinger says. "At the end of the day, The Black Car Fund not only effectively addresses a need, but it also contributes to a higher level of customer service, and in turn, increased business."



EmpireCLS is not the only company to join recently — Commonwealth Worldwide Chauffeured Transportation of N.Y., Carey Limousine, and Tristar Services (US) have also become members of BCF. Executive Director Ira Goldstein says: "The Fund is excited to be adding such prestigious and diverse companies to its family of covered bases."

In other news, Councilmember Ydanis Rodriguez (D-10) was recently honored by the Fund. About 30 members turned out to hear Councilman speak about issues related to the chauffeured transportation industry. Rodriguez has been the chair of the transportation committee of the city council for nearly four years, and BCF looks forward to working with Councilman for the duration of his term. "He is always willing to listen and learn more about the for-hire transportation and taxi industries," says Jason Fromberg, communications and social media specialist for the Fund. "He was instrumental in getting the Taxi and Limousine Commission's mandatory vehicle retirement for black cars repealed."

Visit nybcf.org for more information.

[CD0317]