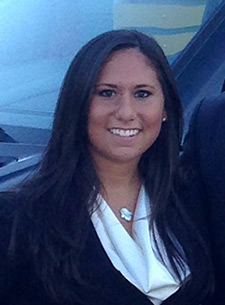 Vice President of Operations Briana Candeub Trevose, Pa. — Park Avenue Limousine is proud to announce that Briana Candeub has been promoted to vice president of operations, effective as of September 27.

Even though she grew up with her father Alan's company, the eldest of the second-generation Candeubs to work in the business is on the cusp of her fourth year as a full-time employee, and is thrilled that she's proven herself to the man who's both her dad and her boss.

"Something that we had discussed since day one is that a title is not just given—it's earned," she said. "So when he came to me and said that it's time for me to have a title, it meant that I've made him proud, which obviously makes me feel great. After my brother, my sister, and me, this is my dad's fourth baby, and the fact that he trusts me with this responsibility means that I've made my mark here."

After not only working to show that she's not the type to rest on familial laurels but also diligently making a name for herself in her own right, Briana feels that this is further proof of accomplishing both aims.


"I don't want to be the boss' daughter to the rest of the company, and I don't want to be known as Alan's daughter to the rest of the industry: I want people to know me for me, and know that I have what it takes to succeed. Even though this is a family business, I'm not riding my dad's coattails. I'm a hard worker, I'm here to grow the company and excel even more."

Crediting that hard work and dedication in helping to establish her own identity within the chauffeured transportation sector, Briana has also gotten to work in a variety of roles during her time learning the ropes of a legacy business. She will now utilize those sales, customer service, and other necessary skills to keep her father's business on an upward trajectory—starting with her long-term vision of taking Park Avenue's current fleet of 50-60 vehicles and ramping it up to the 80-100 vehicle range.

So far, though, her proudest accomplishment is harnessing the best parts of working alongside someone she's known her entire life to the benefit of the company's bottom line.

"Both my dad and I together have been growing our sales network and, even more so, our worldwide network," she says. "That's something we've been working as a team to accomplish since I've been on board, and it's where I've seen the biggest improvement in a goal that I've had a helping hand in reaching."

Briana admits that she has not always dreamt of joining the family company. After graduating from Temple University in 2013, she immediately went to work at Philadelphia's Four Seasons Hotel, where she managed several different departments and learned "invaluable lessons," especially in regard to providing high-level customer service. But after two years, that path ultimately led her back to where she realized she was meant to be.

"I didn't wake up one day and realize that I would love to be a limousine operator," she said. "But I did wake up and realize that I want to be a business owner. I've come to love this industry: It's something new every day, I get to travel, I get to meet so many wonderful people, and I'm using everything in my background to make sure our clients are getting the best service possible."

And while she will be facing her own challenges as she works her way to the top, Briana is ready to maintain Park Avenue's reputation after watching her father diligently establish it.

"I've seen—and have experienced—the ways hard work pays off," she said. "I'm ready for what's next."

Visit parkavenuelimousine.com for more information.

[CD1017]