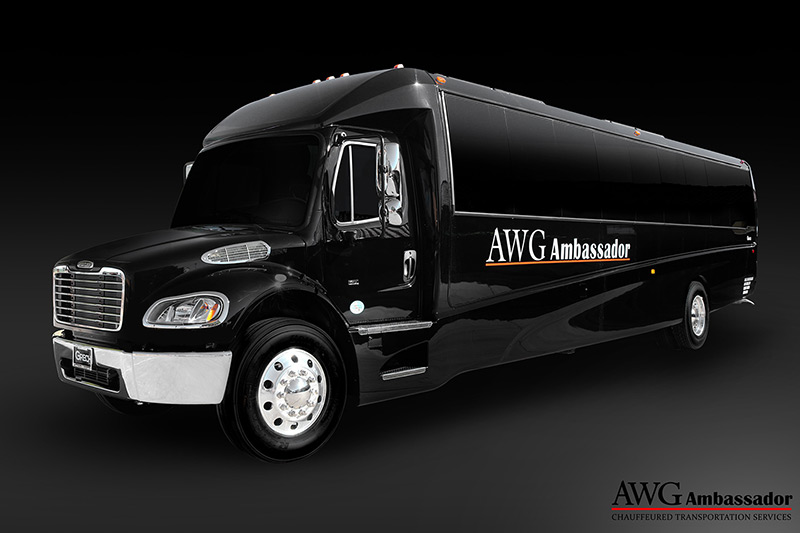 One of AWG Ambassador's new 2019 Grech GM40 luxury buses Las Vegas — AWG Ambassador has announced the addition of 10 new 2019 Grech Motors GM40 executive luxury buses to their fleet. Each of these 37-passenger vehicles offers first class styling, high-end comfort, and premium amenities. This latest transaction continues a long-time relationship between the operator and the builder.

"I was the first in Vegas to buy a Grech limo bus, and we based our business on that for a while," says AWG Ambassador President/CEO Alan Waxler. "We're a unique breed here in Vegas because limousines are still an important piece of the business. But I was trying to find a 'new pond,' as there are a lot of fishermen in the same pond—particularly since the Uber phenomenon."

Realizing that the company displayed particular strengths in transportation management and group transportation, Waxler was looking to introduce new group transportation product into the Vegas marketplace. He discussed his concept with Grech Motors Founder Ed Grech, who then customized his company's GM40 mid-size coach to meet the needs of AWG and its client base.

"We started taking delivery in November 2018, and started letting our hotels, DMCs, and corporate clients know," says Waxler. "Everyone loves them. They've been well received."

AWG Ambassador Director of Sales Christine Backman points out that their clients have been impressed with the vehicle's sleek lines, LED accents, plush luxury leatherette interior, retractable leather seating, panoramic front view window, and USB power outlets at every row, as well as an ample luggage storage capacity.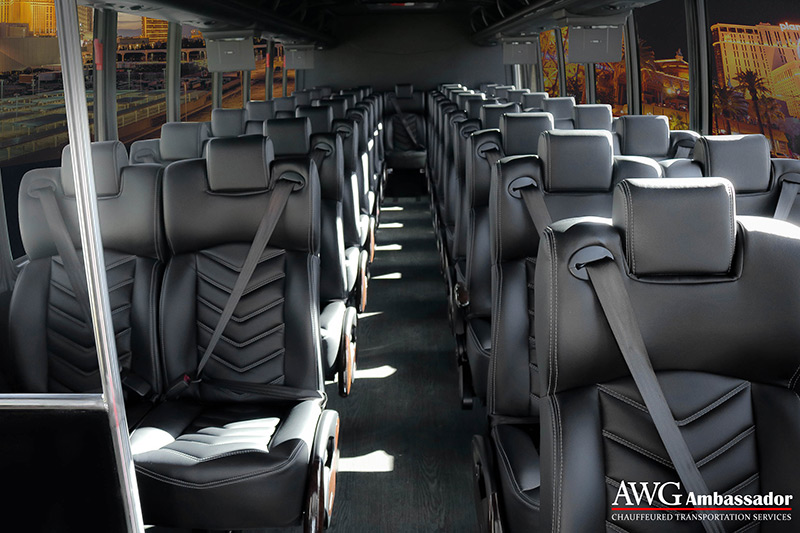 Interior of the 2019 Grech GM40 mid-sized coach "The GM40 is go-to for event and meeting planners," she says. "This bus will 'wow' your guests and make a lasting impression for any corporate charter or leisure occasion."

With the addition of these executive mini-coaches to the company's fleet of more than 100 vehicle, AWG now has the capacity to move more than 600 people around the Las Vegas area, whether it's to casinos, golf courses, meeting sites, or airport runs at any given time. As a preferred provider for many of the city's notable hotels, Waxler sees the GM40 as particularly advantageous to his market.

"One of the nice things about these 37-passenger buses is that these vehicles are allowed to pick up and drop off at the front doors of the hotels, while larger buses have to go to the tour lobby. You don't get the full effect of the arrival if you have to go to the back door," he laughs.

While Waxler is happy with the positive impression that his new Grech luxury buses have made on his clients, he is especially pleased with the relationship he has fostered with the vehicle's builder over the years.

"It's nice to have a guy like Ed Grech in your corner," he says. "He assisted us with the process of getting into these buses, and stands behind his product. He's proud of it. You can't ask for much more."

Visit awgambassador.com for more information.

[CD0319]