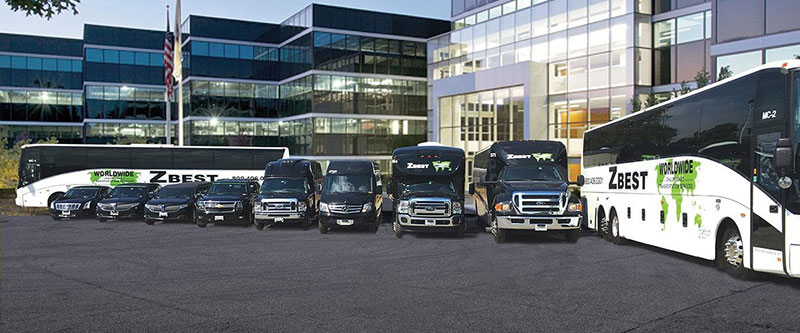 ZBest fleet at their new location Baltimore — ZBEST Worldwide Chauffeured Transportation Services today announced a multi-year master service agreement with The Gaylord National Resort & Convention Center located at National Harbor in Maryland to be the in-house chauffeured transportation provider for hotel guests. As of this month the company is operating its Washington, D.C., division from the hotel and staffing the resort transportation department with chauffeured service vehicles on the front drive for airport, hourly, group and meeting and tour services.
ZBEST has provided service to Washington, D.C., from their base operation in Glen Burnie, Md., for many years but has desired a permanent location closer to the capital city and this latest development accomplished this goal.
"Over the past few months we have secured multiple corporate and affiliate service agreements in and around D.C. while simultaneously negotiating with the Gaylord Resort. We are extremely pleased that our agreement with them puts the icing on the cake of a major D.C. strategic growth initiative," said ZBEST President Mert Onal.
The Gaylord National Resort and Convention Center located at National Harbor is situated along the Potomac, just downriver from Washington, D.C., and across the river from Alexandria, Va. It is operated by Marriott International. The hotel is the largest non-gaming hotel and convention center on the East Coast of the United States with 2,000 guest rooms, 95 event rooms, 537,430 square feet of meeting and convention space, seven restaurants, and a 20,000-square-foot spa. The resort employs over 2,000 people and features a 19-story glass atrium with views of the Potomac River.
Headquartered in Glen Burnie, Md., ZBEST Worldwide Chauffeured Transportation Service has grown steadily over 25 years under the guidance of Executive Vice President George Rains, President Mert Onal and Chairman and CEO Korky Onal. The company employs over 100 associates with one of the largest diversified fleet on the east coast ranging from sedans to their own motorcoaches.
Visit zbestworldwide.com for more information.
[CD0220]