Bus manufacturer New Flyer of America recognizes staffers Lindy Norris and Benjamin Wood for being named to Mass Transit Magazine's Top 40 Under 40 list for 2020.
Norris, director of marketing and public affairs, and Wood, plant manager of New Flyer's world-class Anniston, Ala., facility, were recognized for outstanding innovation, demonstrated leadership, and a commitment to making an impact in transit.
Lindy Norris
"New Flyer is proud to now have six leaders recognized on this prestigious list. Ben and Lindy exemplify our team's passion to drive innovation in and advancement of North American public transit," said New Flyer President Chris Stoddart. "With each steering critical elements of New Flyer's business, Ben and Lindy are making a difference—driving innovation, celebrating diversity, and creating a culture of collaboration within our business, the transportation industry, and across their communities."
Benjamin Wood
Joining New Flyer in 2017 as director of marketing communications, Norris led media relations and marketing for New Flyer, transforming its brand through the 2017 American Public Transportation Association's EXPO conference, followed by the launch of New Flyer's Vehicle Innovation Center (VIC). In her current role, Norris now advocates for technology advancement, workforce development, and investment in sustainable infrastructure for the transportation industry in addition to leading New Flyer's North American brand strategy.
"It's an honor to be named to Mass Transit's Top 40 Under 40 and to join other esteemed leaders responsible for defining the new mobility era," said Norris. "With our industry advancing more rapidly than ever before, the opportunity to solve novel challenges alongside social, environmental, and regulatory change is an absolute privilege."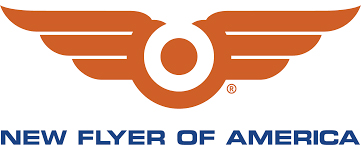 The company says Wood is an exceptional manufacturing leader who has dedicated the past decade of his career to developing New Flyer's people, processes, and partnerships. Today, he leads more than 700 people as plant manager of Anniston facility. Pairing his operational expertise with steady and compassionate guidance, he has inspired the Anniston team to achieve the rank of New Flyer's best performing manufacturing facility over the past year. Together, Wood and the Anniston team have successfully launched advanced zero-emission bus manufacturing processes, enhanced product quality, reduced work-in-process by 85 percent, increased employee retention, and embedded 5S and Lean Manufacturing techniques throughout the plant.
"I am honored to be named to Mass Transit's Top 40 Under 40 list," said Wood. "Together, our Anniston team works hard to build the industry's best mobility solutions through innovating buses, technology, and infrastructure, promoting sustainability, and delivering the highest quality products to communities across North America. I am so proud to be part of changing our industry for the better."
Visit newflyer.com for more information.
[8.21.2020]