Two trims in the Avalon line have been targeted for the livery industry: the XLE (gas-powered) and the Hybrid Premium. There are only minor differences between the two, and for testing purposes, CD's review is based on the Hybrid Premium.
Links:

AutoTrader's Test Drive:
www.youtube.com/watch?v=_nkuoIoNILI

Avalon was also named "Best Green Car" at the Atlanta Auto Show:
finance.yahoo.com/news/toyota-avalon-hybrid-named-2013-134100688.html
The Avalon was designed and assembled in the U.S., and was crafted with a different consumer in mind, namely those between the ages of 30 and 50. Its new looks are a radical departure from previous models, and shows that there is bold, new thinking at Toyota. While there's definitely a distinction between this and a Lexus vehicle, Toyota's top-of-the-line passenger car holds its own in the sophistication department. It's a stunning vehicle that will find a place in chauffeured transportation.

Toyota has also recognized that it can't just offer a stock vehicle when livery passengers and operators have different needs and wants, so the XLE and Hybrid Premium have an available Livery Package. This package includes a black interior, individual vents, and heated rear seats. There's also an armrest and decent cabin space to spread out, with 39.2 inches of leg room and 37.9 inches of head room (37.0 inches in the hybrid). Between the armrest, the rear seats will comfortably seat two.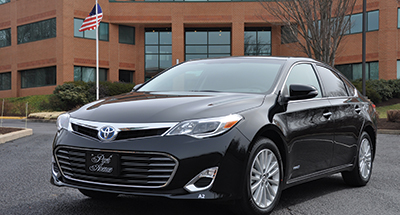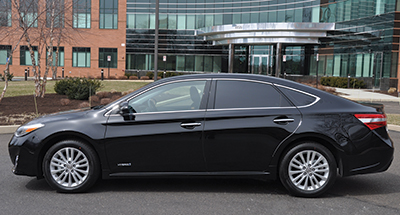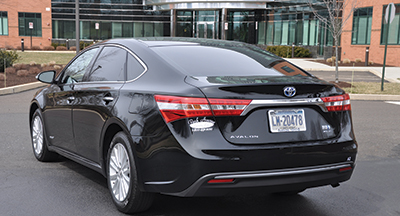 Voices of operators were also heard regarding an available warranty. Toyota is offering Vehicle Service Agreements that are more in line with livery usage. The plans are for 3 or 4 years, and include mileage ranges from 100,000 to 150,000 miles. Besides the fuel economy, the XLE and Hybrid Premium diverge when it comes to trunk space. Put simply, the Hybrid Premium parks its batteries where passengers will put their luggage—robbing the trunk of 2 cubic feet of space. While 14 cubic feet is smaller than the average, the 16 cubic feet available with the XLE makes a difference.

Driving the vehicle will be a happy experience for chauffeurs. Pickup is smooth and acceleration is as expected—it won't win a race, but it will easily merge with traffic. There were no problems with lurching between gear shifts, and the brakes felt strong and responsive. The vehicle has three driving modes (ECO, Sport, and EV Drive), and Sport Mode offers the tightest steering and control for those chauffeurs who like a hands-on driving experience (it was the favorite mode of one of our testers). The ride in the backseat is comfortable enough with only minimal road feel, and the Hybrid is exceptionally quiet (one tester wasn't sure the vehicle was even running).

Where Toyota trounces most of its competition is in the price arena. The model CD tested, a Hybrid Premium, was just under $35,000 (with processing and handling fees). With the Livery Package, Toyota reports that the XLE is $31,360 and the Hybrid Premium is $33,750. The Avalon also has 10 ­standard airbags, so safety is definitely a priority.

If your service caters to different levels of customers, the Avalon has the price point, equipment, and chops to make the cut. The bold styling and passenger comfort also deserves a second look. [CD03/04/13]
Specifications:
Engine:3.5 L V6 (XLE) 2.5L 4 cylinder (Hybrid)
MPG:21/31 (XLE) 40/39 (Hybrid)
Rear Head Room:37.9" (XLE) / 37.0" (Hybrid)
Rear Leg Room:39.2"
Price:XLE $31,360 MSRP / HYBRID $33,750 MSRP