Charlotte, N.C. — Ground transportation company, Rose Chauffeured Transportation, announced their move to a new location this week. The $11-million, family-owned company, which has operated from a facility on Nations Ford Road in Pineville, N.C. since 2006, has relocated their entire 66-vehicle fleet and 135-employee office to a new facility in Charlotte.

The new location includes a 20,000-square-foot building, of which approximately 8,000 square feet is office space and 12,000 square feet is a garage with three drive-throughmechanic bays. The garage plus two and a half acres of outside parking provides ample space for the company's fleet of 22 motor coaches, 10 minibuses, four executive vans, 18 sedans, and 12 SUVs, which will also be served by the facility's detached wash bay.

"Quite simply, we've outgrown our current space," says Andy Thompson, president of Rose Chauffeured Transportation. "Our new space allows us to keep our entire growing fleet in one location, and the three drive-through mechanic bays are a huge improvement over our current one bay that requires buses to enter and exit the garage through a single door."

Thompson also cites lower rent, a large conference room to accommodate their team meetings, and the facility's proximity to the heart of Charlotte as advantages of the new location.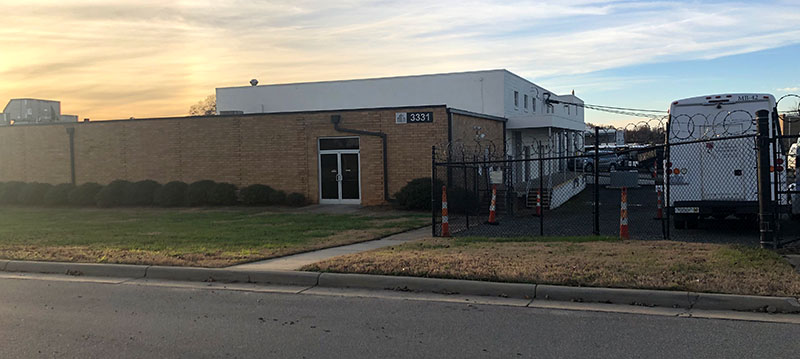 Rose Chauffeured Transportation's new facility in Charlotte, N.C. This is the company's fifth move to accommodate growth since its founding in 1985. In 1990, it moved out of the family's home to an office space on Park Road; in 1996, to a small warehouse and office space on Weona Avenue; in 2000, to a facility on Old Pineville Road that doubled the warehouse and office space; and in 2006, to their most-recent Nations Ford Road address.

"The outlook for continued growth is positive," says Thompson. "Several big events are coming to the region in the next couple of years, even as the city continues to boom and travel spending continues to grow. We're optimistic, and excited to have a great new facility to operate out of."

Visit riderose.com for more information.

[CD1218]