Details

Category: Industry News
San Francisco — Deem, the leading Commerce-as-a-Service (CaaS) company, recently announced a host of new chauffeured ground transportation operators who have signed agreements with Deem for its new Deem Car Service cloud and mobile application. Following the announcement of groundbreaking partnerships with the National Limousine Association (NLA) and many of the largest operators in ground transportation at the Global Business Travel Association (GBTA) Annual Conference in Orlando, Florida, in June, this announcement adds dozens of new companies to the growing list of operators on the Deem Car Service network.

The new operators who are now part of the Deem Car Service network include Grand Avenue, Greene Worldwide Transportation, Best Chauffeured Worldwide, Teddy's Transportation System, Inc., Grace Limousine, The Driver Provider, Cooper-Global Transportation Services, El Paseo Limousine & Corporate Transportation Services, ETS International, Guru Limousine, Corporate Sedan Service, Ascent VIP Service, New Jersey Limo Finders, A1A Airport & Limo, All Seasons Transportation, and Company Car, amongst others. These operators join EmpireCLS, Music Express, Pure Luxury, Flyte Tyme, Arrow Limousine, Gem Limousine Worldwide, Universal Limousine, U.S. Sedan Service Inc., North Point Transportation, AJL International, and Sterling Limousine, who are already on the network.

"The continued enthusiasm and adoption we've seen throughout the chauffeured transportation industry has been astounding since we announced our new strategic partnerships at GBTA," said Patrick Grady, founder and CEO of Deem. "We're continuing to work with the NLA and our new Car Service Advisory Board to ensure that every aspect of Deem Car Service Cloud and Mobile is designed to exceed the expectations of our operator partners and delight their customers, from enterprise executives to small businesses and high-end leisure customers."


Deem continues to leverage its $200 million investment into the one-of-a-kind cloud and mobile platform to deliver a highly scalable real-time network and mobile application to the chauffeured transportation industry, effectively leveling the technological playing field against the new class of TNCs. The Deem Car Service cloud and mobile software will allow operators around the world to focus on their longstanding core strength of delivering the safest and highest quality ground service while corporations will be able to combine duty-of-care with savings, and business travelers and consumers will enjoy world-class convenience, safety, and service.

"Deem's investment in our industry has been a breath of fresh air, and everyone in our industry, from drivers to fleet owners, is incredibly excited about the immediate impact this technology will have," said Robert Vaughn, founder and owner of Best Chauffeured Worldwide. "This application and network will help me and all the other operators in the network increase revenue, reduce costs, and maximize our fleet utilization while helping to not only maintain but also improve the customer loyalty we have all spent decades building."

Companies can manage their corporate chauffeured transportation programs by either using Deem Car Service as a standalone application or pairing it with Deem Travel, Deem Expense, or the complete Deem suite to unlock the full savings potential of spend and expense management on the Deem platform. By combining user preferences, corporate policies, and the negotiated rates between corporations and their preferred operators all in a consumer-grade cloud and mobile experience, Deem Car Service will enable the perfect transaction for all stakeholders. In addition, users can create both business and personal profiles and seamlessly navigate between each to book advanced and real-time reservations for both business and leisure trips.

Deem also recently announced a distribution agreement for Deem Car Service with BCD Travel, a travel management company (TMC) that helps companies make the most of what they spend on travel while keeping travelers safe and productive on the road.

Under the agreement, BCD Travel agents will be able to offer business travelers and companies access to the largest network of chauffeured transportation vehicles through a seamless, consumer-friendly application with next-generation cloud and mobile capabilities.

"Travel managers today are faced with the challenge of managing travel risks for their travelers while providing them with the types of booking experiences they have come to demand from consumer applications like Uber," said Dave Mitchell, BCD Travel senior vice president Supplier Relations. "Deem Car Service enables our agents to provide the kind of fast, efficient, and accurate service our clients expect, while ensuring that travelers receive world-class customer service from fully vetted, licensed, and insured drivers."

"BCD Travel has always been at the forefront of travel technology, offering their customers best-in-class tools and service and helping travel managers make the most of their managed travel programs," Grady added. "We already enjoy hundreds of mutual customers with BCD Travel and look forward to providing the best chauffeured transportation experience to their business traveling clients around the world."

Visit deem.com and bcdtravel.com for more information.

[CD1015]
Details

Category: Industry News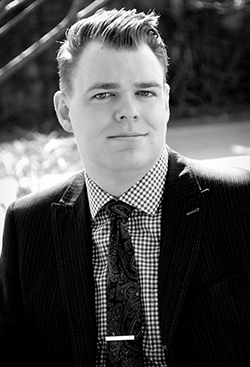 Derek Maxwell, Chosen Payments Chief Technical Officer Moorpark, Calif. — Chosen Payments, a leading provider of credit card and payment processing to the ground transportation industry, recently announced that Derek Maxwell has joined the firm as their new chief technology officer. The Chosen Technology Group—a sister company of Chosen Payments—will now provide and maintain quality services to existing Maxwell Unified Services customers. This merging of resources between the companies is mutually beneficial, with many common clients previously utilizing both firms for their business needs. Chosen Technology looks forward to continuing Maxell Unified Service's mission of providing innovative solutions and building cutting-edge systems and architectures that meet their customers' unique requirements.  

Prior to joining Chosen Payments, Maxwell founded Maxwell Unified Networks in 2012, which specialized in business continuity, disaster recovery, hosted services, and VoIP solutions for the country's leading ground transportation providers. Furthermore, he has more than decade of experience in the transportation industry, with an extensive background that includes technology and operations roles with emergency medical, paratransit, and chauffeured services providers. Since 2005, Maxwell has also worked closely with Livery Coach Solutions, a premier ground transportation management software solution, which allowed him to make industry connections and gain insight into the operations of limousine services throughout the country.

"Having worked closely with Jeff Brodsly at Chosen Payments for the last 18 months, I was overwhelmingly excited when presented the opportunity to join Chosen as chief technology officer," said Maxwell. "I look forward to leveraging the sterling reputation, resources, and industry alliances of Chosen Payments to build a technology-centric payments brand."

Brodsly, CEO of Chosen Payments, added, "I have known and worked with Derek for the last two years, and have been impressed with his innovative thinking and problem-solving relating to technology issues. When the opportunity presented itself to have Derek join the Chosen Payments team, I was thrilled. We look forward to continuing to provide the best in the business to all our clients, in all services throughout of the Chosen Group of companies, as we continue to grow our brand."

Visit chosenpayments.com for additional information.

[CD1015]
Details

Category: Industry News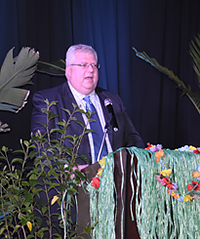 TLPA President Mike Fogarty of Tristar Worldwide was among the featured speakers at the GCLA Expo Costa Mesa, Calif. — It was another successful year for the Greater California Livery Association (GCLA) Expo & Trade Show, which was held September 24 at the Turnip Rose Promenade & Gardens. Nearly 250 members and supporters of the association came from all over the U.S. and Canada to attend the fifth-annual event, including Chauffeur Driven Publisher Chris Weiss. CD was also among the event's Platinum Sponsors.

This year's expo, the main sponsor of which was Ford Lincoln Limousine and Livery Vehicles, boasted a Ride the Wave theme and had expo-goers decked out in their most tubular tropical attire to celebrate the association's biggest fundraiser of the year.

"Some of us were on our way to a meeting when I had mentioned that the ups and downs of our fight against TNCs were like riding a wave, which is where the theme came from," says GCLA President Kevin Illingworth of Classique Worldwide Transportation.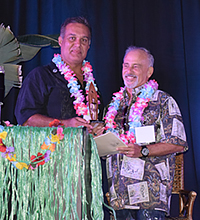 GCLA President Kevin Illingworth of Classique Worldwide Transportation (left) presents Ron Stein of Exclusive Sedan Service with the association's first-ever Lifetime Achievement Award The event kicked off with vendor exhibits featuring an array of vehicles, supplies, and services. Guest speakers also addressed the crowd, including TLPA President Mike Fogarty of Tristar Worldwide and Weiss, who provided an update about the state of the industry. Fire dancers and a cigar roller also added to the festive flavor of the expo, where Illingworth said that a good time was had by all.

"Overall, the expo was great," he says. "Everyone enjoyed it, the information was tremendous, and the affiliates got to spend time together and talk to one another."

Some special recognition was on the agenda, too, as Craig Hall of The Lincoln Motor Company was honored for his 10 years of loyal support, and Ron Stein of Exclusive Sedan Service received the GCLA's first-ever Lifetime Achievement Award.

"Ron works so hard for our industry, for the GCLA, for the NLA, and to raise money for the Harold Berkman Memorial Fund, and he's passed that torch onto his son Brandan," Illingworth says. "It was nice to recognize someone who is dedicated to making sure that the future's secure for their children and also for our industry."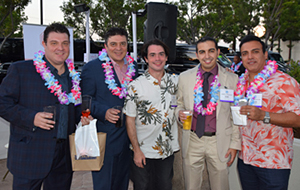 GCLA members and supporters from all over North America were in attendance at the evening Expo In other recent news, the GCLA hired Executive Director Tom Garrett of Garrett & Associates on September 1 to both manage the goings-on of the association and make sure that it is "available 24/7 to the membership base."

"It was getting difficult to manage the association while also managing our companies, so the board voted to bring in an executive director," says Illingworth. "Part of the deal is for him to build membership and come up with new ideas for us to show the members what we're doing for them. We're going to make sure that our minutes and everything else we do are transparent."

Next up for the GCLA are its northern California meeting, which will be held December 8 in Napa, and its annual meeting and holiday party on December 15 in Los Angeles.

Visit the association's newly redesigned site at gcla.org for more information.

[CD1015]