Details

Category: Industry News
By Matt Daus
Face mask and gloves aren't the only thing operators need to protect themselves during the corona-crisis.
We recently explored labor laws and civil rights issues that could leave you open to a lawsuit. However, the personal nature of chauffeured ground transportation that we generally pride ourselves on—that is, providing one-on-one individual service with the public—may put owners in a legal bind if a client, chauffeur, mechanic, or detailer, gets exposed to the virus during daily operation. Further, the work-stoppage due to mandatory quarantine or simply not having manpower may put you into breach of contract with a client. It's important that you make yourself aware of any potential liabilities to protect your business.
Businesses that have contact with the general public could be targets of claims that their negligence led to a contract worker, customer, or client's exposure to an infection of COVID-19.  In the case of a virus, there may be a duty to warn such third parties, or to prevent access to certain facility areas or vehicles. To reduce risk of liability, operators should identify risk levels in their vehicles and office to determine appropriate control measures to implement to address the specific exposure risks, including staying up-to-date and following guidelines established for employers by the World Health Organization (WHO), the U.S. Center for Disease Control and Prevention (CDC), and the federal Occupational Safety and Health Administration (OSHA).
Transportation companies may protect themselves against potential claims for the above-referenced actions in a variety of ways, including:
Developing an infectious disease preparedness response plan that considers and addresses the risk level of the worksite and job tasks
Ensuring employees implement basic infection prevention measures
Performing routine environmental cleaning
Businesses should review their emergency operations to determine what procedures and coordination are designated for a pandemic. Windels Marx has prepared a checklist that is available here.
While ensuring your clients have a clean, safe ride is imperative, protecting your employees from exposure is equally important. "Ordinary diseases of life" (i.e., those to which the general public is equally exposed) are generally excluded from workers' compensation insurance programs, but if an employee can establish a direct causal connection to the workplace (e.g., a chauffeur transported a client who has tested positive for COVID-19), there may be a valid argument for workers' compensation insurance coverage. To the extent that other claims for employee-related coronavirus illness do not qualify for workers' compensation benefits, coverage might still be afforded under certain insurance policies. Business should review their insurance policies for relevant provisions.
The COVID-19 pandemic has raised questions as to whether the outbreak and ensuing government restrictions will excuse non-performance of otherwise binding contracts. Changing COVID-19 developments impact a party's ability to potentially excuse contractual nonperformance through multiple legal theories, including force majeure provisions. The results will depend on the contractual language, the state law governing the contract, and purpose of the contract.
Traditionally, force majeure clauses can excuse a party's nonperformance under a contract when extraordinary or unforeseen events prevent a party from fulfilling its contractual obligations. As defined by the leading treatise on contracts, a force majeure clause provides a means by which the parties may anticipate, in advance, a condition that will make performance impracticable.  When parties find that their contracts are silent on the force majeure issue, parties should assess alternative common law mechanisms for excuse of nonperformance. In the present circumstances, impossibility of performance via various government declarations would enable a viable argument that performance was rendered impossible "by law."
As the COVID-19 pandemic continues to develop, businesses should take proactive steps to ensure continuity of operations sufficient to meet existing contractual obligations and evaluate whether their counterparties are doing the same. There are potentially multiple grounds to excuse non-performance due to the COVID-19 pandemic and ensuing government actions, which requires particular examination of the contractual language and the case law of the relevant jurisdiction.
Matt Daus is a partner with law firm Windels Marx and the former commissioner of the New York City Taxi & Limousine Commission. He can be reached at mdaus@windelsmarx.com.
[04.03.20]
Details

Category: Industry News
Coach manufacturer ABC Companies shared a powerful video that captured the impact that the bus industry has on everyday Americans—from military to schools and everything in between. In the video, President Roman Cornell details the devastating effects that the pandemic has had on the bus industry and he pleads with anyone watching to share with members of Congress so that operators will be recognized in the next round of emergency funding in Congress.
"On behalf of the men and women of the motorcoach industry, we need your help," Cornell says in the video. "With most of us being family-owned businesses, not one dollar of the trillions being spent on the coronavirus was designated for our industry. We aren't large organizations like airlines, hotels, or city bus authorities. No, we are your neighbors, we are your friends, we are your family going out of business at record numbers per day."
In an email to the industry from the company:
As we weather the storm of this economy, we must come together to make our industry's voice heard. Attached is a video designed to share with friends, family, and most importantly, government representatives.

Our goals are simple:
Remind everyone that motorcoaches move us all
The economy needs us to return to health
We need government support to survive
The Opportunity:
Looking forward, there is another objective we can all get behind. This pandemic provides a one-time opportunity to build awareness for our industry so we can emerge even stronger. We have been silently improving the traveling experience for millions of passengers, with amenities, comfort, and convenience that easily surpasses airline and train travel, yet we are still often overlooked. Now is our time to ask for support and get the credit our industry deserves.

The Ask:
Share, like, and forward this video to anyone with an email address using #dontmissourbus
Forward photos of your passengers, from champions to visitors and voters to marketing@abc-companies.com [so] we can share our great industry 
Visit abc-companies.com for more information. The video link is here. 
[04.03.20]
Details

Category: Industry News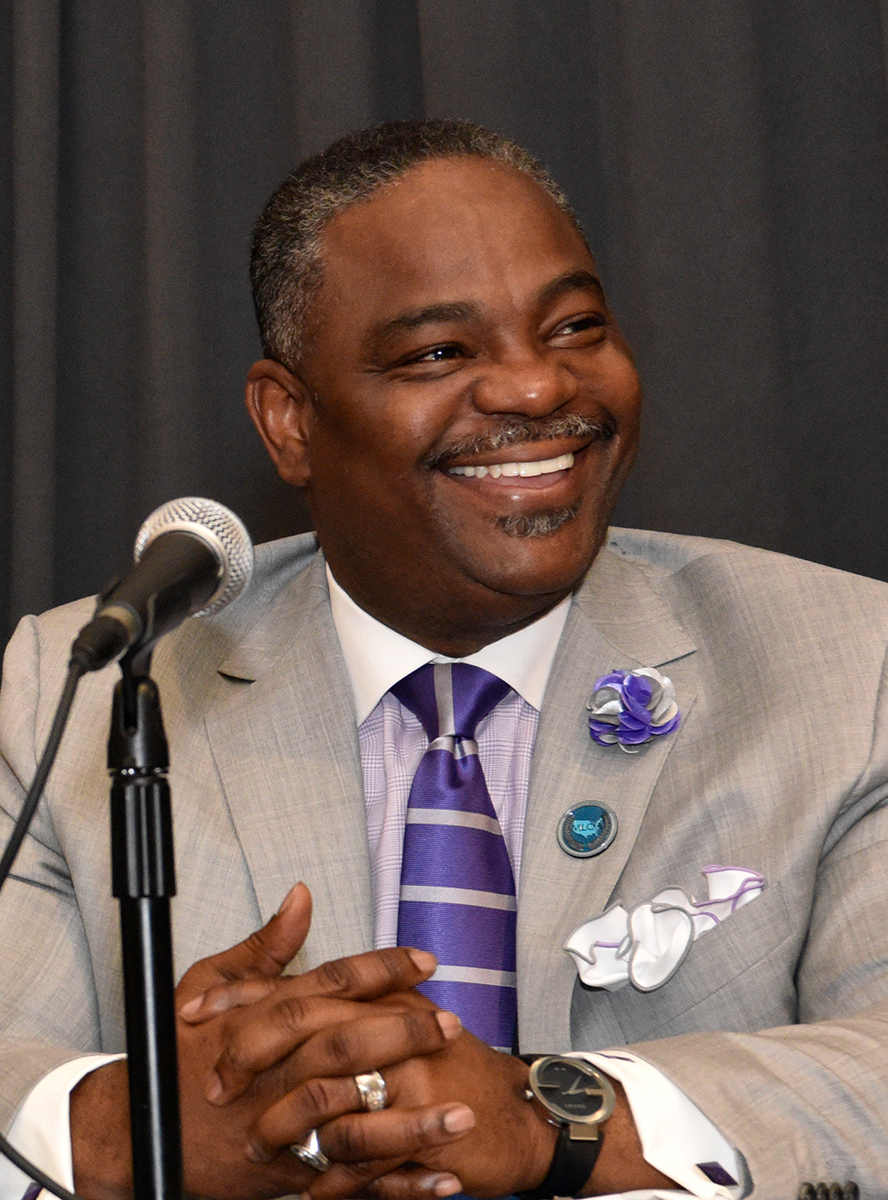 MLOA President Darrell Anderson
On Wednesday, April 1, the Minority Limousine Operators of America (MLOA) held another in their series of weekly calls designed to keep their members up to date on industry news in the wake of the COVID-19 crisis. MLOA President Darrell Anderson of A-National Limousine called the meeting to order with a moment of silence, to honor those in the industry and beyond who have lost love ones to the virus.
Ground transportation "Energizer Bunny" Matt Daus of Windels Marx was the meeting's special guest. The attorney/transportation regulation specialist has been a constant fixture among webinars and conference calls during the past several weeks, breaking down the complexities of the government bills and regs into easy-to-understand bullet points. On Wednesday's call, Daus focused on the recently passed CARES Act, and the Paycheck Protection Program (PPP) contained within.
Intended for companies with fewer than 500 employees, the PPP is a loan program through local lenders that provides businesses with payroll for their staff for eight weeks. Daus explained that the loan is essentially a "gift" from the government to help retain valuable employees. According to the SBA: "The loan will be fully forgiven if the funds are used for payroll costs, interest on mortgages, rent, and utilities (due to likely high subscription, at least 75 percent of the forgiven amount must have been used for payroll). Loan payments will also be deferred for six months. No collateral or personal guarantees are required. Neither the government nor lenders will charge small businesses any fees." Ultimately, the goal of the PPP is to keep your staff, even during this slow period, to encourage a continuous workforce when the quarantines lift and it is safe to travel again. Aside from the low interest rate, the PPP is especially advantageous for small businesses as no personal guarantee is necessary. More details on the PPP can be found here and here.
While the PPP lets operators pay any member of their staff, Daus strongly advised that ICs not be included, as that can open owners up to employee classification suits down the line. However, ICs can apply for their own PPP loan after 4/10.
Since the funds are ultimately finite, Daus suggested that all operators apply as close to the April 3 start date as possible.
MLOA's next call is scheduled for Wednesday, April 8 at 1 pm ET.
Visit mlooa.org for more information. 
[04.02.20]