Details

Category: Industry News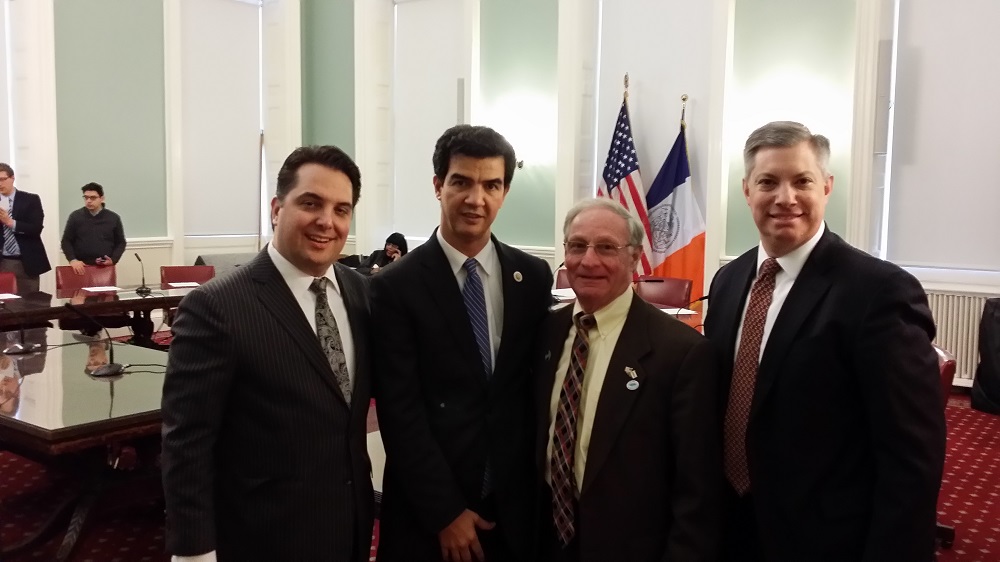 New York City—Council Member Ydanis Rodriguez was announced as the newest chair of the City Council Committee on Transportation. This committee oversees various New York departments including the MTA, DOT, NYC Transit Authority, and the Taxi and Limousine Commission (TLC).

According to a press release about Rodriguez's new appointment, he has been a fierce advocate for street safety in his community and across the city over the last four years. As an active member of the Transportation Committee prior to this appointment, he will continue to advocate for safe and efficient public transportation, while looking to expand service to under-severed communities. He is also focused on accomplishing Mayor Bill de Blasio's Vision Zero initiative, which is designed to increase pedestrian safety in the city.

A selection committee has also been assembled, and the all-important announcement of the new commissioner of the TLC will be published soon. The new commissioner will also speak at the March 19 meeting of the Limousine Association of New Jersey meeting.

Visit nyc.gov/html/tlc/html/home/home.shtml for all the latest updates.

Above photo caption: (L to R): Former TLC Commissioner/ Chair and Coalition of Transportation Associations President/Board Chair Matthew Daus, congratulates his friend, the newly appointed Chair of the NYC Council Transportation Committee Ydanis Rodriguez, at his first Transportation Committee meeting on January 29. Joining them are COTA's VP for Governmental Affairs/LANJ Executive Director Barry Lefkowitz and Windels Marx Special Counsel and former TLC Chief Judge Pasqualino Russo.

2/14
Details

Category: Industry News
Middletown, Pa.—Jonathan Snavely, Business Development Manager of Premiere #1 Limousine, recently received his Certified Travel Industry Specialist (CTIS) certification at the American Bus Association's (ABA) Marketplace 2014.
The American Bus Association (ABA) created the Certified Travel Industry Specialist (CTIS) Program to provide an opportunity for members of the industry to gain practical business and industry-specific knowledge to build a strong business reputation. These continuing education programs were created exclusively for those involved with motorcoaches and group travel. ABA has partnered with Indiana University-Purdue University Indianapolis (IUPUI), and its correspondence courses are administered by the university's highly acclaimed professional staff.
"CTIS certification is a mark of excellence that you carry with you everywhere you go. As a new member to the motorcoach and group travel industry, it was important to show fellow members that I was serious about learning more about the industry. Being a CTIS graduate definitely sets me apart from my colleagues and strengthens my commitment to the motorcoach and group travel industry," says Snavely.
Visit buses.org or premiere1limousine.com for more information.
2/14
Details

Category: Industry News
Richmond, Va.—James River Transportation was awarded the International Motorcoach Group (IMG) Safety Award for 2014. IMG is a group of the best operators in North America who are committed to providing exceptional experiences for the traveling public.
"Our success is due to dedicated employees who are devoted to providing safe, reliable service to our clients," says JRT President Stephen Story. He says that the company routinely receives the highest ratings from the United States Department of Defense, the United States Department of Transportation, and the Transportation Safety Exchange. In addition, in September 2013, it was the only ground transportation provider to be invited to participate in the National Transportation Safety Board's Safety Forum in Washington, D.C.
James River Transportation is a full-service transportation provider and event planning organization with facilities located in Richmond, Williamsburg, and Norfolk. The company also has on-site operations at Richmond International Airport and Norfolk International Airport. Services include motorcoach and minicoach transportation, airport transfers, transportation management, contract services, and convention shuttles.
Visit jamesrivertrans.com or imgcoach.com for more information.
2/14