Details

Category: Industry News
Marlboro, Mass. — The New England Livery Association (NELA) held its 15th Annual George Colarullo Memorial Golf Tournament on August 19 at the Marlborough Country Club.

The day of friendly competition, named for one of NELA's founding members, brought together more than 100 members of New England's chauffeured ground transportation industry, affiliates, friends, and volunteers. In addition to the tournament, the event also hosted raffles, silent and live auctions, the Rolling Stogies cigar truck, and dinner.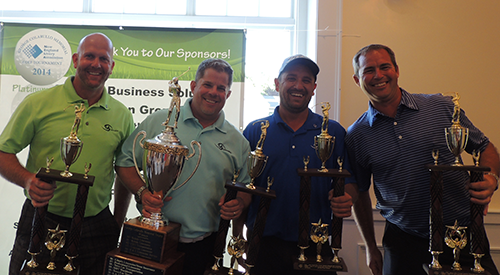 With the support of operators and sponsors such as Century Business Solutions, The Hudson Group, Commonwealth Worldwide Chauffeured Transportation, Lancer Insurance, Olsen Cadillac, and Mercedes-Benz, donations were made to the Dana-Farber Cancer Institute and CHIPS House—the latter of which is a home for those with head injuries and holds a special significance to NELA.

"One of George Colarullo's sons suffered a closed-skull brain injury in a motorcycle accident and now lives in a facility called CHIPS House, which is down on The Cape in Massachusetts," says Rick Szilagyi, CEO of NELA. "So each year we donate either solely to CHIPS House or we may spread it around a little bit."

While no one went home with this year's hole-in-one prizes of a Toyota Avalon, Cadillac XTS, or $10,000, L.A. Limousine's team emerged as tournament champions yet again. Byron Brandis, Billy Goerlich, and Justin Benson came in eleven strokes under par—just one stroke ahead of runner-up Able Limousine's team—making this the fourth year in a row that the New Hampshire-based company won the tournament.

With the 2015 golf outing already scheduled to take to Marlborough Country Club's course on Tuesday, August 18, Szilagyi is pleased that the annual event is steadily climbing toward its pre-recession attendance.

"Prior to the economy crashing, we had a full field of 144 golfers plus a waiting list for a couple years," he says. "We're glad that this year we able to field 100 golfers, and we're excited about making the tournament bigger and better next year."

Visit nelivery.org for more information.

[CD0914]
Details

Category: Industry News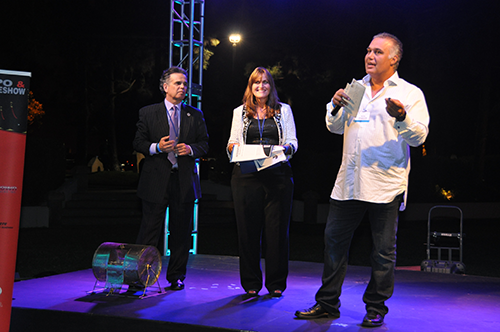 Costa Mesa, Calif. — When the Greater California Livery Association's (GCLA) 2014 Expo and Trade Show comes to the Promenade Event Centre & Gardens September 23, it will bring with it speakers, hands-on displays, and ample networking opportunities.

The one-day expo and trade show will feature general-service and automotive vendors alike, with the Next Generation Livery Vehicle Display and Coach Builders Display showcasing both dealers' and OEM manufacturers' newest offerings.

Guest speaker Dawson Rutter, president of Commonwealth Worldwide, and keynote speaker Cheryl Berkman, the president of Music Express, will wrap up the evening's events.

Admission will be $50 for members and $65 for non-members who register early, $60 for members and $75 for non-members who register on or before September 22, and $70 for members and $85 for non-members at the door.

Visit gcla.org for more information.

[CD0914]
Details

Category: Industry News
Carol Stream, Ill. — Chauffeur Appreciation Day is coming to the Windy City on October 14, thanks to the Illinois Limousine Association (ILA).

From 10 a.m. to 2 p.m. at the Catherine Chevalier Woods—roughly 10 minutes east of Chicago's O'Hare International Airport—the ILA will host its first-ever thank-you event for chauffeurs in the forest preserve's picnic pavilion. In addition to the free lunches and drinks available to the area's chauffeurs, there will also be goodie bags and vendors.

According to the association's executive director Barbara Simkus, the event was the brainchild of new ILA president, Tracy Raimer of Your Private Limo.

"It was actually our president, Tracy, who had heard about how they do it on the East Coast. She thought, 'Well, why can't we do that?'," Simkus says, referring to driver-appreciation events like those held annually by the New England Livery Association. "The chauffeurs have to put up with a lot, and this is a thank-you for what they do for all the companies in the area."

The idea took root about a month ago, but the ILA has already drummed up quite a bit of support from the industry, with the likes of Battisti Customs, Midwest Automotive Designs, and Second City Leasing already committed to serving as vendors for the event.

While Chauffeur Appreciation Day is still a work in progress, the ILA is already hoping that their inaugural event is a well-attended success that becomes an annual celebration.

"Hopefully, it will turn out well and we'll get a lot of chauffeurs to come and enjoy lunch and meet everybody, including the owners and the people who are with the Illinois Limousine Association," Simkus says.

Visit illinoislimousineassociation.com for more information.

[CD0914]