Details

Category: Industry News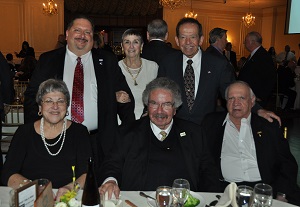 (L to R): Sandy Dizengoff; Ira Goldstien, COO of BCAC; Mrs. Elias Arout; Victor Dizengoff, executive director of BCAC; Elias Arout, TLC Commissioner; and Vincent Sapone, retired executive director of LOMTO New Hyde Park, N.Y. — The Black Car Assistance Corporation (BCAC) held its first Industry Appreciation Event this May to honor the men and women who serve in New York City's black car industry. All BCACs members were invited and nearly 400 attended the elegant evening affair held at the Inn at New Hyde Park, which featured a sit-down dinner, awards, and a silent auction. Chauffeur Driven Publisher Chris Weiss and Managing Editor Susan Rose also attended.
During the opening cocktail reception, guests were able to network with other black car operators as well as BCAC board members, including President Berj Haroutunian, COO Ira Goldstein, Secretary/Treasurer Roberta Pike, and Executive Director Victor Dizengoff. Commissioner of the New York City Taxi & Limousine Commission, Meera Joshi, and Ydanis Rodriguez, council member for the 10 th district (Manhattan), were on hand and spoke to attendees about their commitment to the industry. Joshi also presented two of the 19 awards given to drivers during the evening's festivities. Joshi was recently appointed as commissioner, following the election of New York Mayor Bill de Blasio. BCAC board members expressed optimism about the current political leadership and the open communication they enjoy about issues affecting black car operators.
Also honored were Diana Clemente of Big Apple Car (and BCAC board member) as Operator of the Year, Michael Psarros of UTOG Corporate Car as Operator of the Year, Jon Del Giorno of Pitta Bishop Del Giorno & Giblin as Business Person of the Year, and Gene Brody of Bay Ridge Federal Credit Union with a Lifetime Achievement Award.
BCAC was founded in 1991 to help unify the industry in supporting legislation that retained independent contractor status, a model that overwhelmingly dominated the black car industry. Since then, BCAC has gone on to assist in the creation of the New York Black Car Fund, which provides workers' compensation for those drivers. BCAC also fosters a working relationship with city officials and regulators.
Visit nybcac.org for more information.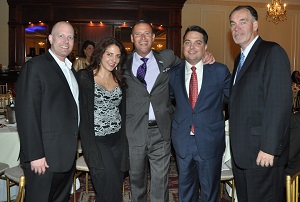 (L to R): Chris Weiss, publisher of Chauffeur Driven; Nora Marino, attorney; Sergio Sanchez, general manager of Henry Limousine; Matt Daus, president of COTA; and Tim Rose, CEO of Flyte Time Worldwide Transportation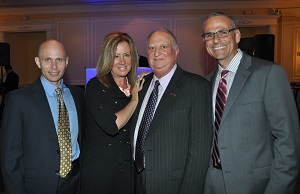 (L to R): Neil Weiss, publisher of Black Car News; Diana Clemente of Big Apple Car; Gene Brody of Bay Ridge Federal Credit Union, and Anthony Grigos, executive vice president of Bay Ridge FCU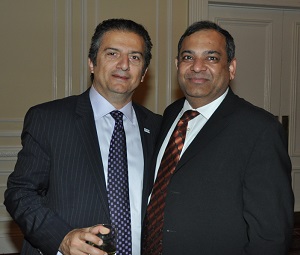 Berj Haroutunian, president of Vital Transportation and Apurva Patel, CEO of GroundWidgets
Details

Category: Industry News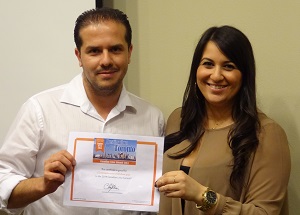 Moe Hosaini of Deluxe Limousine & Transportation and CD's Lauren D'AmbraHouston, Texas—The most recent meeting of the Houston Area Livery and Charter Association (HALCA) was held at the palatial Crowne Plaza hotel in downtown Houston.
The meeting saw a nice turnout of members, and they were joined by Chauffeur Driven Show Manager Lauren D'Ambra. She also raffled off passes to the upcoming CD shows in Atlantic City and Toronto, which were won, respectively, by Ayman Aljazzazi of HAS Limousine and Moe Hosaini of Deluxe Limousine & Transportation.
The looming specter of Uber dominated the meeting, as all three speakers—Davis Dillon, president of Carey Worldwide Chauffeured Services, Joe Jordan, owner of Jordan Limousines and editor of Limo Insider Report, and Erich Reindl, president/CEO of Avanti Transportation and president of HALCA—all spoke on the ways and means to combat the pervasive, rogue app's influence.
Dillon spoke at length on the legal methods that HALCA is employing to keep Uber out of Houston. Jordan, a well-known cage-rattler with his blistering Limo Insider reports on all things Uber, preached on the importance of attending the Houston City Council meetings in support of those representing the association on this important issue. Reindl rounded out the discussion by trying to get a feel of what members would be interested in contributing to a dedicated "HALCA app" that would be used to combat Uber (and the other ridesharing apps) in the greater Houston area.
The next HALCA meeting will be held on August 5.
Visit houstonlimos.info for more information.
5/14
Details

Category: Industry News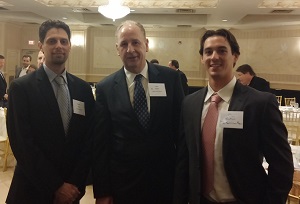 (L to R): CD Sales Manager Darren Saat, John Sutich and Dan Sutich of Perfect Limousine ServiceWest Orange, N.J.—The May meeting of the Limousine Associations of New Jersey (LANJ) was a packed house, which included a series of speakers, a luncheon, and its annual auction—its largest fundraiser of the year. The event was sponsored by Complete Fleet/Maplecrest, The Lincoln Motor Company, Grech Motors, and Chosen Payments. Chauffeur Driven Sales Manager Darren Saat and Managing Editor Susan Rose attended the meeting, which was held at the Wilshire Grand Hotel in West Orange, N.J.
At the end of the event, over $15,000 had been raised for the association. LANJ board member Pete Corelli of Lakeview Custom Coach was again the association's auctioneer, often getting just one more bid out of reluctant members. The auction included dozens of donated items, such as sports memorabilia, tickets, and trips. Chauffeur Driven donated a show pass to the Atlantic City show this November, a full page of advertising, and an Affiliate Central ad, which were won, respectively, by John Sutich of Perfect Limousine Service, Mike Marroccoli of Capacity Coverage, and Bob Shiavo of Albert's Limousine. Jay Glick of First Class Customs won the 50/50 raffle, which he generously donated back to LANJ—over $500.
Raising money wasn't the only goal of the day. The meeting also included several speakers, such as James Arose of the Division of Inspection Services for the NJ Motor Vehicle Commission, who gave an overview of some of the new plates that will be required for some types of specialty vehicles; Julie Tattoni, special counsel with Windels Marx Lane & Mittendorf, who shared some strategies on how small businesses can take advantage of some grants that are designed to spur economic development; and Matthew Daus, also with Windels Marx and president of the International Association of Transportation Regulators, who gave an update on the current state of Uber and other apps in many cities across the country.
LANJ President Jim Moseley of TripTracker also presented former president Tim Rose of Flyte Tyme Worldwide with a plaque for his 14 years of service to the association. Rose still serves on the board of LANJ.
The meeting also marked the debut of the brand-new Ford Transit van, which features several wheelbases, body lengths, and roof heights for any purpose. The vehicle was displayed outside the hotel, where members could get a closer look inside and out.
The next LANJ meeting is scheduled for September 17.
Visit lanj.org for more information
5/14