Details

Category: Industry News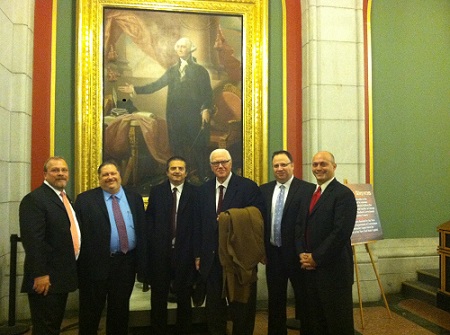 Albany, N.Y.—Limousine Bus, Taxi Operators of Upstate New York (LBTOUNY) and Black Car Assistance Corporation (BCAC) have made significant progress in repealing N.Y.'s five percent tax on operators.
Just days after Former Gov. George Pataki and former Comptroller Carl McCall of Gov. Cuomo's Tax Reform and Fairness Commission supported ending "nuisance taxes"—which was understood to include the five percent tax—BCAC and LBTOUNY representatives met with N.Y. Deputy Budget Director Mary Louise Mallick in Albany.
"They listened to everything," says LBTOUNY Member Bastian, "because the issues that are going on downstate are different from how the tax affects the operators upstate."
Bastian encourages N.Y. operators to contact their representatives—particularly those operators downstate where there are more representatives. Operators can also sign an online petition here (link: http://chn.ge/JkJwhn).
BCAC has also won a battle of its own in New York, successfully halting a vote by the Taxi and Limousine Commission (TLC) on December 19 to cut New York's E-Hail pilot program short and fully implement it into the city's taxi industry. The E-Hail app would enable smartphone users to arrange for cab pickups.
TLC Commissioner David Yassky welcomed testimony on the program at the meeting, but announced that there wouldn't be any vote after several commissioners requested that the pilot run its full course. The BCAC, along with having a sit-down with the Livery Round Table, received cooperation from taxicab representatives in the New York Taxi Workers Alliance (NYTWA) and the Metropolitan Taxicab Board of Trade (MTBOT), who sent the letter requesting the vote's cancellation to the commissioners.
As BCAC COO Ira Goldstein of the Black Car Fund points out, the E-Hail pilot program was approved by the TLC to be a one-year pilot program and insists that it endure the entire year so as to reveal the full effect it will have on New York's industry. Goldstein also expresses concerns with the accuracy of the data the program has generated, which he included in a formal letter to Yassky.
"Everyone knows yellow cabs are street hails—you put your hands in the air—and the liveries and black cars are pre-arrangement," says Goldstein. "We're just trying to preserve that."
Visit nybcac.org for more information.
1/14
Details

Category: Industry News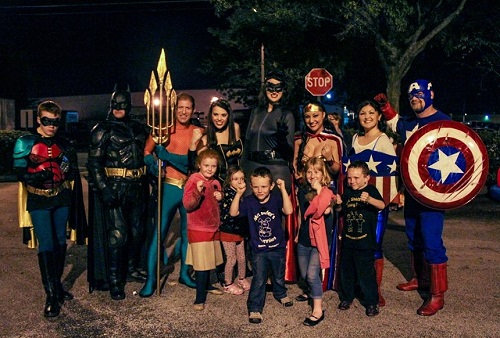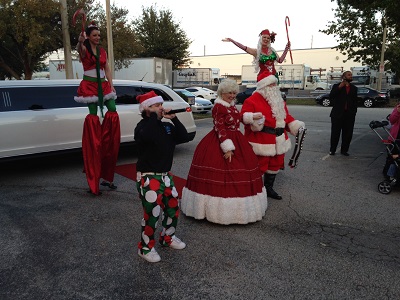 Celebrating the holidays, AllGems style
Orlando, Fla.—AllGems Transportation held their 3rd Annual Toy Drive & Christmas Event benefiting The Howard Phillips Center for Children & Families, part of Arnold Palmer Hospital for Children.
Over 200 children and families that are served by various programs at the center were invited to participate and receive gifts at the snow-filled event that included Santa Claus, Mrs. Claus, super heroes, elves, stilt performers, balloon artists, face painters, games, music, dance contests, dinner and holiday treats. The event brought much-needed joy and cheer to the families during the holiday season.
Joe and Michele Rivera, owners of AllGems Transportation, coordinated the holiday party. "When we put the first event together three years ago, we did not think it would have grown to what it is today. With the help of our community partners we are able to create a wonderful holiday memory for the children and families," says Michele Rivera.
The Howard Phillips Center for Children & Families, part of Arnold Palmer Hospital for Children provides dignity and healing for children, families and individuals who face overwhelming challenges like child abuse, sexual trauma, developmental disabilities, and lack of access to medical care.
Visit allgemslimo.com for more information.
1/14
Details

Category: Industry News
The staff of Chosen Payments, based in Moorpark, California, is giving back to the community this holiday season by volunteering their time to help the less fortunate families of the Ventura County. From December 6-20, Chosen Payments will be helping to collect toys through a partnership with Ventura County Children's Services Auxiliary through the Spark of Love. Each year, the Ventura County branch of Spark of Love provides gifts to families who are part of the Children's Services network. The organization hosts a holiday storefront where parents and foster parents of these children can shop for all the toys their children dream of. Want to get involved? Chosen Payments has arranged various drop points for unwrapped gifts at 15 local merchants, and customers of these merchants can receive a discount for their donation. Chosen will market and spread the word to increase traffic for these local merchants and push to get the most amount of gifts collected as possible, and staff will assist the Ventura County Children's Services Auxiliary through Spark of Love in passing out these gifts on December 23. The holiday toy store will be located at Telemark Business Center, 4601 Telephone Road, Suite 107, Ventura, Calif. "This is my third year doing this and each year our participation gets greater. The gratification we receive from helping the community and donating our time and money is above all we can work for," says Jeff Brodsly, Chosen Payments CEO and organizer of the Community Give Back by Chosen Payments. "Imagining these kids during the holiday without any presents to unwrap is just disheartening, so putting yourself in their shoes just for a second makes us appreciate all we have been blessed with. I thank all my staff and the participating merchants for their involvement in this great cause." 2013 participating merchants are; Lemmo's Grill, Me'n'Eds Pizza (Moorpark), Lalos Mexican Food, Vision Wireless (Simi Valley), Zin Bistro, Fins Seafood, Simi Sams, Palermo Pizza, Euodia Salon & Day Spa, El Pollo Corona (Moorpark), and Hearts of Jade. Visit
www.chosenpayments.com
for additional information or email info@chosenpaymets.com.
12/13