Details

Category: Industry News

Manchester, N.H. — Livery Management Consultants (LMC) Group, a nationwide consulting firm for the chauffeured car industry, joined the national #GivingTuesday movement, which encourages holiday season generosity. Just after Black Friday and Cyber Monday, #GivingTuesday turns the focus from holiday spending on gifts to holiday spending on charitable donations and other strategic ways to give back to the community. LMC was able to give Girls at Work a $2,000 donation, which included matching all funds donated by group members.

A long-time home builder, founder Elaine Hamel realized that introducing girls to this non-traditional activity went beyond teaching them a skill to teaching them to use their inner power tools of strength and courage. In the decade since its inception, Girls at Work has reached more than 5,000 girls through camps and classes. While building projects such as bookcases, birdhouses, sheds, and tables, girls are empowered to meet real-life challenges such as abuse, neglect, parental incarceration, or poverty.



"Our mission has been to empower inner city girls who struggle with little support in their lives. The experience of placing power tools into the hands of young girls opens a door to the limitless potential and power that inherently exists in each one of them, despite the challenges they face. The experience allows young girls to soar to new heights and alter the powerless lens through which they view themselves. They begin to see themselves as powerful and capable!" Hamel says. "Groups like LMC help us bridge the gap and enable us to reach these young girls with a powerful experience. Together, we build stronger girls and women and together we can, and will, change the world."

The LMC Group chose to donate to Girls at Work because of the important and innovative work they do with girls. As a woman-owned business, LMC strives to support women and girls in the community. Giving back is part of LMC's core values, and #GivingTuesday was a great way to involve the entire organization.

"We founded our company with the mission of empowering small-business owners by providing them with resources, training, and access to experts to help them succeed," says founder Kristen Carroll. "We are a values-driven organization, and when we were trying to select an organization to sponsor this Giving Tuesday, Girls at Work was an immediate fit. They are also an organization focused on empowerment, training, resource sharing, and growth, but they are providing these tools and resources to young girls and women in need. We set a challenge to our team to give to Girls at Work this holiday season, and we were thrilled to reach 90 percent participation. I'm so proud of my team, and we all share in the blessing of giving to a great organization that makes the world better, one life at a time."

Visit liverymanagement.com for more information.

[CD1215]
Details

Category: Industry News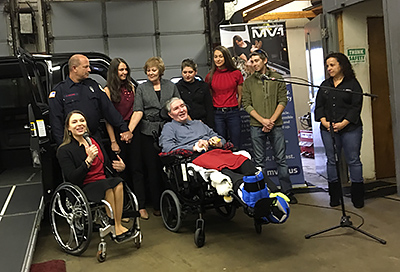 North Brunswick, N.J. — Representatives from Mobility Ventures along with New Jersey volunteer firefighters, and members of the community, were recently on hand at an event where a new, fully wheelchair accessible MV-1 was donated to the Woodward family of Mount Laurel, New Jersey.

This past summer, while working as a waitress, Liz Woodward picked up the breakfast tab for two volunteer firefighters, one of whom had just come back from working a fire. Taken by her gesture, the firefighters were inspired to action when they learned Woodward had started the "Woodward Strong" campaign to raise money for her father, who had suffered a brain aneurysm some years earlier and was in need of a wheelchair-accessible vehicle. In an act of "paying it forward," the two firefighters helped her boost the campaign from $30,000 to $80,000 and reach over 125 countries.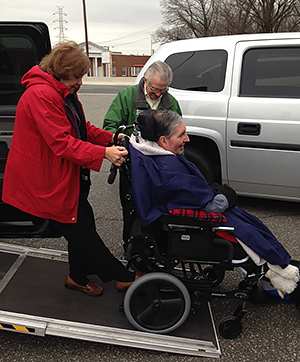 After hearing her story, Mobility Ventures was inspired to match the generosity of Woodward, the firefighters, and the thousands of campaign donors by providing the Woodward family with a fully wheelchair accessible MV-1 vehicle.

"When we heard about Liz's efforts to help her father and the incredible support she's received from her community, we were deeply inspired and wanted to pay forward her kindness," says Pat Kemp, Mobility Ventures executive vice president. "We're happy to have a hand in giving her family back their mobility and freedom, and the peace of mind that comes from driving a safe and reliable vehicle."

"The generosity and kindness the campaign supporters and Mobility Ventures have shown is really incredible, and I hope this brings hope to others in similar situations and inspires people to help those in need in any way possible," said Woodward. "We truly appreciate it."

The MV-1 is the only purpose-built wheelchair-accessible vehicle. The MV-1 redefines accessible transportation with a built-in side-entry power ramp, ample head room, and seating for up to five, which includes the ability to safely accommodate two wheelchair users at a time—one of whom rides in the front and the other in the spacious passenger area—making it the perfect solution for consumers, commercial use, and government fleets.

Visit mv-1.us for more information.

[CD1215]
Details

Category: Industry News
John Pino, Pow Wow Smart
Board of AdvisorsFt. Lauderdale, Fla. — Pow Wow Smart, a leading provider of turn-key solutions and data aggregation for ground transportation in connection with meetings and events, and miRide, the on-demand chauffeur-driven application/service for businesses and professionals, recently announced the appointment of John Pino to their Board of Advisors.

Pino is a long-time industry veteran with a number of credits in his career, including CEO of meeting management company McGettigan Partners, founder and CEO of SaaS firm StarCite, and founder and CEO of online meeting and event community i-Meet, which is his current industry focus.

"Innovation drives needed solutions," said Pino, "and I believe that getting a handle on costs around ground transportation may be one of the last major areas of spend that companies need to complete their SMMP initiatives. It's been elusive to date, but watch this company and their efforts. The technology, and the professional services around it, is poised to make a major impact on the industry, and I'm very happy to be a part of it."

"We're excited to have John working with our team and investors," said Evan Michaels, CEO and co-founder of Pow Wow Smart and miRide. "We've come a long way in establishing our technology as an important tool for businesses desiring to view ground transportation as a spend management category. Having John work with us at a strategic level brings additional knowledge and experience to help us effectively lead in this space, and we're thrilled to have him on our team."

Pow Wow Smart has a value proposition that promises to delve into an area that has long been avoided due to its complexity and high labor requirement. With patented technology that improves the process of mapping manifests to vehicle utilization, their approach focuses on eliminating errors, and saving time and money by creating direct relationships with reputable companies that own their vehicles. And by adding miRide to the equation, individual rides in connection with events can be coordinated and master-billed to get a complete view of costs.

Visit powwowsmart.com for more information.

[CD1215]