Details

Category: Industry News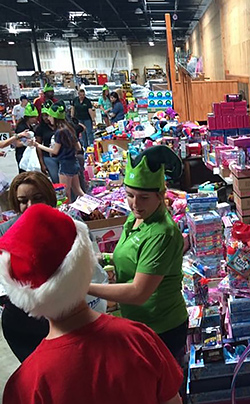 The annual event attracts thousands of toys for the kids of Brevard County, Florida Indialantic, Fla. — Santa Claus wore a chauffeur's cap this year when Brevard Executive Transportation teamed with local charity Toys for Kids of Brevard to collect and distribute 5,000 toys to children in need. For the fifth consecutive year, Wendy Kleefisch, owner of Brevard Executive, actively partnered with the organization to fill a "limo sleigh" with gifts for Brevard County families.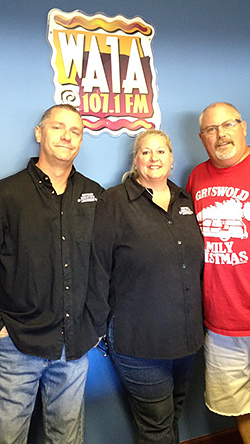 Anthony Robinson and Wendy Kleefisch of Brevard Executive with DJ Timmy Vee (right) Throughout the month, the limo sleigh—in reality a Grech Motors Sprinter—collected toys from various drop-off points in the Brevard County regions. On December 16, vehicle parked at the Bass Pro Shop in Palm Bay, where an "elf" helped children pick out a gift or two. In addition to the time and toys donated by Kleefisch and her staff, she also raffled off a free weekend limo rental. The winner was a law enforcement officer who wished to be anonymous.

Toys for Kids of Brevard was started in 1995 by local radio DJ, Timmy Vee, who saw a need to help the families of his hometown during the holidays. To date, Toys for Kids has provided toys to over 80,000 children in Brevard County. No funds or donations leave the area, and the organization goes above and beyond to see that no family is ever turned down. In addition to Brevard Executive, the charity also received support from other local businesses and the Brevard County Sheriff's Department.

Kleefisch is thrilled to be so closely involved with a charity that serves her hometown. "We never get tired of doing little things for others," she said. "Sometimes those little things occupy the biggest parts of their hearts."

Visit brevardexecutivelimos.com for more information.

[CD1215]
Details

Category: Industry News
L to R: GCLA's Lobbyist Gregg Cook of GAC Consulting, Treasurer David Kinney of API Global Transportation, and Lobbyist Rob Grossglauser of GAC Consulting Los Angeles—Greater California Livery Association (GCLA) celebrated the holiday season with a number of new and returning events this year, culminating with its annual meeting and holiday party December 15. Chauffeur Driven Editor Madeleine Maccar was among the many members and industry supporters who came from all across the country for the yearly Southern California event, which included dinner, raffle and auction items, and a celebratory end to the year.

The festive atmosphere didn't distract from business, as association, legislative, and industry updates were all on the docket for the evening—including the announcement of who will comprise the GCLA's 2016 board of directors:

President: Kevin Illingworth of Classique Worldwide Transportation
Vice President: John Raftery of Executive Limousine & Coach
2nd Vice President: Perry Barin of Music Express Worldwide
Treasurer: David Kinney of API Global Transportation
Secretary: Ryan Silva of Epic Transportation
Regional Directors: Joel Amato of Gateway Global, Gary Bauer of Bauer's Intelligent Transportation, Rick Buell of Diva Limousine, Darren Crossdale of La Costa Limousine, Chris Quinn of Corporate Transportation Solutions, Brandan Stein of Exclusive Sedan Service, and Steve Williams of Arrive In Style Limousines
Vendor Members: Jeff Brodsly of Chosen Payments, Phillip Hartz of Acton SoCal Penske Professional Vehicles, Lee Martinez of TransCap Insurance Agency, and Steve Wood of South Bay Ford Lincoln Mercury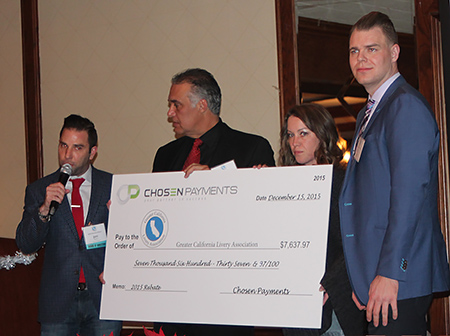 GCLA President Kevin Illingworth of Classique Worldwide Transportation (second from left) accepts a check for $7,637.97 from Jeff Brodsly (left), Sarah VanBeek, and Derek Maxwell on behalf of Chosen Payments After cocktails and mingling, President Kevin Illingworth, who will be serving for a second term, kicked off the evening's meeting with an overview of the past 12 months, which he called "just a tremendous year" that saw a number of wins for state operators. Presentations included those from event sponsors Acton SoCal Penske Professional Vehicles and Book.limo, as well as GCLA Director Gary Bauer, who is running for the At-Large seat on the NLA board and discussed how important it is to keep California and its efforts at the forefront of the industry's awareness.

Throughout the evening, GCLA Vendor Member Jeff Brodsly auctioned off the many donated prizes, which included gift baskets, opportunities to spend a day learning from some of the most recognizable names among the region's operators, discounted services, and software—as well as items donated by Chauffeur Driven: a pass to the New Orleans Executive Retreat in May, won by Ady Genick of VR Worldwide; a pass to October's CD Show in Washington, D.C., which was won by Joe Magnano of CLI Worldwide Transportation; and an eblast, won by Harry Dhillon of Ecko Worldwide Transportation. Proceeds of the auction benefit the GCLA, helping it to shoulder its operating and legislative costs.

Legislative updates were provided by the association's lobbyists, Rob Grossglauser and Gregg Cook, and 46th District Assemblymember Adrin Nazarian. Grossglauser and Cook both addressed the reactionary nature of legislation and how it's often a retroactive effort—in this instance, speaking of the law following the fatal 2013 limousine fire that mandated a fifth-door safety requirement on all stretch vehicles. After tirelessly appealing to elected officials—with Grossglauser giving extra kudos to GCLA board members David Kinney and Chris Quinn for being "the faces of the association" and discussing with legislators just how costly and ineffective such a law would be in practice—the original law's extensive retrofitting has been replaced by a requirement calling only for pop-out windows to serve as emergency exits.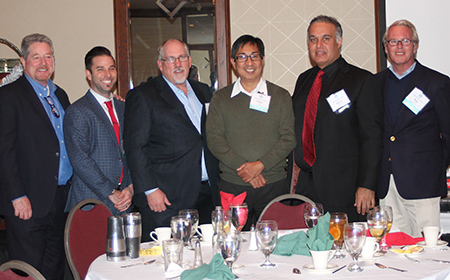 The 2016 GCLA board includes (L to R): John Raftery of Executive Limousine & Coach, Jeff Brodsly of Chosen Payments, David Kinney of API Global Transportation, Perry Barin of Music Express Worldwide, Kevin Illingworth of Classique Worldwide Transportation, and Phillip Hartz of Acton SoCal Penske Professional VehiclesAssemblymember Nazarian—whom Cook lauded as "looking for public-safety resolutions, not playing party politics"—implored all those in attendance to be present for GCLA's upcoming Day on the Hill and to continue advocating for a more level playing field as TNCs continue to see less stringent regulations than both chauffeured ground transportation operators and taxis.

With Super Bowl 50 touching down in Santa Clara, Calif., in early February, Maurice Brewster of Mosaic Global Transportation called for anyone with Sprinters and SUVs available on game day to help transport passengers to and from the arena.

As the evening came to a close, outgoing board members Gary Buffo of Pure Luxury Transportation and Alex Dharbahani of KLS Transportation Services were honored for their contributions to the GCLA. Chosen Payments was also recognized as being its largest donor—a designation underscored by the check Jeff Brodsly, Sarah VanBeek, and Derek Maxwell presented to the association at the evening's close.

GCLA's next event is its Day on the Hill in Sacramento, which will be held February 10.

Visit gcla.org for more information.

[CD1215]
Details

Category: Industry News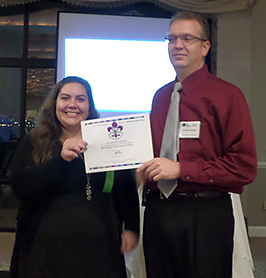 CD's Director of Events Jess Pavlow and Brion Svenson of Four Star Limousine, who won a pass to the Chauffeur Driven Executive Retreat in New Orleans Dorchester, Mass. — The New England Livery Association (NELA) bid 2015 adieu on December 8 with a quarterly meeting that mixed end-of-the year cheer with some much-needed good news about the association's legislative efforts. Chauffeur Driven Director of Events Jess Pavlow was among the nearly 85 people who enjoyed an evening of industry updates mixed with holiday merriment, which was sponsored by Lancer Insurance, Research Underwriters, Don Brown Bus Sales, Chosen Payments, and Chauffeur Driven.

After months of lobbying and boots-on-the-ground hearings, NELA Executive Director Rick Szilagyi was able to deliver some hopeful news regarding the region's ongoing efforts to put TNCs on a level playing field with chauffeured ground transportation and taxis.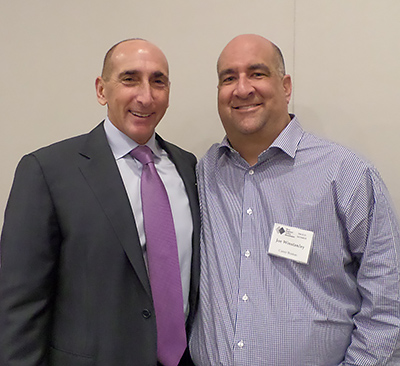 Brett Barenholtz of Boston Car (left) and Joe Winstanley of Carey Boston There are currently four ride-sharing bills under consideration in the Massachusetts State House, with two in particular that bode well for traditional operations: One aims to better regulate TNCs; the other is HB-3702, which was co-written by both NELA and taxis, and calls for the likes of fingerprint background checks, implies that commercial insurance is mandatory, and would prohibit both surge-pricing and TNC drivers from operating at airports.

Brett Barenholtz of Boston Car emphasized how critical it is for the association to both continue working with taxis and rally behind the bills—especially HB-3702—with continued lobbying efforts as they make their way toward legislation.

Once business was addressed, the evening took a turn for the festive with a comedian, music, and plenty of prizes. Pavlow raffled off Chauffeur Driven's contributions to the holiday gifts with a pass to the CD Executive Retreat in New Orleans, which was won by Brion Svenson of Four Star Limousine.

NELA's next quarterly membership meeting will be March 15, and the association will be holding a day of education close on its heels.

Visit nelivery.org for more information.

[CD1215]