Details

Category: Industry News
The 2014 Chauffeur Driven Show Will Go On As Scheduled
and Not Be Impacted by the Recent Taj Mahal Announcement
As many of you have heard and read, Trump Entertainment Resorts, which owns the Trump Taj Mahal in Atlantic City, filed for Chapter 11 bankruptcy this week. First and foremost, rest assured that this filing does not impact the Chauffeur Driven Show, scheduled for November 2-5, in any way. WARN notices, which are required by the Department of Labor to be issued to employees at least 60 days prior to a company closure, have not been issued at this time, which undoubtedly protects this year's event. The 2014 CD Show WILL go on as scheduled.

If you've already booked your room, it will be honored and you have absolutely nothing to worry about. If you're planning to attend the show and need to book your room, we encourage you to do so soon, as our room block is filling up very quickly. Our world-class education, unmatched networking events, sold-out show floor, and legendary nighttime entertainment will still take place all under one roof at the Trump Taj Mahal.


We've been working closely with Taj management over the past week and have been guaranteed that all the services and amenities you expect while staying at the Taj, including bars, restaurants, and casino floor, will not be impacted or compromised. While the situation remains fluid, especially about a potential closure of the property, talks between the involved parties have been positive and lean toward keeping the hotel and casino in operation while its debt is renegotiated with creditors through the Chapter 11 bankruptcy proceedings. Atlantic City, once the gambling capital of the East, has been in transition over the past few years. Its greatest impact has been largely due to the proliferation of recently built casinos upon legalization of gambling in neighboring states. Investor Carl Icahn, who owns Trump Entertainment's debt, is also the largest shareholder of Tropicana Entertainment and has a stake in the success of Atlantic City's casinos. Sources close to this situation have informed us that this is a formality and that the future of the Taj remains optimistic.

"Eric and I have been producing shows for our industry at the Taj Mahal for over 15 consecutive years, so it is certainly sad and unfortunate to see what's going on with Atlantic City. While we are not 100 percent sure what the future holds for the Taj in 2015 and beyond, one thing is for certain—we have a tremendous, one-of-a-kind event planned, so if it is the last show at the Taj, let's go out with a bang," says Chauffeur Driven President & Publisher Chris Weiss.

We'll keep you informed of the situation as more information becomes available. Rest assured that the Chauffeur Driven Show is still full steam ahead and there's #only1choice for which event to attend this fall. www.chauffeurdrivenshow.com
Details

Category: Industry News
Atlantic City, N.J. — Are you ready for the season's biggest event, the Chauffeur Driven Show? We're less than two months away from the industry's most talked about show, taking place at the Trump Taj Mahal in Atlantic City, N.J., this November 2-5. Many thanks to our Title Sponsors, The Lincoln Motor Company and Don Brown Bus Sales.



Nowhere else can you get so much return on your investment. For only $499—to the first 500 registered—you will get a four-day full show passport and a three-night stay in one of the Taj's comfortable rooms. No need to book elsewhere and walk over when it's all under one roof.

That's one of the hallmarks of the Chauffeur Driven Show—all under one roof. Not only will you have less wear and tear on your feet (and body!), but you'll spend less time between venues and more time interacting with the people with whom you want to do business. That means more networking time and less commuting time. Talk about a win-win!

With a full show passport, you'll have access to 25 hours of cutting-edge, on-point educational seminars (sponsored by FASTTRAK Cloud Livery Systems); a jam-packed, sold out show floor with nearly 100 exhibitors; and endless opportunities to network with other industry professionals. Attend our morning seminars, grab some food at our sponsored lunches on Monday and Tuesday, refuel for an afternoon of events like our show floor hours or our ever-popular State of the Industry (featuring a killer panel of industry leaders), and save some energy for our electrifying nightlife. Don't forget about our Affiliate Day Tuesday, which features our Affiliate Central Global Partner Forum (sponsored by A1A Airport & Limousine Services), affiliate meetings by EmpireCLS Worldwide Chauffeured Services and Music Express, and our morning seminar on how to be a better affiliate partner. You also won't want to miss our Keynote Address with Jim Donald, CEO of Extended Stay Hotels and former CEO of Starbucks.

Enjoy one of our amazing parties, like the Night of the Living Dead, sponsored by Battisti Customs, where you can show off your scary side (come in costume!). The following night, let your country flag fly high as we roll out our Rockin' Roundup party, complete with live music and some kick-ass refreshments. Sponsored by Meridian Specialty Vehicles. On Tuesday we get a little more formal with our Charity Auction and Gala, where all of the proceeds of our silent, live, and chance auctions will benefit the Ryan Seacrest Foundation. The event is sponsored by EmpireCLS.

Register Now at www.chauffeurdrivenshow.com.

[CD0914]
Details

Category: Industry News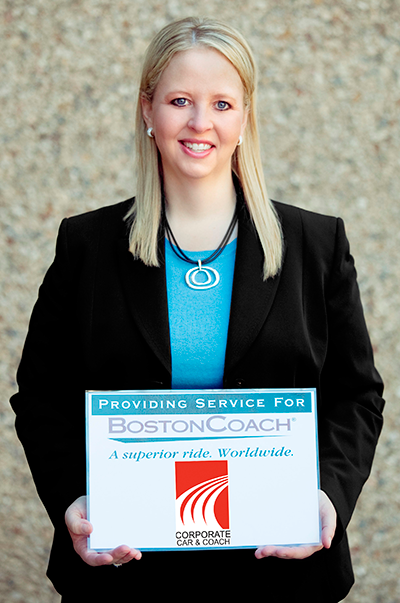 St. Paul. Minn. — This past August, Corporate Car & Coach was awarded the prestigious 2014 BostonCoach U.S. Partner of the Year Award. Corporate Car & Coach is an affiliate company of BostonCoach.

"Our company received this honor for its true affiliate partnership with Dav El-BostonCoach and for going above and beyond to provide quality service," says President Gina Brennan. "I was extremely proud to accept the award on behalf of my team at Corporate Car & Coach. This award is an honor and it took the professionalism and dedication of our entire team to be recognized for the quality service we provide to all of our clients and affiliates around the world. We look forward to a long-lasting partnership with Dav El-BostonCoach."

Visit ridewiththecorpcar.com for more information.

[CD0914]