Details

Category: Industry News
New Jersey--The LANJ has been making some new advancements in their fight against the unchecked, under-regulated operation of Jitney buses. When 8-month old Angelie Paredes was killed by a damaged telephone pole in New York after a Jitney driver—who was texting at the time—crashed into it this past July, the news echoed beyond the city. And when officials reported that driver who killed her was issued seven traffic tickets over the past two years including blowing through a red light, the nation got a harsh wake up to the under-looked issue.
LANJ has taken its battle into the legal realm with their support of amendment of N.J. Assembly Bill 3993, which increases insurance requirements on autobus operators and requires those drivers to possess a CDL. The proposed amendments, however, would enable local, county, and state officials to enforce the law based off of "probable cause" and set a $1,500 fine for first offenders who fail to have vehicles properly inspected twice a year or lack required insurance, CDLs, or criminal background checks. Owners that own or rent the vehicles would be required to pay the same fare as the fined drivers. Hotline numbers would also be placed on the side of the vehicles to report dangerous driving.
These proposed amendments would also close loopholes in the bill which Atlantic City Jitneys have been using to conduct charter and prearranged services.
"The prospects are excellent," says LANJ Executive Director Barry Lefkowitz of the bill's likeliness to get passed after being assured by associates that the bill would move forward after the upcoming elections. This issue has even been gaining attention on the national level as of late. U.S. Senator Robert Menendez of N.J., after the death of Paredes, has expressed outrage and even called on U.S. Secretary of Transportation Anthony Foxx to put together a task force to examine possible new regulations on Jitneys. Recently, Menendez's Legislative Counsel and Transportation Aide shared a phone conference with Lefkowitz, Jeff Shanker, Pete Corelli, and Paul Rosenberg of the LANJ to discuss the matter.
"We were able to give them some insight they hadn't had," says Lefkowitz of the meeting, "and then we followed up with materials for them to give some further background information."
LANJ members—with the success of the conference call and likelihood of further communication with Senator Menendez and perhaps even Secretary of Transportation Fox—share hopes that federal regulation may come in the near future.
For more information, visit lanj.org.
Details

Category: Industry News
Orlando, Fla.—Destination MCO, located in Central Florida, credits its impressive growth over the years to an unyielding focus on employee appreciation. As the economic downturn of 2008 took its toll, Destination MCO was able to avoid layoffs and grow at an average rate of 34 percent between 2009 and 2011. The company's philosophy is simple: engaged employees provide better customer service.
In honor of their 12th anniversary, Destination MCO treated employees and their families to a special outing held at Kings Bowl Orlando on June 18, exactly 12 years from the day the company was founded. "We recognize we would not be where we are today without our clients, and our clients would not continue to return if not for our extraordinary staff," says Nour Elotmani, president and CEO.
Honorary guests included Hameed Jassat, director of guest services at The Peabody Orlando, and Barbara Bowden, general manager. Both attended to extend their best wishes and thanked Destination MCO for their valuable partnership and outstanding service.
Destination MCO was founded in 2001 under the leadership and vision of Nour Elotmani to provide superior ground transportation solutions to a discerning clientele. In an extremely competitive market ruled by seasonal demands and aggressive pricing, Orlando would appear to be a challenging location to operate a luxury ground transportation company. However, Destination MCO has achieved consistent growth by operating under the mantra: "Our business plan does not require us to be the largest; it simply demands that we be the best.
"We attribute our success to our focus on our employees," said Elotmani. "Employees who feel unheard and disempowered are unhappy, which leads to high turnover rates and lower quality of work. We've worked hard to establish an environment where our employees are invested in our success and have the tools to grow and become future leaders at Destination MCO."
Visit destinationmco.com for more information.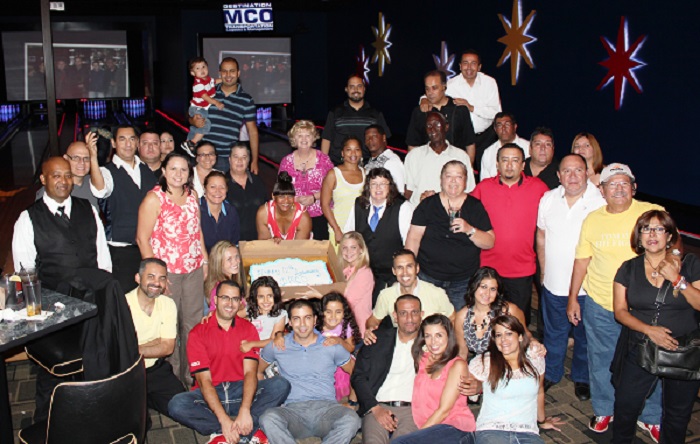 Details

Category: Industry News
Costa Mesa, Calif.—The Greater California Livery Association (GCLA) is preparing for its annual Expo and Trade Show on September 25 at Promenade and Gardens in Costa Mesa.
Along with vendor displays, the "Next Generation" Livery Vehicle Display will showcase all new offerings including the Lincoln MKT & MKS, Navigator SUV, Cadillac XTS, and Escalade SUV. In the Coach Builder's Display, attendants will be able to check out all the latest Lincoln MKT limousines, Sprinter vans, CNG and propane vans, minicoaches, and limobuses.
Admission will be $65 for non-members and $50 for members prior to Sept. 24, and $80 for non-members and $65 for members at the door.
For more information, visit gcla.org.