Details

Category: Industry News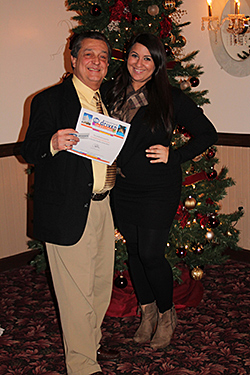 Vince Mazzarella of Champagne Limousine and Chauffeur Driven Show Manager Lauren D'Ambra Trevose, Pa. — Philadelphia Regional Limousine Association (PRLA) held its annual end-of-the-year party by hosting its Monte Carlo Night at Twining Hall in Trevose, Pa., on December 10. Platinum sponsors included Don Brown Bus Sales, Lancer Insurance, Research Underwriters, Verizon, and Wolfington Body Company.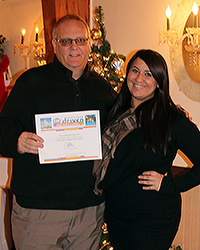 Craig Gentzler of At Your Service Limo and Chauffeur Driven Show Manager Lauren D'AmbraThe holiday event brought together association members, supporters, and industry operators alike. Chauffer Driven's Show Manager Lauren D'Ambra and Editor Madeleine Maccar were both in attendance for the night of good cheer and good company that delivered plenty of opportunities for those present to mingle on a friendly basis after a year fraught with ongoing battles against TNCs and meetings with state regulatory agencies.

Everyone received chips and play money to try their hands at the likes of black jack, roulette, and craps, with the option of purchasing more to increase their chances of landing the jackpot in their games of choice. Winnings were turned into raffle tickets, as many companies donated prizes to be won by those who had the luck of the draw on their side. Included among the various prizes were two passes to the 2015 Chauffeur Driven Show, which will be held in Miami from October 11-14, and were won by Vince Mazzarella of Champagne Limousine and Craig Gentzler of At Your Service Limo.

Outgoing PRLA President Jim Salinger of Unique Limousine spoke to the crowded catering hall, as did the association's new president, Steve Rhoads of Rhoads Limousine.

The next PRLA meeting will be January 14.

Visit prlainc.com for more information.

[CD1214]
Details

Category: Industry News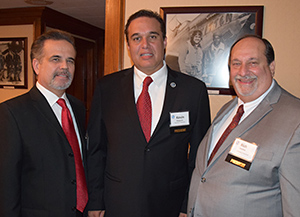 L to R: Former GCLA President Mark Stewart of CLI Worldwide, incoming GCLA President Kevin Illingworth of Classique Limousines, and outgoing GCLA President Rich Azzolino of Gateway Global Los Angeles — More than 150 Greater California Livery Association (GCLA) members and supporters from across the country' including Chauffeur Driven's Publisher Chris Weiss' attended the association's annual holiday party at The Proud Bird on December 10.

"It was nice that there were a bunch of people who came from all over to celebrate with us at our holiday party'" said Kevin Illingworth of Classique Limousines' the GCLA's newly elected president.

The evening's holiday spirit kept the atmosphere festively light' though much association business was handled during the event. Members who were recently elected to either leadership or board positions were presented for the first time at the party' and are as follows:

President: Kevin Illingworth of Classique Limousines
First Vice President: John Rafferty of Executive Limousine & Coach
Second Vice President: Perry Barin of Music Express Worldwide
Treasurer: David Kinney of API Global Transportation
Secretary: Anne Daniells of Torrey Pines Transportation

Regional directors: Joel Amato of Gateway Global; Gary Buffo of Pure Luxury Transportation; Alex Darbahani of KLS Worldwide; Christopher Quinn of Corporate Transportation Solutions; Ryan Silva of Epic Limousine; Brandan Stein of Exclusive Sedan Service; and Matt Strack of Strack Chauffeured Transportation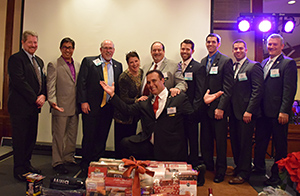 The GCLA's new Board of Directors Outgoing GCLA President Rich Azzolino of Gateway Limousines will be retiring from the GCLA' the National Limousine Association board' and his company' and was honored for his contributions to the industry. Outgoing GCLA Treasurer Jack Nissim of Integrated Transportation Services' Cheryl Berkman of Music Express Worldwide' Mark Stewart of CLI Worldwide Transportation' and Vendor Director Lee Martinez of TransCap Insurance were also honored with awards and the association's gratitude.

"We recognized a lot of hardworking people' we gave out some gifts' everyone had a chance to network' and we talked about what we accomplished during the year in regard to legislation and fighting TNCs'" Illingworth said.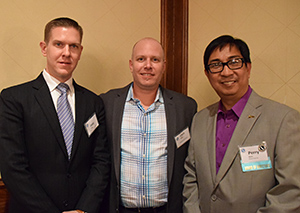 L to R: Joey Phelps of EmpireCLS Worldwide, Chauffeur Driven Publisher Chris Weiss, and Perry Barin of Music Express Worldwide As the incoming GCLA president' Illingworth hopes that Uber will continue to be prevented from doing pickups at Los Angeles International Airport' and also will work to alter bills like SB 109 and SB 611' which focus on modifying vehicles' emergency exits and safety requirements' respectively' to be more mindful of the costs they demand from operators without comprising passenger safety. He estimates that the cost of modifying some vehicles according to the bills' requirements would average more than $20'000 per vehicle' which risks putting some smaller operators out of business.

Issues relating to the bills as well as TNCs will be among those addressed during the GCLA's Day on the Hill in Sacramento on January 15' which will be the second time the association has participated in the legislative day.

"It's about making our representatives aware of what's going on in our industry and vocalizing it from different areas' from San Diego all the way up to Northern California'" Illingworth said. "We saw what a difference it made when we went last year. Our lobbyists were reacting to the power of the people."

GCLA's Day on the Hill will begin at 9:30 a.m. and end at 4 p.m.

The next GCLA membership meeting will be February 10.

Visit gcla.org for more information.

[CD1214]
Details

Category: Industry News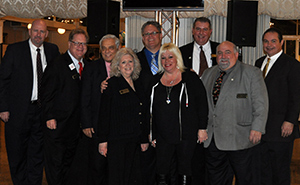 LILA Board of Directors Holbrook, N.Y. — Even the sting of a heavy fall rainstorm couldn't dampen the spirits of the Long Island Limousine Association's (LILA) holiday party, held December 9 at the elegant Villa Lombardi's in Holbrook. N.Y. Nary a corner of the beautiful venue was missed—twinkle lights, balloons, poinsettias, and holiday accoutrements covered every surface inside and out and set the mood for the party-goers. Chauffeur Driven Managing Editor Susan Rose attended and the event was sponsored by The Whitmore Group.

Uber, regulatory agencies, and other frequent topics on the LILA agenda were far from their minds as attendees relaxed during the business-free evening. Over 120 people attended the festivities, which began with a buffet dinner and music from a live DJ. The association, according to 2nd Vice President Matt Silver of Ultimate Class Limousines, is made up of many smaller companies that normally wouldn't be able to host a party at the venue, so the event was designed so that those companies could sponsor a table and bring their whole staff to enjoy the holiday party.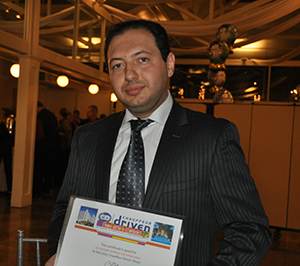 2015 CD Show pass winner Benjamin Rakhmanov of Big Ben Transportation "We really encourage the companies to make it their own so that their staff can celebrate the holidays, plus they get to mingle with other like-minded [operators] in the area. It's a great chance for everyone to network while still having a good time. We had a really great turnout this year," he says.

In addition to dancing and a photo booth, the evening featured two comedians where no topics were off-limits, including marriage, religion, the holidays, and even some good natured ribbing of the limousine industry. The association even recognized two birthday girls in attendance, including our own Susan Rose, by singing Happy Birthday.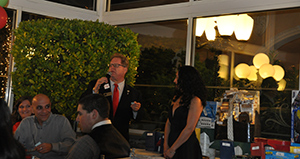 LILA 2nd VP Matt Silver calls the winning numbers during the chance auction Toward the end of the evening, Silver took the microphone and added his own comic relief while calling out the winning tickets of the chance auction, which included everything from gourmet teas and decadent chocolate to tool kits and special car accessories. Chauffeur Driven donated a pass to 2015 show to be held in Miami Beach this October 11-14, which was won by Benjamin Rakhmanov of Big Ben Transportation in Rego Park, N.Y.

It's back to business in January when LILA will hold its next meeting on January 27.

Visit nslali.com for more information.

[CD1214]