Details

Category: Industry News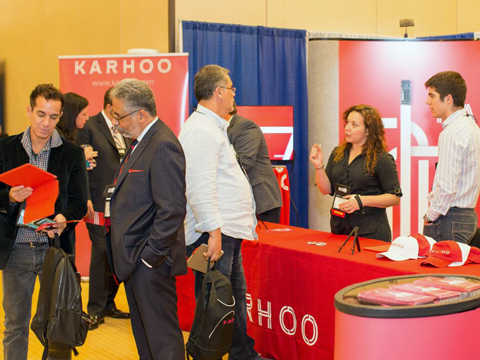 Platinum sponsor Karhoo's boothLas Vegas — The Taxicab, Limousine & Paratransit Association (TLPA) returned to The Silver City for its 97th Annual Convention and Trade Show, held October 26-30.

Even as the industry faces its most challenging business climate in decades, the show saw an impressive turnout of some 1,000 operators and vendors for its action-packed weeklong event. Attendees flocked to the event from across North America, as well as from as far away as Asia, Australia, and Europe.

Dwight Kines of Transdev was voted in as new president, delivering a forward-looking vision in his acceptance speech to begin his one-year term. "We are doing our members a disservice if we don't start spending more of our energy on showing and telling you how to compete in this new world," Kines said. "Yes, we are under attack, but our industry has weapons to fight back and we need to give you more. So we will be focused, first, on business opportunities, while we continue to focus on our industry's environment."

Kines succeeds Mike Fogarty of Tristar Worldwide Chauffeur Services. In his final presentation to members as president, Fogarty showed a video of his interview on New England Cable News, something that members remarked showed how an executive from the limousine side of the industry could deftly fight on behalf of the entire passenger transportation for-hire industry. Fogarty also said that one of his goals was to forge better relationships with other associations, including the National Limousine Association, something he was proud to accomplish.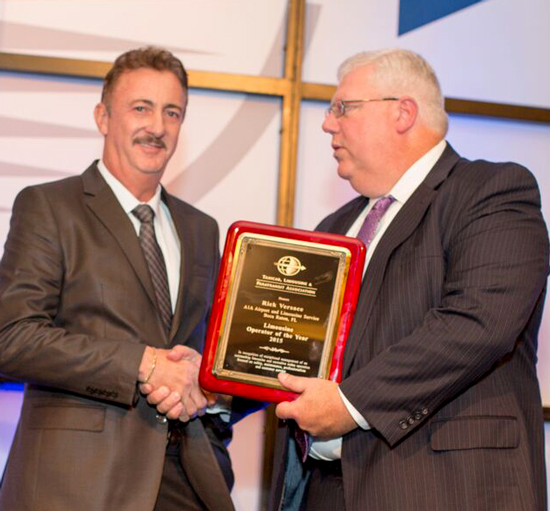 Outgoing TLPA President Mike Fogarty of Tristar Worldwide congratulates Limousine Operator of the Year Rick Versace of A1A Airport & Limousine ServiceFormer editor for Wired magazine and Silicon Valley entrepreneur Peter Leyden's keynote speech at the opening General Session focused on the massive technological and demographic changes happening in the world. These changes are key to the transportation industry as it looks to find new ways to connect with customers.

The convention was packed with informational presentations, roundtable discussions, and breakout sessions. Topics ranged from competing with TNCs to growing and diversifying in today's ever-changing business landscape.

Initial feedback from the convention shows that some of the highest-rated sessions came from companies sharing stories of their own app usage and marketing efforts, innovative call center practices, recruitment and retention of drivers, new models for exceptional service, and how to best use technology to compete with TNCs.

There was a distinct focus on technological advances at this year's gathering. The cloud-based taxi dispatch system, iCabbi, Premier sponsor of the convention, announced its plans for American expansion in the coming months. Platinum sponsor, Karhoo, a transportation option aggregator reported to be aiming for $1 billion in investment, also had a strong presence. Atlas Financial Holdings sponsored the Taxicab, Limousine & Paratransit Foundation (TLPF) annual golf tournament on October 26. Other sponsors for the convention and trade show included American Business Insurance Services (ABI), Creative Mobile Technologies (CMT), MTData, BB&T John Burnham Insurance Services, Paratransit Insurance Services, T-Mobile, The Black Car Fund, and Verifone.

Top awards this year announced at the convention went to:
Lifetime Achievement Awards: William Hamilton Smythe III of Yellow Cab Memphis in Memphis, Tenn., and Neal Nichols of Red Top Cab of Arlington, Va.
Limousine Operator of the Year: Rick Versace of A1A Airport and Limousine Service in Boca Raton, Fla.
Limousine Driver of the Year: James Vlahos of Gateway Global in Burlingame, Calif.
Taxicab Operator of the Year: Raye Miles of Broadway Cab LLC in Portland, Ore.
Taxicab Driver of the Year: Albert Tracy of Discount Cab in Glendale, Ariz.
Paratransit Operator of the Year: Matt Heafner of Yellow Cab of in Denver, Colo.
Paratransit Driver of the Year: Michael Morgan of Mercy Transportation in Everett, Wash.
Outstanding Woman in Transportation: Margie Wilcox of Mobile Bay Transportation Company in Mobile, Ala.
The 98th Annual Convention & Trade Show will be held in Phoenix, Ariz, from Nov. 1-4, 2016.
Visit
tlpa.org
for more information.
[CD1115]
Details

Category: Industry News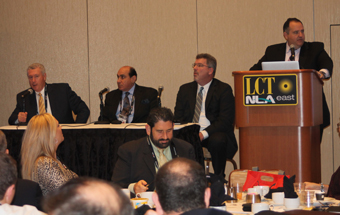 The meeting's feature presentation was its panel "Insurance Need-to-Know for 216," featuring (L to R) Mike Marroccoli of The Capacity Group, John Arone of HUB International, and Richard Ackerman of P.A. Post Agency, and was moderated by LANJ First Vice President Jason Sharenow of Broadway Elite Chauffeured Services Worldwide Atlantic City, N.J. — Members, prospective members, and industrywide supporters came out in droves to attend the November 9 breakfast meeting of the Limousine Association of New Jersey (LANJ) at Harrah's Resort. Chauffeur Driven's Industry & Brand Ambassador Philip Jagiela and Editor Madeleine Maccar were both in attendance for the meeting.

The association's last general membership meeting of the year included The LANJ Report given by President Jeff Shanker of A-1 Limousine and a message from Randy O'Neill of meeting sponsor Lancer Insurance. It also saw the debut of LANJ Member Spotlights and an in-depth panel moderated by LANJ First Vice President Jason Sharenow of Broadway Elite Chauffeured Services Worldwide that featured insurance professionals Richard Ackerman of P.A. Post Agency, John Arone of HUB International, and Mike Marroccoli of The Capacity Group.

Shanker began by thanking members who have been especially active in "improving the image of the industry" by appealing to and visiting with elected officials. He specifically called out Immediate Past President Jim Moseley of Trip Tracker and Pete Corelli of Lakeview Custom Coach for their dedicated lobbying efforts but noted that support from within the association has helped LANJ make its case known. Recently, Evesham Township in southern New Jersey launched an anti-drunk driving campaign that called for a partnership with Uber; Shanker wrote an op-ed piece for the area's two largest newspapers decrying the alliance and highlighting all the dangers of TNCs, which can be read at on.cpsj.com/1Huq1QZ.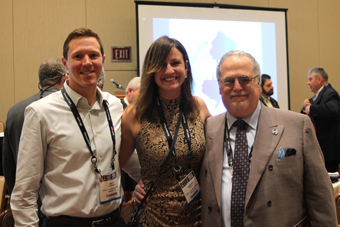 L to R: Matt Neuwirth and Siobhan Gerold of Vehicle Tracking Solutions and Bob Schiavo of Albert's Transportation The recent statewide elections have ensured that New Jersey Democrats have control in "more commanding numbers"—which is good news for LANJ, as the party has been historically more reception to the association's labor concerns and calls for better regulation of TNCs.

LANJ's membership currently stands at 135, and its many committees are working to increase that membership even further, as well as continue to get the association's name out through marketing and ensure that its social media outlets convey positive news about the industry rather than casting TNCs in a comparatively harsher light. The association also plans to launch an education committee in 2016 to provide added value for members.

The new LANJ Member Spotlights gave new operator and vendor members the opportunity to introduce both themselves and their companies. Representatives from 17 North Limos in Mahwah, N.J., Jack Williams Tire Company in Avoca, Pa., and technology-based marketing company SUBA Networks in South Orange, N.J. each gave brief presentations about their businesses.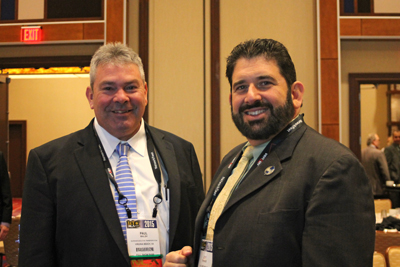 Virginia Limousine Association President Paul Walsh of Superior Executive Transportation and LANJ President Jeff Shanker of A-1 Limousine The insurance panel occupied the majority of the meeting, with Sharenow posing a variety of questions to the three-person panel and a few LANJ members asking their own questions, too. Answering queries about training programs, the differences between a hard and soft market, the value of adding onboard cameras, various policies that operators should start taking out to best adapt to changing times, where trends seem to be heading, DOT compliance as high-capacity vehicles become more popular, and the influence of TNCs on insurers led to not only thorough answers but also conversation exploring how different scenarios call for their own best practices, often drawing on previous real-life experiences.

At the end of the panel, Sharenow urged those with unanswered insurance questions to reach out to Ackerman, Arone, and Marroccoli: "These guys are rock stars," he said. "Take advantage of that."

The next LANJ member meeting is scheduled for Jan. 20.

Visit lanj.org for more information.

[CD1115]
Details

Category: Industry News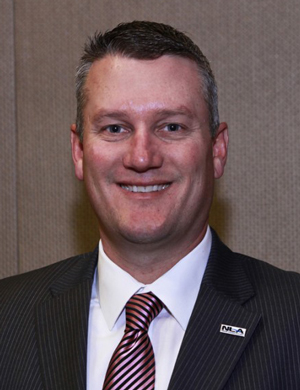 NLA President Gary Buffo New York — In a survey recently conducted online by Harris Poll and commissioned by the National Limousine Association (NLA) in October 2015 among more than 3,000 U.S. adults 18 and older, it was revealed that 80 percent of consumers believe that ride-hailing services, such as Lyft, Sidecar, Uber, and Whisk, are transportation providers, not technology companies as these services claim, in circumvention of the U.S. Department of Labor's Fair Labor Standards Act.

According to the survey, 73 percent of consumers consider drivers of ride-hailing service to be employees of those services, when, in actuality, they are regarded as independent contractors who are not required to either adhere to or comply with the same standards and regulations applicable to taxis and limousines. Further, the poll revealed that only 18 percent of Americans would continue to use ride-hailing services if they did not adhere to applicable labor laws.

"In a society that increasingly values convenience over safety and responsibility, it is the obligation of the NLA to raise awareness about how ride-hailing services, for reasons of financial gain, are circumventing the fair labor laws and are not required to adhere to or comply with the same safety standards and regulations applicable to taxis and limousines. As the survey clearly illustrates, ride hailing services are misleading passengers, exploiting drivers, and putting the public at risk," said NLA Co-founder Scott Solombrino of Dav El/BostonCoach.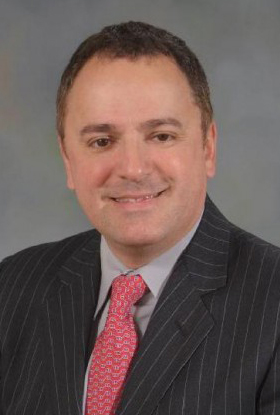 NLA Co-founder Scott Solombrino To this end, the NLA, a not-for-profit organization responsible for and dedicated to representing the interests of the private driver ground transportation industry, launched Ride Responsibly™ in February 2015. The program is an unprecedented effort to bridge an industry-wide gap between the rights of passengers and the responsibilities of service providers, promoting best practices in regard to driver and passenger safety and duty of care.

"While the NLA applauds the steps that a handful of cities and municipalities have recently taken to regulate ride-hailing services, there is much work to be done on a national level," adds NLA President Gary Buffo of Pure Luxury Transportation. "As these results overwhelmingly enumerate, a more accountable system and universal corporate responsibility remain the ultimate goal. Therefore, it is imperative this debate be afforded the national platform it deserves."

This survey was conducted online within the United States by Harris Poll on behalf of NLA from October 6-8, 2015. Contact NLA@evins.com for complete survey methodology.

Visit limo.org for more information.

[CD1115]