Details

Category: Industry News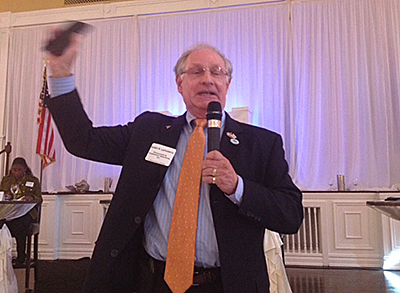 Former LANJ Executive Director and current lobbyist Barry Lefkowitz spoke at the most recent Insurance Council of New Jersey meeting Hamilton, N.J. — When the Insurance Council of New Jersey held its 37th Annual Conference and Meeting at The Hamilton Manor on October 17, former Limousine Association of New Jersey (LANJ) Executive Director and current lobbyist Barry Lefkowitz was among those invited to participate in the event's TNC panel. The 90-minute discussion, "Transportation Network Companies: How Are New Jersey Drivers Protected When Providing Ride Services?," featured Lefkowitz, N.J. Assemblywoman Grace Spencer, John Murphy of the National Association of Mutual Insurance Companies, Uber representative Scott Usher, and moderator John Miletti.

"I explained to the audience, since these were insurance people, that their interests and our interests were actually very much the same: We look at this issue as public safety; they have to look at it as public safety from a risk standpoint," Lefkowitz said.

Lefkowitz has been among those painstakingly collecting data to make a case against Uber, which has culminated in Assembly Bill 3401. The bill, which aims to regulate TNCs with Representative Charles Mainor as its lead sponsor, continues to gain traction.

Armed with the fruits of his and others' efforts—as well as a few helpful texts from LANJ member Jeff Shanker of A-1 Limousine and Natasha Gonzalez of the New Jersey Taxi Cab Association (NJTCA), who were among the estimated 175 people in the audience—Lefkowitz cited myriad instances where Uber has fallen short of its safety responsibilities to passengers, drivers, and the general public, or has outright violated state insurance laws, including: improperly vetted drivers' attacks on passengers; how the Pennsylvania Public Utility Commission (PUC) has turned down Uber for its public safety violations; and the TNC's summer ad campaign in the Jersey Shore area that aimed to attract new drivers, even though it's illegal for New Jersey drivers to use their private vehicles for commercial purposes, as reiterated in a press release issued by the state's Department of Banking and Insurance on behalf of N.J. Governor Chris Christie.

"I think one of the meeting's highlights was when Assemblywoman Spencer made it clear that TNCs will be regulated, and then she read part of the press release from the Department of Banking and Insurance because (Usher) was making these claims about how Uber has all this insurance coverage," Lefkowitz said.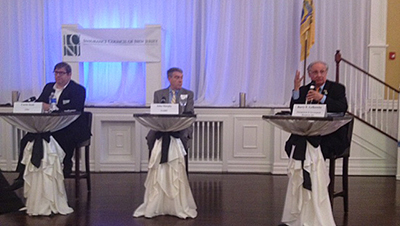 Former LANJ Executive Director and current lobbyist Barry Lefkowitz (right) was part of the Insurance Council of New Jersey's panel discussion, entitled "Transportation Network Companies: How Are New Jersey Drivers Protected When Providing Ride Services?"Lefkowitz, who also represents the NJTCA and does work for the International Association of Transportation Regulators, says that the panel also discussed the difference between insurance coverage for taxis and limousine services, and how taxis, while "on 24/7," only operate within a designated municipality; AB-3401 will be modified before its as-of-yet unscheduled hearing to demand that TNCs establish a base and be listed as dispatch companies.

"Right now, TNCs have no financial obligation to New Jersey, so we're going to help make them good corporate citizens of the state," said Lefkowitz.

While giving the seriousness of the topic its due reverence at the panel, Lefkowitz admits that he "had a blast" arguing against all the claims the Uber representative made.

"He was somewhat annoyed with me but I didn't care," Lefkowitz said. "One of the things I really annoyed him with was saying there is nothing really unique about what the TNCs are providing. I said that, if you think about it—and I held up my phone—this is nothing more than an advanced way of radio dispatch, connecting a driver with a passenger."

LANJ will hold its next meeting November 4 at Chauffeur Driven's Atlantic City show; those interested in joining LANJ in its ongoing battle to bring TNCs to a level playing field can save $150 by becoming an association member before or at the show.

Visit lanj.org for more information.

[CD1014]
Details

Category: Industry News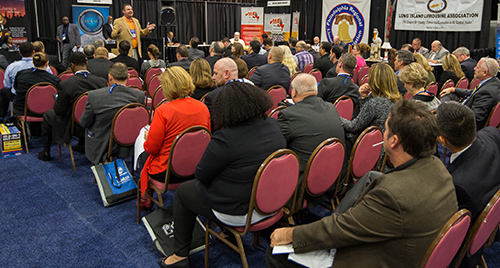 With less than four weeks to go until the Chauffeur Driven Show, it's time to make final plans on the events and sessions you don't want to miss. Look for information soon about our show app (sponsored by North Point Transportation), which will feature a full schedule of events, speaker information, maps, and a whole lot more. For a full schedule, click here .

Workshops, Seminars, and Micro-Sessions
Our educational program is one of our proudest features, and there's plenty of topics to whet every appetite. In addition to the industry's biggest pressing issues—including TNCs and the rapid evolution of technology—there will be sessions on improving your sales, implementing a quality-control system through mystery shopping, motivating employees, and maximizing your growth with buses and motorcoaches. Our interactive workshops, held on Sunday and Wednesday, are in-depth and hands-on sessions meant to engage you on every level. We'll also have traditional, lecture-style sessions held on Monday and Tuesday with bonus education on the show floor through our Micro-sessions (sponsored by Federal Coach / Krystal). Educational seminars and workshops are sponsored by FASTTRAK Cloud Livery Systems.

Special Events
Our exclusive Operator Mentoring Program returns on Sunday with additional mentors who will share their knowledge, tips, and tricks for finding industry success. This is a favorite with our attendees, so register quickly to get your choice of mentors. You need to be the owner of your company and purchase a full show pass to attend this event. Sponsored by  Don Brown Bus Sales and Grech Motors. Register here .

The State of the Industry Address is always one of our best-attended events (standing room only last year!), and this year promises to deliver. Our panel of experts include Cheryl Berkman, CEO and President of Music Express Worldwide; Dean DeBeer, CEO of Tristar Worldwide; and David Seelinger, CEO and Chairman of EmpireCLS Worldwide Chauffeured Services. It doesn't get any better than that!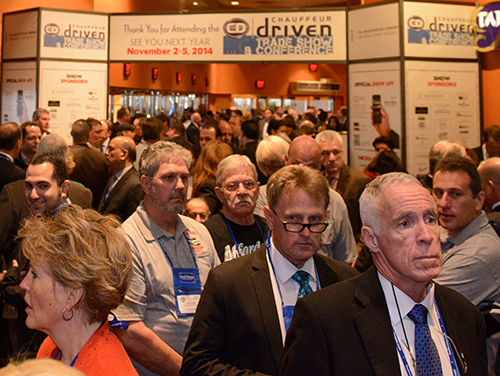 On Monday, we're thrilled to present Jim Donald, current CEO of Extended Stay America hotels and former Starbucks CEO, as our Keynote speaker. We've introduced you to him over the last few months through the magazine and on our social media, so make sure you attend this can't-miss event. Sponsored by  Grech Motors and Mosaic Global Transportation.

Don't forget that Tuesday, November 4, is our Affiliate Day, with sessions and events (our Affiliate Central Networking Forum, sponsored by A1A Airport & Limousine Service) specifically tailored toward helping you increase your affiliate business. If you're looking to score new affiliate partners at the show, we'll show you how to do it.

Nightlife
No one gets the party started like Chauffeur Driven, and we have three nights of excitement to make the long days worth your while. We kick off the week on Sunday night with our Night of the Living Dead party, sponsored by Battisti Customs. You've had enough of walking the kids around the neighborhood in their Elsa or favorite Teenage Mutant Ninja Turtle costume, so now it's your turn to have a little adult fun. Dress up in your most spooktacular costume and enjoy some libations and finger foods while our DJ spins some tunes. Prizes will be given for best costume.

It's no secret that the Chauffeur Driven Show is heading to Nashville next June for an Executive Retreat, so we're getting the party started a little early with our Rockin' Roundup on Monday, sponsored by  Meridian Specialty Vehicles and Premier Transportation. You'll have a heck of a time dancing to the music of our live band, chowing on some barbecue, and drinking some ice-cold brews. Cowboy boots and hats optional but highly encouraged. Yeehaw!

Tuesday will be a test of your endurance with our Charity Auction followed by our After-Hours Suite Parties. The night starts off with a buffet-style dinner at our Charity Auction, where we'll have tons of great items to bid on through our chance, silent, and live auction. All proceeds will benefit a really cool organization, the Ryan Seacrest Foundation. The Charity Auction is sponsored by EmpireCLS.

Ready to keep the party going? Cruise on over to the 14th floor of the Taj for some incredible suite parties. There will be tons of drinks and plenty of conversation to last into the wee hours of the morning. Parties will be hosted by ETS International, Flyte Tyme Worldwide Transportation, Minority Limousine Operators of America, Rental Limo, and ZBest Executive Global Transportation Services.

Show Floor
Of course, we've saved the best for last. Shop all of the industry's latest technology, insurance, vehicles, marketing, and products all on one floor. This is your opportunity to talk one on one with all of the industry's hottest vendors and possibly even score some sweet show-only deals. You'll definitely want to take your time here, so for a full list of exhibitors click here. Don't forget to swing by our Association Pavilion, sponsored by Chosen Payments, for a chat with a dozen of the industry's strongest associations.

With just weeks to go, there's no time to waste. Make sure you're fully prepared for what the Chauffeur Driven Show has to offer so you can maximize your time and get the best return on your investment. Remember, there's  #only1choice this November!

[CD1014]
Details

Category: Industry News
Have you always been curious how other operators were compensating their staff? Are you curious how your own salary compares with that of your industry peers? You can be a part of something historic by completing a confidential industry salary survey. While many have responded' we still need your reply—the more participants we have' the more accurate the data. A few minutes of your time will yield big results which may help you become more competitive in hiring.

Chauffeur Driven partnered with The LMC Group to produce a comprehensive' industry-specific salary survey' the results of which will be presented in Kristen Carroll's seminar on Sunday' November 2: "How to Compensate and Motivate Employees." The LMC Group created the survey and has the experience and expertise to analyze the data for the most useful statistics to date. The results will also be published in a future issue of Chauffeur Driven.

The survey is completely confidential and only takes a few minutes to complete. Please complete the survey now' by clicking the following: https://www.surveymonkey.com/s/JJ2KMXB.

[CD1014]