Details

Category: Industry News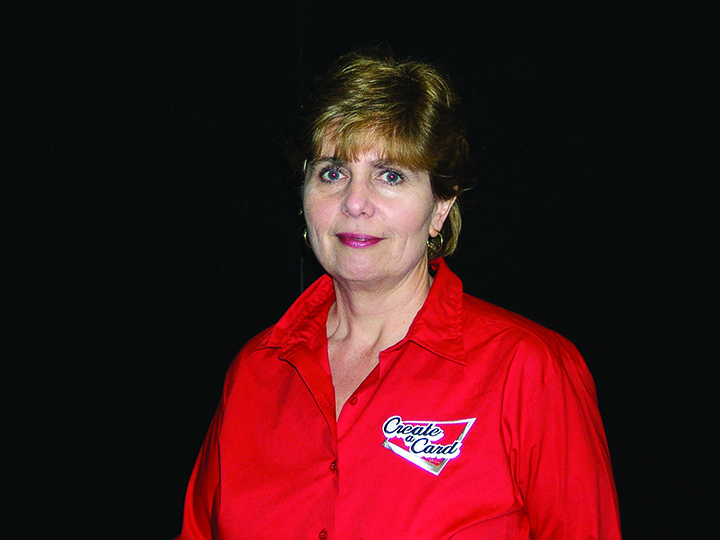 Marian AbrilzSt. James, N.Y.—Create-A-Card VP of Customer Relations Marian Abrilz recently announced her retirement after 15 years with the company.

Since 1999, Abrilz had the pleasure of working hand-in-hand with so many Create-A-Card's clients, assisting them in any stage of their marketing needs. More than that, she had become a familiar face at industry trade shows over the years and, clients always enjoyed seeing her.

Abrilz says she is so thankful for the opportunities she had to work with these clients and values the relationships she developed. Her future plans include spending more time with her family and traveling to the East End of Long Island for gorgeous days and beautiful sunsets.

"Marian was a consistent part of Create-A-Card," says founder Arthur Messina. "She will be missed in the office as well as at industry events. I am happy that she will have the time to spend with her family, including her nieces and nephews, and wish her all the best in her retirement."

Visit createacardinc.com for more information.

2/14
Details

Category: Industry News
Fort Lauderdale, Fla.—The Association of Destination Management Executives International (ADMEI) and Pow Wow Smart announced that they have entered into a new strategic partnership. Pow Wow Smart management says is absolutely delighted to be partnering with ADMEI, the pre-eminent International organization for destination management companies (DMCs).
"It made sense to take our relationship with Pow Wow Smart to the next level. They are providing great value to our members, have become actively involved in our association and are part of the exciting future of the industry," says Fran Rickenbach, executive vice president of ADMEI.
"ADMEI and its vast network are extremely important to Pow Wow Smart. We had a tremendous experience at its annual conference last year in Montreal, and met some of the destination management industry's finest executives and managers, several of whom signed up to use our software," says Frank Schnur, CMO of Pow Wow Smart. "We are certain that all members will benefit from using Pow Wow Smart. It is important we continue the momentum generated last year and look forward to working with ADMEI in the future"
As part of the deal, Pow Wow Smart will be extending special discounted pricing to all ADMEI members who sign up as part of the new strategic partnership.
Visit adme.org or powwowsmart.com for more information.
2/14
Details

Category: Industry News
Richmond, Va. — Concerned members of the Virginia Limousine Association (VLA) took on lobbyists from Uber in legislature meetings on January 20 in regard to changes in bills that are being put before the Va. Transportation Subcommittee on January 22 and the Va. State Senate on January 24.
The meetings were attended by Sen. John Watkins, (R) Va. 10th District, Delegate Ronald Villanueva, (R) Va. 21st District and VLA members Betty Callahan of Bay Breeze Limousine Service, Audrey Stroud of Society Coach Lines and Paul Walsh of Superior Executive Transportation, who travelled four hours round trip from Virginia Beach to attend, along with Stephen Story of James River Transportation and VLA President Glenn Stafford of Love Limousine.
The general thrust of these meetings was to properly edify the legislators who have been given the erroneous impression by Uber lobbyists that the proposed changes in long-standing state transportation bills regarding proper licensing and insurance are beneficial to the chauffeured ground transportation industry. VLA members were there to oppose this position and to convince the legislators that Uber and UberX are a detriment to public safety because they would continue to hold no liability or accountability if these changes were passed.
Interestingly, the Uber representatives present at the meetings denied that UberX was available in the state of Virginia at that moment. This was assertion was refuted by VLA President Glenn Stafford who pulled up the fully functioning app on his smartphone and showed the legislators that UberX cars are indeed available in most of Virginia's major cities.  
Delegate Villanueva requested the presence of Virginia DMV Commissioner, Richard Holcomb, at the meetings to clarify the agency's position on these issues. Commissioner Holcomb stated that Uber, at the minimum, needed a broker license in Virginia before any kind of discussion on these matters can even begin. The Uber lobbyists stated that they are getting this license but, to date, have yet to properly apply.
"Bottom line, we believe we have convinced the patrons to hold the bill over until the industry stakeholders, including Uber, can hammer out a proper solution and bring the solution back next year," says Glenn Stafford. "They want it solved and are giving the participants an opportunity to work amongst ourselves to figure it out. Although, the meat grinder of a legislative session is not the place to rush this through."
Visit www.virginialimousineassociation.org for more information.
1/14