Details

Category: Industry News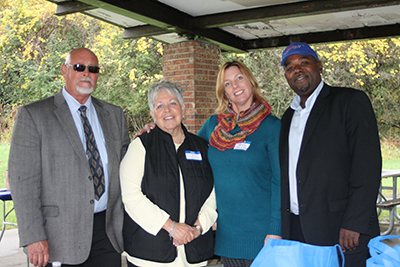 L to R: Dale Busse of Chicago's Transportation Group, Ricki Marks of Hawthorne Limousine, ILA President Tracy Hodge-Raimer of Your Private Limousine, and and Mike Walker of Hawthorne LimousineChicago — Not even the chill of intermittent rainfall could put a damper on the good spirits at Illinois Limousine Association's (ILA) first-ever Chauffeur Appreciation Day, which was held October 14 at the Catherine Chevalier Woods, just minutes from Chicago's O'Hare International Airport. Chauffeur Driven Editor Madeleine Maccar attended the inaugural event, which offered chauffeurs a free boxed lunch and assorted snacks, raffles, goodie bags, vendor and vehicle displays—and many hearty thank-yous.

The day aimed to demonstrate ILA members' appreciation for local chauffeurs and the daily challenges they face, giving operators a chance to extend some well-deserved kudos to the drivers who also serve as public faces of their companies.

"There's no better time than now to come together as an industry and say thank you to our chauffeurs because I really don't think we can do that enough," says ILA President Tracy Hodge-Raimer of Your Private Limousine. "Our big focus was to make sure that there was no solicitation, that everyone was sincere in just wanting to say thanks."

Hodge-Raimer was part of the five-person committee that has been planning the day since August, which comprised Paula DeBiasi of Chicago Coachworks, Scott Delheimer of Class Act Limousine, Brian Whitaker of Chicagoland Transportation Solutions, and Chauffeur Driven Publisher Chris Weiss.

After hearing the success stories of other organizations' approaches to Chauffeur Appreciation Day, Hodge-Raimer sought help from the committee and other ground transportation associations, like the New England Livery Association, to bring the industry tradition to the Windy City.

More than 20 companies sponsored the event, and a few also served as vendors. A number of Grech Motors' buses were on-site for vehicle tours, and representatives from City Colleges of Chicago's Olive-Harvey College were available to discuss the services they have for chauffeurs. Scholarships to the Olive-Harvey College's Public Passenger Chauffeur Training program was even among the day's prizes, as was a pass to CD's Atlantic City show. Grisselle Desai, Jack Nakanishi, David Riske, and Jeff Patton were the scholarship winners, while Terrin Lange of Chicago Northshore Limousine won the show pass.

Even though rain delays made it difficult for chauffeurs to find a few minutes to attend the event, roughly 35 drivers stopped by for lunch and friendly company.

"I'm confident that we did everything we set out to do," says Hodge-Raimer. "I was very happy with how it turned out."

The sporadically inclement weather did come with a silver lining: Seeking refuge under the picnic pavilion at the heart of Chauffeur Appreciation Day's activities presented more opportunities for the event's attendees to meet and mingle.

"I did see a few gentlemen that I had not met before in the past, so it was a good way for the small, independent companies and the large ones to get together for a few minutes and discuss the market not competitively, but how it affects all of us," says Edward White of Tell-A-Friend Limousine. "I just enjoyed the opportunity to meet everyone casually on common ground and network in a different environment."

With its first Chauffeur Appreciation Day under the ILA's belt, the association is already talking about making it an annual event.

"I'm looking forward to doing it again next year and I think everyone else is, too," Hodge-Raimer says. "I think it's exactly what our industry needs, just coming together in a laid-back atmosphere to support each other."

Visit illinoislimousineassociation.com for more information.

[CD1014]
Details

Category: Industry News
Aurora, Colo. — The Colorado Limousine Association (CLA) held its most recent meeting October 15 at Mimi's Café in Aurora, Colo. CLA's meeting comes on the heels of Denver International Airport's October 8 advisory board meeting, where a recent U.S. Federal District Court ruling was among the topics addressed. The court had decided that if a for-hire vehicle is doing business to and from the airport, it must abide by the interstate guidelines that dictate operating authority, vehicle markings, and adequate insurance.

According to CLA President Youssef Marrakchi of Centennial Transportation, the meeting was dominated by a question-and-answer session with Harry Thomas of the Federal Motor Carrier Safety Administration. The Denver airport recently lowered its insurance requirements for ground transportation, so the board brought in Thomas to talk about intrastate versus interstate insurance requirements, as well as to shed light on any related issues requiring clarification.

The remainder of the meeting was dedicated to discussing association business. CLA is currently in the process of hiring an executive director, who Marrakchi says would be in charge of running CLA's meetings, help the board with its media releases, and recruit new members.

The next CLA meeting will be held November 19.

Visit cololimo.org for more information.

[CD1014]
Details

Category: Industry News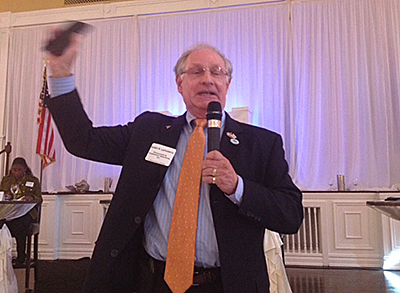 Former LANJ Executive Director and current lobbyist Barry Lefkowitz spoke at the most recent Insurance Council of New Jersey meeting Hamilton, N.J. — When the Insurance Council of New Jersey held its 37th Annual Conference and Meeting at The Hamilton Manor on October 17, former Limousine Association of New Jersey (LANJ) Executive Director and current lobbyist Barry Lefkowitz was among those invited to participate in the event's TNC panel. The 90-minute discussion, "Transportation Network Companies: How Are New Jersey Drivers Protected When Providing Ride Services?," featured Lefkowitz, N.J. Assemblywoman Grace Spencer, John Murphy of the National Association of Mutual Insurance Companies, Uber representative Scott Usher, and moderator John Miletti.

"I explained to the audience, since these were insurance people, that their interests and our interests were actually very much the same: We look at this issue as public safety; they have to look at it as public safety from a risk standpoint," Lefkowitz said.

Lefkowitz has been among those painstakingly collecting data to make a case against Uber, which has culminated in Assembly Bill 3401. The bill, which aims to regulate TNCs with Representative Charles Mainor as its lead sponsor, continues to gain traction.

Armed with the fruits of his and others' efforts—as well as a few helpful texts from LANJ member Jeff Shanker of A-1 Limousine and Natasha Gonzalez of the New Jersey Taxi Cab Association (NJTCA), who were among the estimated 175 people in the audience—Lefkowitz cited myriad instances where Uber has fallen short of its safety responsibilities to passengers, drivers, and the general public, or has outright violated state insurance laws, including: improperly vetted drivers' attacks on passengers; how the Pennsylvania Public Utility Commission (PUC) has turned down Uber for its public safety violations; and the TNC's summer ad campaign in the Jersey Shore area that aimed to attract new drivers, even though it's illegal for New Jersey drivers to use their private vehicles for commercial purposes, as reiterated in a press release issued by the state's Department of Banking and Insurance on behalf of N.J. Governor Chris Christie.

"I think one of the meeting's highlights was when Assemblywoman Spencer made it clear that TNCs will be regulated, and then she read part of the press release from the Department of Banking and Insurance because (Usher) was making these claims about how Uber has all this insurance coverage," Lefkowitz said.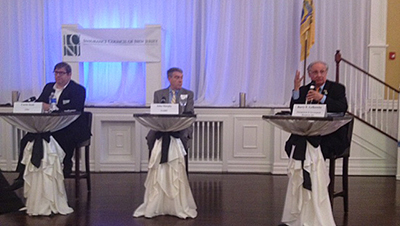 Former LANJ Executive Director and current lobbyist Barry Lefkowitz (right) was part of the Insurance Council of New Jersey's panel discussion, entitled "Transportation Network Companies: How Are New Jersey Drivers Protected When Providing Ride Services?"Lefkowitz, who also represents the NJTCA and does work for the International Association of Transportation Regulators, says that the panel also discussed the difference between insurance coverage for taxis and limousine services, and how taxis, while "on 24/7," only operate within a designated municipality; AB-3401 will be modified before its as-of-yet unscheduled hearing to demand that TNCs establish a base and be listed as dispatch companies.

"Right now, TNCs have no financial obligation to New Jersey, so we're going to help make them good corporate citizens of the state," said Lefkowitz.

While giving the seriousness of the topic its due reverence at the panel, Lefkowitz admits that he "had a blast" arguing against all the claims the Uber representative made.

"He was somewhat annoyed with me but I didn't care," Lefkowitz said. "One of the things I really annoyed him with was saying there is nothing really unique about what the TNCs are providing. I said that, if you think about it—and I held up my phone—this is nothing more than an advanced way of radio dispatch, connecting a driver with a passenger."

LANJ will hold its next meeting November 4 at Chauffeur Driven's Atlantic City show; those interested in joining LANJ in its ongoing battle to bring TNCs to a level playing field can save $150 by becoming an association member before or at the show.

Visit lanj.org for more information.

[CD1014]