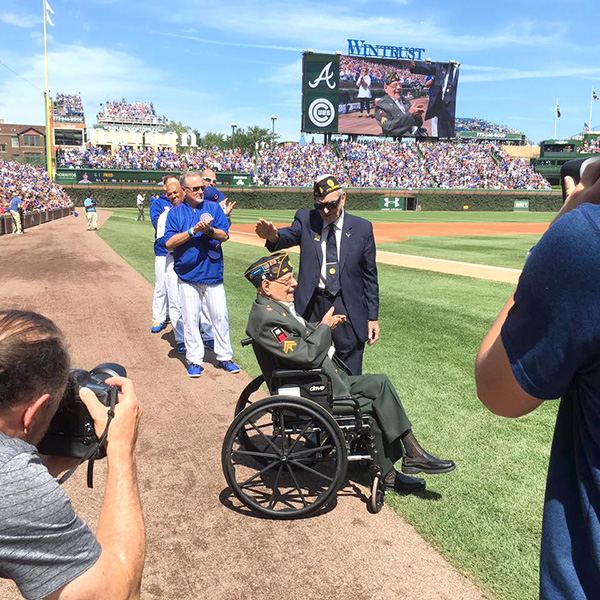 Veteran Art Rento (seated) received a standing ovation Chicago — Last November, baseball fans around the world were watching as the "curse" was broken when the Cubs became the 2016 World Series champions—for the first time since 1908. A few days later, the Windy City welcomed its hometown champions with a parade that drew millions. It's a day that few Chicago fans will forget.

For the Rento family, this past Labor Day weekend was a once-in-a-lifetime experience as their patriarch, Art Rento, was honored at Wrigley Field by the very same world-class team that captured the hearts of fans the world over. Rento, founder of Chicago's Pontarelli Companies and World War II veteran, was wheeled onto the field by his grandson (also named Art) prior to the September 3 game between the Cubs and the Atlanta Braves. Rento was all smiles on the Jumbotron as he received a standing ovation from the crowd for his service to the country. Rento, now 94, survived the famous D-Day Normandy landings.

Rento went on to found a cab company and serve the City of Chicago after his military career ended, and on July 4, 1977, he founded Pontarelli with a partner. Soon after, his young son Art joined the company as a chauffeur, and just a few years later he bought out his father's partner in what would become a Rento family-run company. Today, the 30-vehicle company—at 40, one of the oldest in the city—is run by his son, grandson, and two daughters.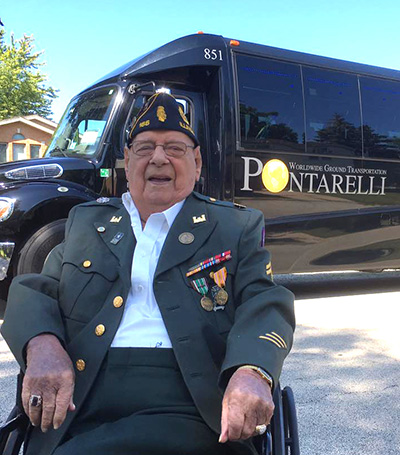 Rento's family rode to the stadium in style The occasion began aboard one of Pontarelli's shuttles, where the extended family rode to Wrigley Field, documenting the day with plenty of pictures and videos. At the field, Rento received a team jersey and the entire family was treated to some of the best seats in the house to watch the game between the Cubs and Braves. Magic, unfortunately, didn't happen that afternoon as the Braves swept the Cubs 5-1, but it will forever be a cherished memory for the Rento family.

This isn't the first time the veteran has been recognized locally. This summer, Rento was honored by more than 200 guests during an event for the Des Plaines Chamber of Commerce. The evening marked the launch of the chamber's Veterans Back to Work Bootcamp, a program that will help 20 veterans as they transition back to civilian life and a non-military career, and Rento was their featured guest. More than $75,000 was raised for the program by Jewel-Osco and Rivers Casino.

Visit pontarelliischicago.com for more information.

[CD0917]