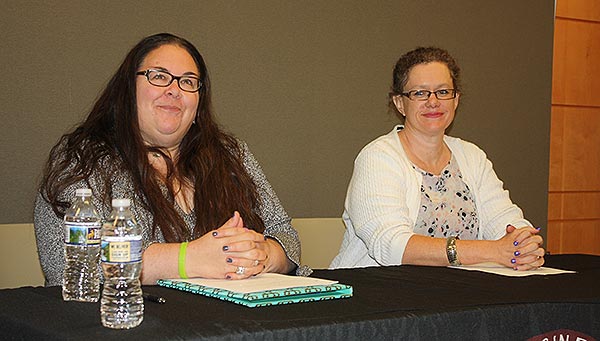 Keynote speakers Kim Bivins (left) and Kelli Moore Henrico, Va. — Nearly 30 members of the Virginia Limousine Association (VLA) assembled for an October 2 meeting that included educational opportunities and internal matters. CD Industry & Brand Ambassador Philip Jagiela was on hand for the bimonthly meeting, as he also serves as the VLA's executive director.

Jagiela kicked off the meeting by requesting a moment of silence for the tragic news coming out of Las Vegas that morning, where it was reported that 58 were dead and nearly 500 were wounded.

The day's speakers included transportation experts and representatives from related industries alike, offering a wide perspective of all the issues operators are facing and information they're seeking. Glenn Stafford of Love Limousine and Randy Allen of James Limousine both offered a few words as meeting hosts and sponsors before the handing the mics to the meeting's keynote speakers.

With Allen moderating the keynote panel, meetings and travel expert Kim Bivins of Altria Client Services and sourcing analyst Kelli Moore of Owens & Minor tackled VLA members' most pressing questions about working with buyers. The Virginia operators asked their guests about the ins and outs of selecting a transportation provider, like purchasing and insurance policies, what influences their decisions in selecting a chauffeured transportation option of choice, what they require from their transportation partners, and if they would like to see on-demand options from traditional chauffeured services.



The newly elected 2018 VLA board of directors The panelists did stress a few items for operators to consider during their conversation, with a particular focus on how important duty of care is, the importance of integrating with platforms like Concur for ease of record-keeping, and the ways that TNCs remain a non-option for high-touch travelers who demand accommodations like Wifi in their vehicles and a true chauffeur. They also emphasized how relationships are always crucial to maintain in any professional environment, especially in terms of reciprocal business where all parties need to be in tune with everyone's needs.

Stafford then delivered a legislative update, reporting that the state's elected officials are essentially asking operators to tell them what they want and are interesting in leveling the playing field but first need to know what that logistically entails. With new sessions beginning in January 2018, members agree that time is of the essence in terms of providing legislators with VLA members' input.

Board nominations were submitted and voted on during the meeting, and results were announced during the first official call of the 2018 VLA on October 5. The officers are as follows:
President: Paul Walsh of Superior Executive Transportation
Vice-president: William Kerr of Camryn Limousine
Secretary: Glenn Stafford of Love Limousine
Treasurer: Randy Allen of James Limousine
Sergeant of Arms: Zulfi Abassi of American Executive Sedan
Committee chairs were also appointed for the year ahead. Stafford will head the legislative, bylaw/nominations, and charity committees, Walsh will be in charge of the sponsorship committee, Allen will oversee the educational committee, Abassi will spearhead the membership initatives, and Jagiela will continue to handle VLA's public relations and social media outreach.
The next VLA meeting will be its holiday party December 4.
Visit
vla-limo.org
for more information.
[CD1017]