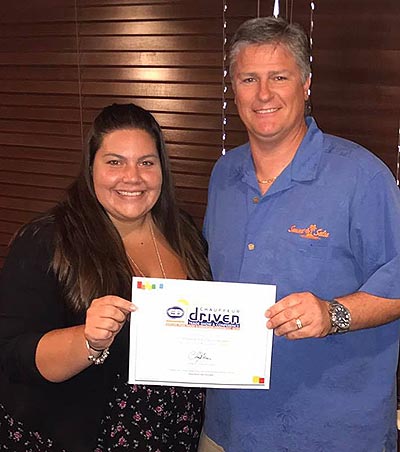 CD Director of Events Jess Pavlow and Tom Halsnik of Black Pearl Limousine, who won a pass to the 2017 CD Show Tampa, Fla. — Members of the West Florida Limousine Association (WFLA) came out for the September 20 meeting after grappling with Hurricane Irma barely more than a week prior. CD Director of Events Jess Pavlow was among those on hand for the meeting.

The meeting kicked off with a message from WFLA President Jeremy Jenkins of His & Hers Limousines, who thanked all in attendance for being there and offered assistance to those who were still working their way back to normal operations after the storm left cancelations, changed plans, and closed airports in its wake.

WFLA members have also been grappling with the transition of local regulatory bodies. A bill signed into law by Florida Governor Rick Scott in June mandates that the Hillsborough County Public Transportation Commission (HCPTC) will be dismantled by December 31 and its duties parceled out to other government agencies.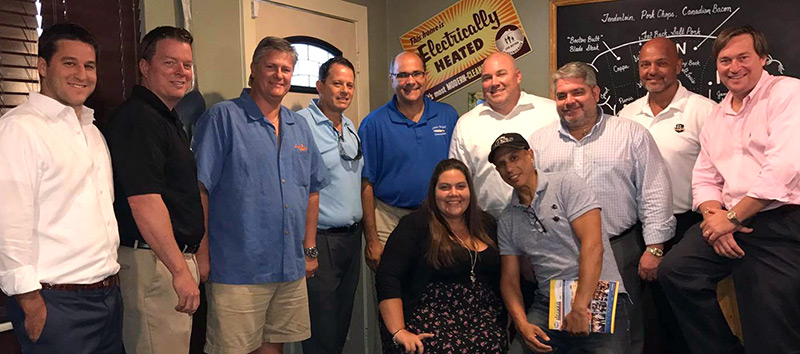 The attendees of the September 20 WFLA meeting Pavlow then detailed highlights of the rapidly approaching 2017 CD Show in Orlando before raffling off a pass, which was won by Tom Halsnik of Black Pearl Limousine.

With the dissolution of the HCPTC underscoring how Florida is divided into independently operating counties, it also highlighted how a fractured operational landscape can add to the inherent frustrations of running a chauffeured transportation company, especially in the face of continued disruption from TNCs. In that spirit, Jenkins ended the meeting by speaking to WFLA members about the necessity of working together, both as a timely response to a hurricane's unexpected calamity calling for strengthened solidarity among operators and in recognition of how juggling so many different, inharmonious regulatory standards can be made easier with open communication and working together to the benefit of the industry.

The next WFLA meeting will be in November.

Visit wfla.org for more information.

[CD1017]