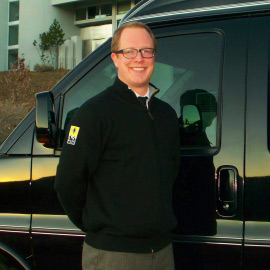 B-LineXpress Co-Owner Nate Pippett Edwards, Colo. — Local luxury private transportation and limousine service provider, B-LineXpress announced that they have acquired longtime local transportation provider RJ Limousines of Vail. This acquisition marks an expansion for B-Line as they look to increase their depth in the three primary markets—Vail Valley, Roaring Fork Valley, and Denver —that both B-Line and RJ Limos service.  Rob'ert Milfeld, owner and founder of RJ Limos and B-Line's co-owners and founders Nate Pippett and Chris Bookidis were the primary handlers of the acquisition, though there was some professional consultation.

As a result of the deal, B-Line will acquire key aspects of RJ Limos' infrastructure including their affiliate contacts, websites, domains and customer database.  While B-Line will not be acquiring any of RJ Limos' vehicle assets, they have opted to absorb some of RJ Limos' drivers. 

"In our business, contacts and relationships greatly impact the bottom line, so while this acquisition is indicative of our growth, it will also allow us to reach even further into our existing markets," said Bookidis.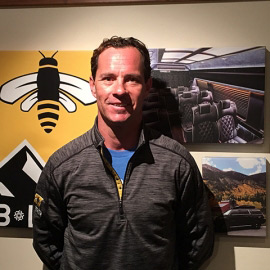 B-LineXpress Co-Owner Chris Bookidis The assets that B-Line did acquire will be absorbed into the existing brand, based out of Edwards, Colo. 

"With this acquisition, we project a 100 percent increase in revenue in 2017, but this acquisition is about more than the bottom line, it is about maintaining the B-Line culture," said Bookidis. "We deliver only the best on both ends – our customers receive a luxurious and safe transportation experience, and our employees enjoy comprehensive benefits that rival the best mountain employers."

Within their operating markets, a significant portion of B-Line's business was retail and private transportation, such as airport commutes, and corporate business was supplementary. By contrast, Milfeld's business and affiliates had ties to corporate business, particularly non-emergency medical transportation.

"As Rob'ert exits the industry we have an opportunity to build on the foundations that he established with weddings, special events, and commercial entities in the valley and bring them into the B-Line fold," said Pippett. "Though we never directly competed, both of our companies prioritized safety and service, and that will continue as we serve our community on all levels. Everybody has somewhere to be; we just want them to enjoy the experience of getting there."

Visit aspenvaillimo.com for more information.

[CD1117]