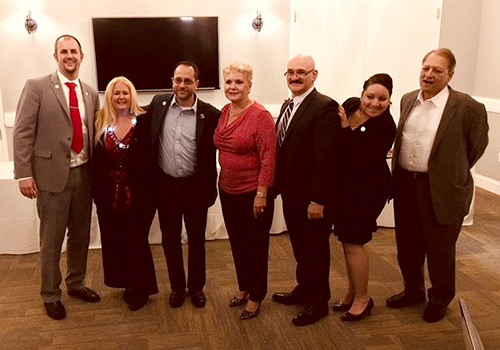 The 2018 CFLA Board Orlando, Fla.—The Central Florida Livery Association (CFLA) kicked off its 2018 on January 9 with a standing-room-only meeting that was chock-full of association-related, local, and philanthropic news.

It was the first meeting since the new board was elected at the association's holiday party in December:

President: Wendy Kleefisch of Brevard Executive Limousine
Vice President: Greg Palie of GNS Transportation
Treasurer: Barbara White of VIP Transportation Group
Secretary: Ginette Morales of VIP Transportation Group
Vendor Director: Ryan Hilberth of RentalLimo/book.limo
Directors: Gregg Moulton of Signature Transportation Group and Moe Sajjad of Alladin Tours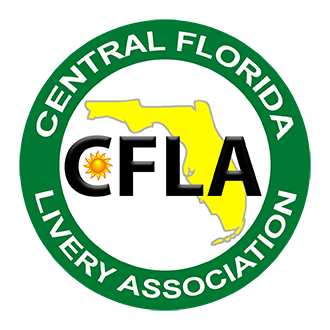 As construction and economic growth continue on Terminal 3 at Port Canaveral—one of the world's busiest cruise ports—Kleefisch feels it's important to keep the association updated on its progress. She invited John Lynch, the new manager of ground transportation at Canaveral Port Authority, to speak at the meeting.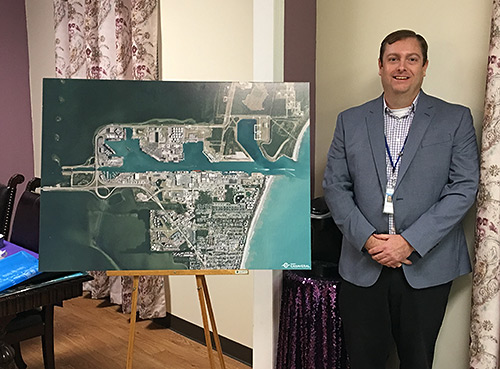 Manager of Ground Transportation at Canaveral Port Authority John Lynch with an aerial image of the port "I want to make sure we stay in communication with him because it's important for the association to know about the whole new terminal they're building and to keep them informed of any changes, especially with TNCs," she said. "John brought an aerial map to show us where the terminal is going, as well as souvenir maps we can all hang in our offices and brochures listing all the current ships and their schedules. We know there'll be three more ships coming, which means we could be servicing over 350,000 people between the import/export and passengers."

She added that members' reactions to Lynch and the information he shared was overwhelmingly positive, with many expressing excitement about the new and detailed information they can share with their clients.

"They're going to be taking that information and using it to better their businesses," Kleefisch said.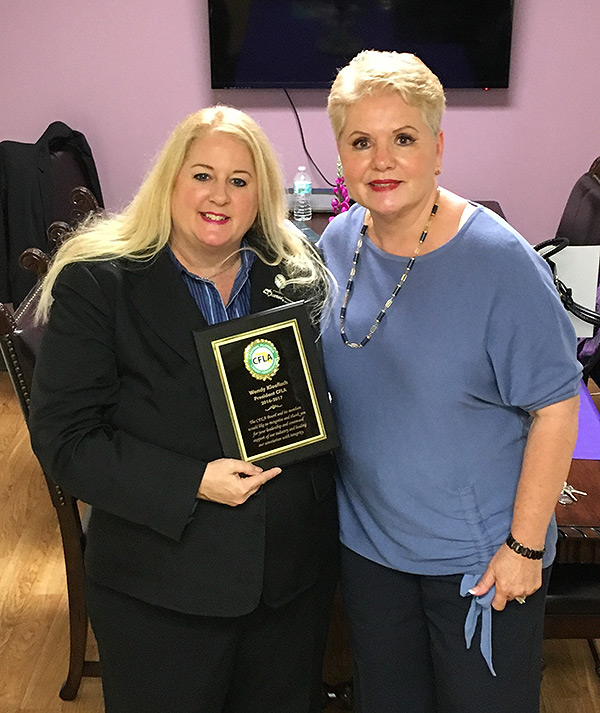 CFLA President Wendy Kleefisch (left) and Treasurer Barbara White More internally focused were conversations about CFLA's plans for its immediate future. The association will be holding its first-ever poker tournament on April 26, which has already garnered a few sponsors and will double as a fundraiser for the Women's and Children's Center. The association is also going forward with its annual canned-food drive, Cans for a Cause, in May.

At the end of the meeting, members presented Kleefisch with a plaque in recognition of her dedication to the association and her leadership as its president.

"I was so surprised and honored that they did that, since I feel like I should be giving all of them plaques for helping our association succeed," Kleefisch said.

The next CFLA meeting will be February 13 at Super Shuttle's facility.

Visit cfla.org for more information.

[CD0118]