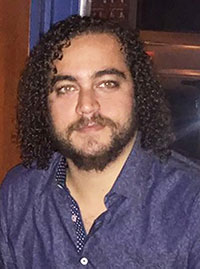 Guy Kabessa, director of the Carmel Points programNew York — Carmel Car and Limousine Service has announced their Carmel Points Loyalty Program, the industry's first reward program offered by a car service.

The new Carmel Points system is a unique and exclusive car and limousine service loyalty program that allows Carmel customers to earn and accumulate points every time they ride with Carmel using the Carmel App or book online. Additionally, a Carmel Points member can redeem Carmel Points for a discount on a Carmel ride and even for free rides.

The company said that if you are a Carmel App user and/or hold a Carmel website account, you automatically become a Carmel Points member. If you are not yet a Carmel Points member, all you have to do is download the Carmel App or open a user account on Carmel's website. Then you will simply start accumulating points for every ride you take with Carmel. Once you have accumulated enough Carmel Points, you can redeem them for discounts on Carmel rides or even a free ride.

"We are so excited to launch this exclusive, world's first car and limousine reward program. Carmel gratitude to our customers for their loyalty to Carmel brings the Carmel Points loyalty program a full circle towards showing our appreciation," said Guy Kabessa, director of Carmel Points.

Carmel's Loyalty Points Program was created as a result of Carmel's constant search for new ways to offer value proposition to their customers.

"Once Carmel's think tank realized that no transportation company offered a loyalty program, nor do any other loyalty programs offer the ability to redeem points or miles to pay for a ride, we knew the Carmel Points Loyalty Program must be created and that it would be a hit with our customers," Kabessa added. "And, above all, it's free to join…just another way Carmel says thank you for being a loyal Carmel customer."

Visit carmellimo.com for more information.

[0318]