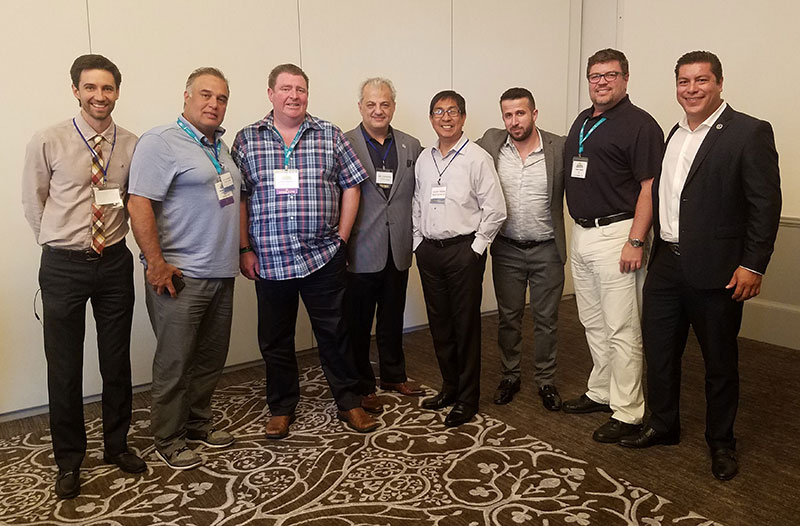 Several members of the GCLA board were among those attending the association's meeting at the CD Executive Retreat San Diego — The Greater California Livery Association (GCLA) has been taking its meetings on the road to ensure that its more-than-300 members hailing from all over the state are able to attend, and held its San Diego meeting at The Pendry in conjunction with the Chauffeur Driven retreat. Nearly 50 members made the meeting space a packed house on the afternoon of May 8.

The meeting came on the heels of the April 26 announcement that the California Public Utilities Commission (CPUC) ruled that Uber is both a TNC and a charter party carrier (TPC). This means that the company must pay not only any fees it's accumulated in the past three years for operating as a TPC but also the remaining back fees from that same three-year period for any TNC permit-holders providing TNC services through the Uber platform separate from Raiser-CA (a subsidiary of Uber that has been assessed CPUC fees). Uber has 30 days from April 26 to register as a TNC and TCP.

Despite this victory, there remain numerous issues for California operators, and the meeting provided an opportunity to both address them and assist others with their own pain points. Chief among those issues is how Uber has recently given Los Angeles International Airport $35M for prime curbside real estate, making it difficult for the industry to operate at the country's second busiest overall airport. While the much-maligned TNC has been enjoying curbside pickup, traditional operators are relegated to waiting nearly two miles away for their passengers.

GCLA President Mo Garkani of The COTS Group assured members that the National Limousine Association and AFT have joined the fight against this unfair practice, and that he, too, is committed to this battle that arose from LAX's determination to combat traffic by 50 percent. Garkani explained that the association has at least two airport contacts who are amenable to hearing the GCLA's proposal appealing for the reinstitution of the curbside pickup for non-Uber vehicles.



Executive Director Tom Garrett assured members that "the GCLA's never had a stronger financial position," which bodes well for the battles that the association is facing.

As meeting attendees individually sounded off about their own personal concerns, a few items emerged as dominant frustrations, particularly insurance, worker's comp, the cost of doing business, drug-testing in a state where marijuana is legalized, and the hiring and training of quality chauffeurs. To that last point, Garkani plans to hold a workshop wherein qualified trainers will offer chauffeur certification.

GCLA Director Perry Barin of Music Express and Past President Kevin Illingworth of Classique Limousines reminded everyone that it's imperative to keep boosting association membership, as 300 members is disproportionate to the thousands of livery operations in the state. Garkani reminded those in attendance that "an association is stronger than one person and can help make things happen" for those grappling with significant issues.

The next GCLA meeting will be July 31 in Los Angeles.

Visit gcla.org for more information.

[CD0518]