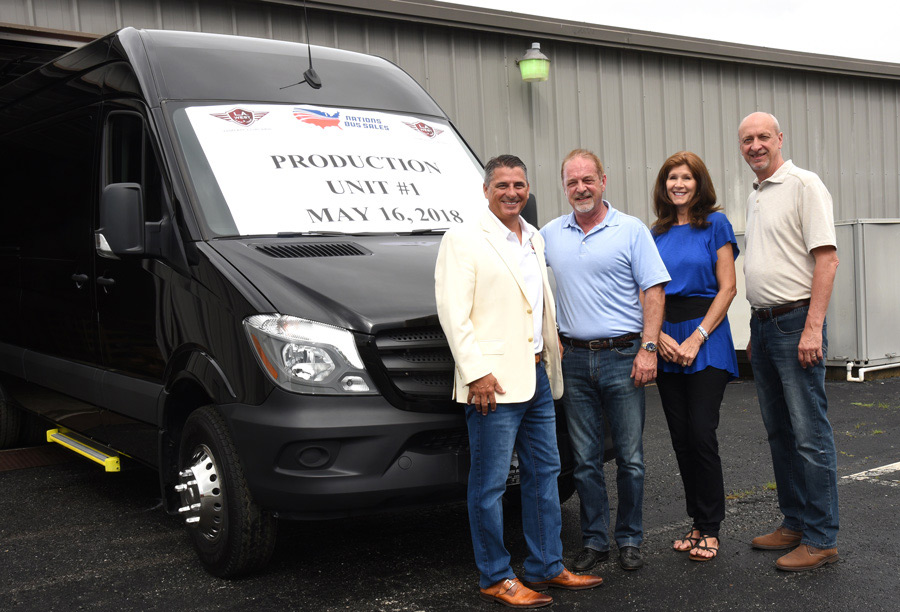 L to R: Nation's Bus CEO Chip Osborne with L.A. West's Founder Vern Kauffman, Business Manager Paula Sterling, and Vice President of Sales Kevin Kropf as the first Sprinter comes off the builder's production line Statesville, N.C. — Luxury coach builder L.A. West has announced that the first vehicle has rolled off their assembly line since their brand was relaunched this year. The custom Mercedes-Benz Sprinter was delivered to Nations Bus Sales' Florida Dealership in St Augustine. The company's CEO, Chip Osborne, was present for the vehicle's unveiling.

"When we were approached with the plans for Vern and his team to acquire the McSweeney luxury ground transportation segment, we were delighted," says Osborne. "The transition has been seamless from both a dealership and end-user standpoint. I was a part of the trajectory that Vern and his team started with McSweeney, and have no doubt that it will continue under the LA West badge."

"Nation's Bus has been our number one dealer in volume, so it seemed appropriate that they would get that first vehicle, says LA West Founder Vern Kauffman. "We appreciated that Chip Osborne took the time out of his busy schedule to be there when the Sprinter came off the production line. We see this vehicle as a natural continuation of the McSweeney Brand."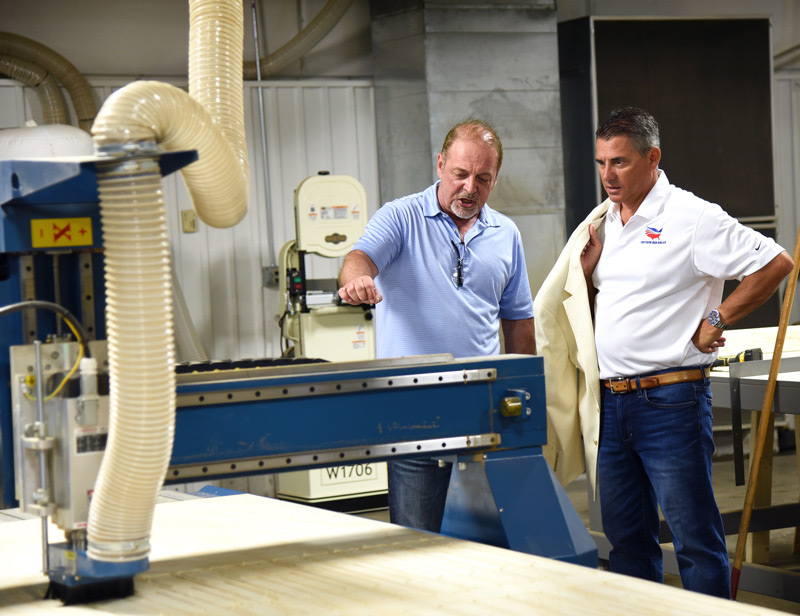 Founder Vern Kauffman (left) gives Chip Osborne of Nation's Bus a tour of L.A. West's new production facility When McSweeney Designs left the luxury ground transportation industry to focus on its core market in performance trucks, Kauffman acquired the inventory, equipment, engineering rights, and warranties from the company. He then revived the L.A. West brand that was dormant since he sold the company to a VC firm in 2005. Kauffman then relocated the McSweeney Designs operation from Birmingham, Ala. to Statesville, N.C.

"We are fortunate to have key production and management personnel from McSweeney that are commuting from Birmingham on a weekly basis," says Kauffman. "This has helped immensely in accelerating our launch. It saved a great deal of time with training and product development, which would have been a time-consuming process."

Those making the drive to join Kauffman at L.A. West are Mark Isbell, purchasing manager; Dennis Treadwell, production manager; and Pete Price, line foreman; and Kevin Kropf, vice president of sales, who is a stakeholder in the company.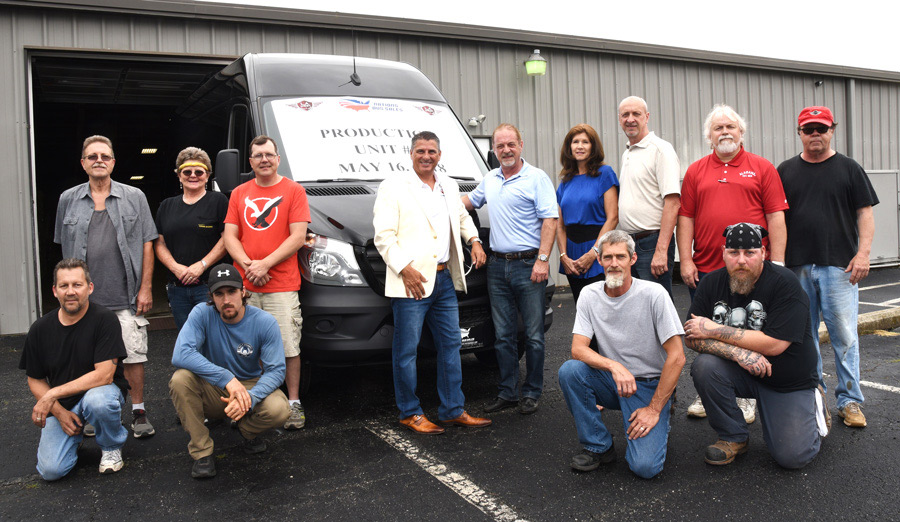 The L.A. West team celebrates the first Sprinter to roll off their new production line. According to Kauffman, L.A. West's reboot of the company has put them in an enviable position not common for most new companies entering the industry. "Normally, the biggest challenge is having an adequate sales distribution channel. In this situation, our immediate challenge was getting production set up and underway," he says. "From a sales standpoint, there's been 100 percent conversion rate in terms of dealers that represented the McSweeney Brand. In fact, many are expanding their commitment to the LA West brand. We have a nice backlog of orders in terms of sales. It's a bit of a role reversal in terms of what one might expect from the industry."

In the coming weeks, L.A. West will be introducing a Ford Transit with a European portal door. Kauffman says that the vehicle is the final stages of the engineering phase and will be introduced in June.

"This is a unit that is brand new to us, and brand new to the industry."

Visit lawestcoaches.com for more information.

[CD0518]