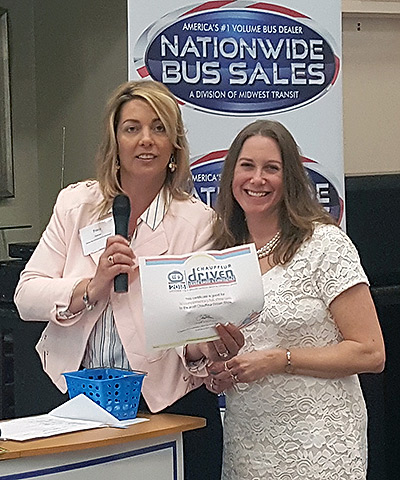 ILA President Tracy Raimer of Windy City Limousine (left) with winner of a 2018 CD Show pass Rebecca Schuck of Going Green Limousine Schiller Park, Ill. — More than 100 attendees—102, to be exact—came out to support this year's annual meeting of the Illinois Limousine Association (ILA), which was held May 16 at Comfort Suites O'Hare Airport.

Open to members and non-members alike, the meeting welcomed industry operators and vendors from not only all across Illinois but also those who hail from Wisconsin, Indiana, Kentucky, Ohio, New York, and Georgia. Many of those out-of-state guests also joined the ILA for the networking event held the evening of May 15 at the nearby McCormick and Schmick's.


Jackie Dodd of Chicago Trans Limousine won a pass to the 2018 CD Show at the May 16 ILA annual meeting And, in addition to boasting a three-figure, far-flung attendance, the ILA's annual meeting also showcased an array of firsts, many of which are indicative of how the industry is getting more and more intermingled with the bus and motorcoach side of ground transportation.

"We were fortunate to have Susan Rhode of American Bus Association share the focus and initiatives of the ABA," ILA President Tracy Raimer of Windy City Limousine wrote in her letter to attendees. "This is the first time ever that the bus industry has participated in a local livery association meeting. The ABA…see(s) the value of the livery companies that are adding buses to their fleets. Times are changing and we are evolving!"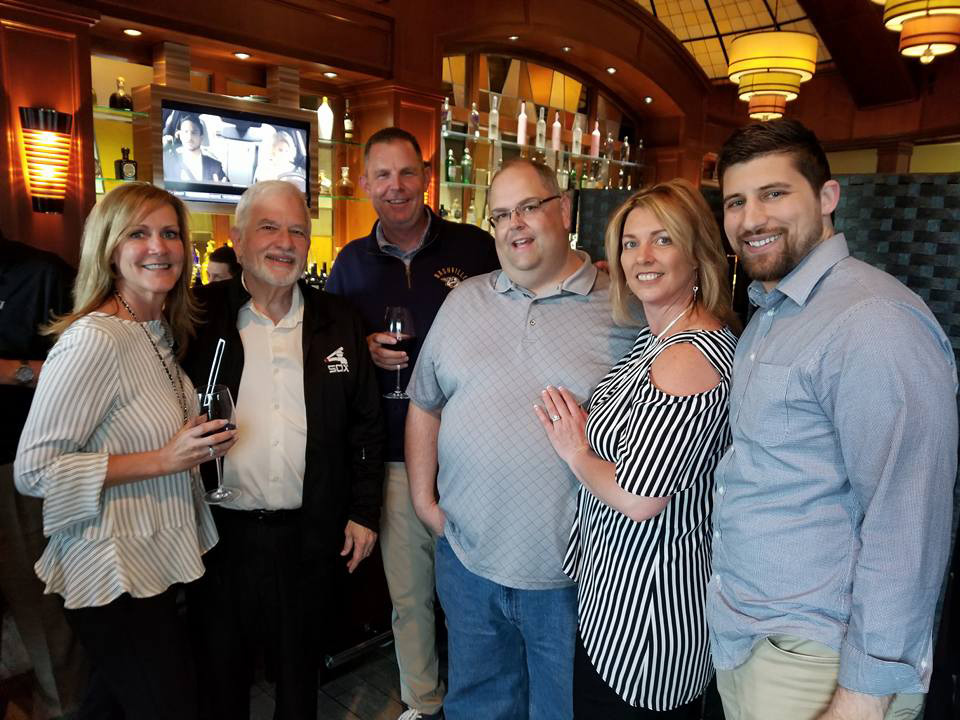 L to R: Kathy Kahne and George Jacobs of Windy City Limousine, Bill Faeth of Limo University, Todd Roberts of JACO Limousine & Transportation, ILA President Tracy Raimer of Windy City Limousine, and Nick Lopez of JACO Limousine & Transportation Among the record-breaking 15 vehicles on display at the event, MCI displayed one of its motorcoaches, while ECB had four of its fleet vehicles on display—a Freightliner Super Coach, F550 Shuttle, Mercedes Sprinter, and a stretched MK—and Volvo also showcased one of its sedans. All three companies were first-time sponsors of an ILA meeting.

"We had the largest vehicle show in ILA history and one of the largest displays of any state or regional association," Raimer raved.

The yearly meeting also included 16 vendor booths, and array of free services (like the opportunity to get new headshots taken and website SEO evaluations) and a full day of updates, information, education, panelists, and speakers representing all facets of the ground transportation industry.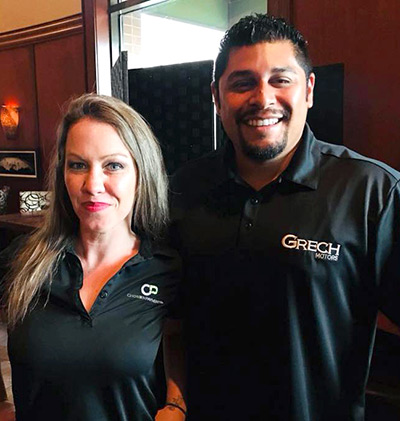 Sarah McKee of Chosen Payments and Rene Martinez of Grech Motors The roster of speakers covered a wide array of topics. Raimer provided local and association updates while Rohde, the ABA's Vice President of Government & Affairs Policy, discussed the national transportation scene. The LMC Group's Aleja Seabron discussed "Developing and Maintaining a Business Presence on LinkedIn" before hosting a panel discussion on effectively marketing on a budget and helping those in attendance update their LinkedIn profile for a bolstered professional image. And keynote speaker Bill Faeth if Limo University emphasized how imperative working together as an industry is in these rapidly shifting times.

"It is time to push the friction aside between operators, simplify the process of working together, understand what working together means, and be more than just a transportation provider, no matter how many vehicles you dispatch.," he advised. "Relationships with clients—including affiliates—are the key to doing business."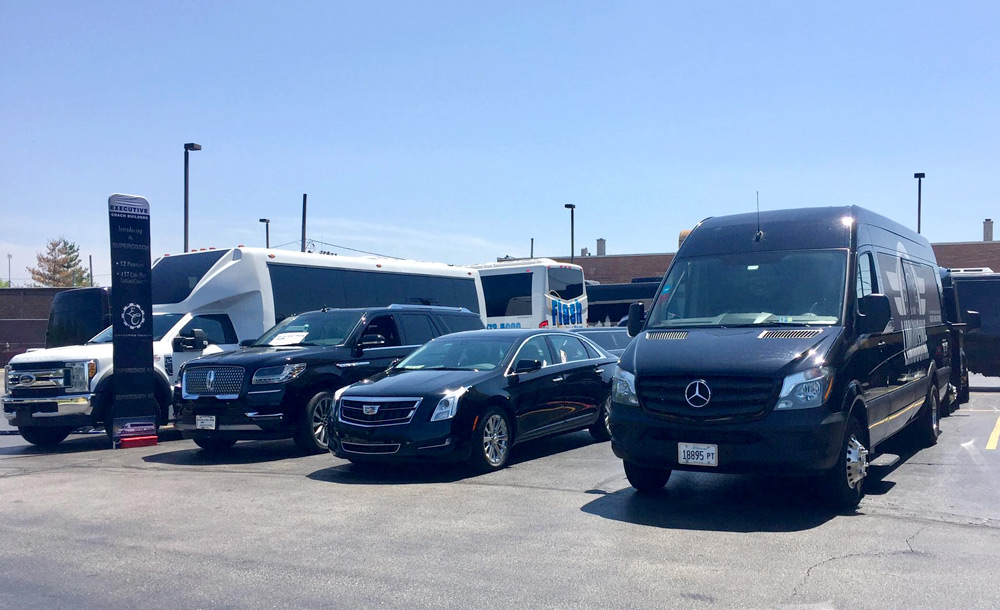 Some of the record-breaking 15 vehicles that were on display at the meeting The meeting ended with several drawings, which included two passes to the 2018 Chauffeur Driven Show at the Gaylord National from October 7-10. Jackie Dodd of Chicago Trans Limousine and Rebecca Schuck of Going Green Limousine were the lucky winners.

The next ILA event will be its open board meeting June 6.

Visit illinoislimousineassociation.com for more information.

[CD0518]